Fight night: boxing in Accra
Boxing is big in Accra. Here's a front row seat for a bout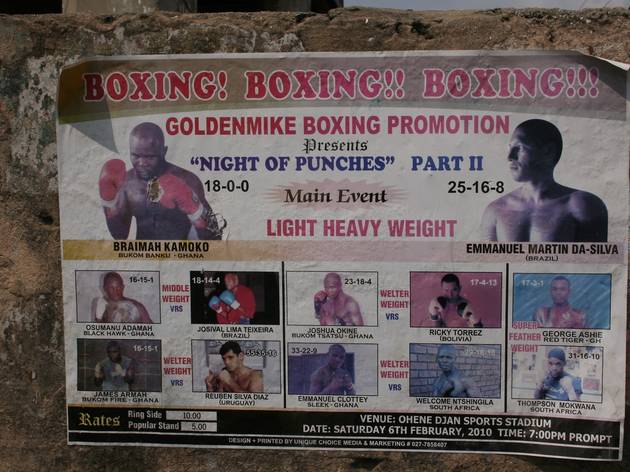 1/10
'Night of Punches II'. Poster for the fight between Braimah 'Bukom Banku' Kamoko and Brazilian Emmanuel Martin Da-Silva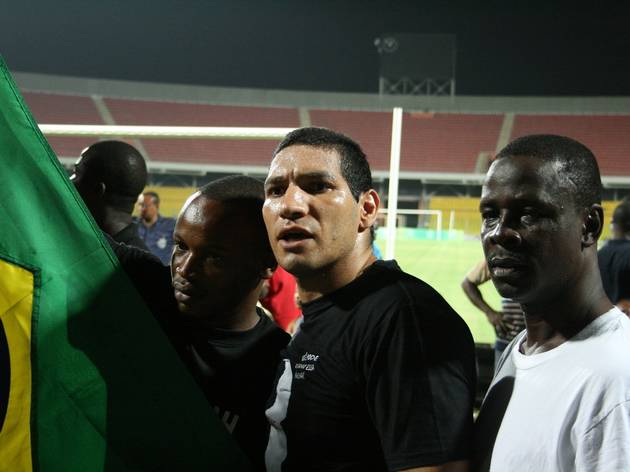 2/10
Brazilian Emmanuel Martin Da-Silva before the bout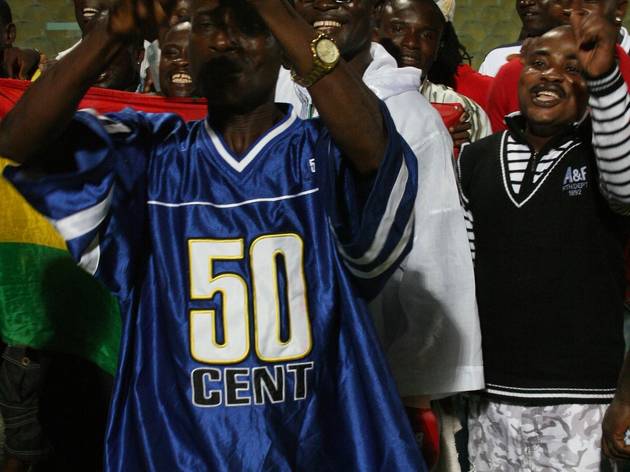 3/10
Braimah 'Bukom Banku' Kamoko makes his entrance. He got his name Bukom name from the area of Jamestown that is known for producing world-class boxers. Banku, the starchy food, is known as a 'tough' food.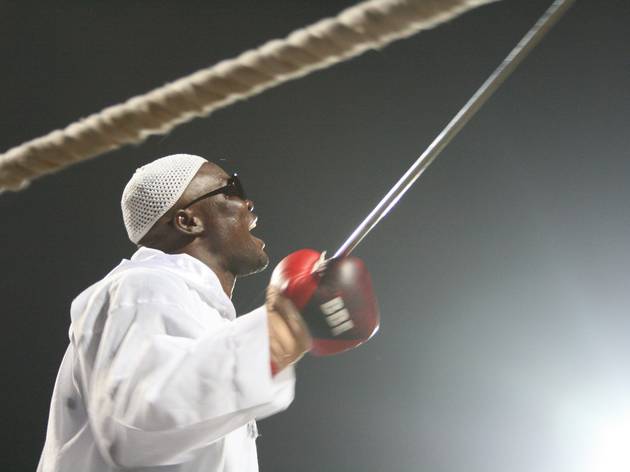 4/10
This was the first fight for Braimah 'Bukom Banku' Kamoko after eye surgery when there were rumours he'd gone blind and would never fight again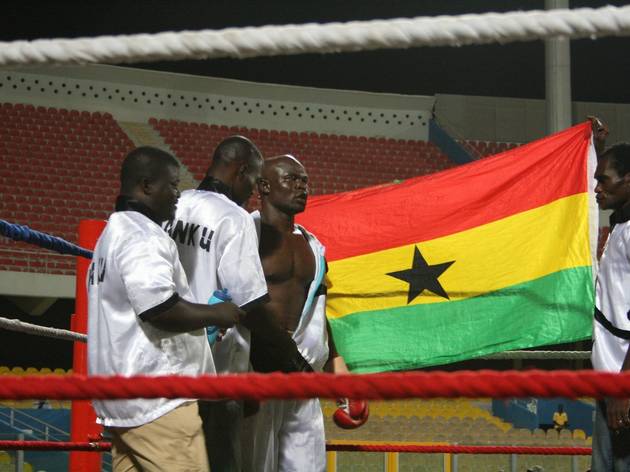 5/10
Braimah 'Bukom Banku' Kamoko getting prepared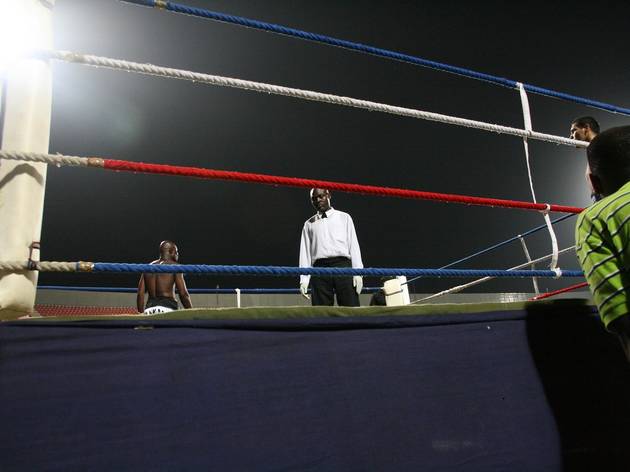 6/10
Round 1 between Braimah 'Bukom Banku' Kamoko and Emmanuel Martin Da-Silva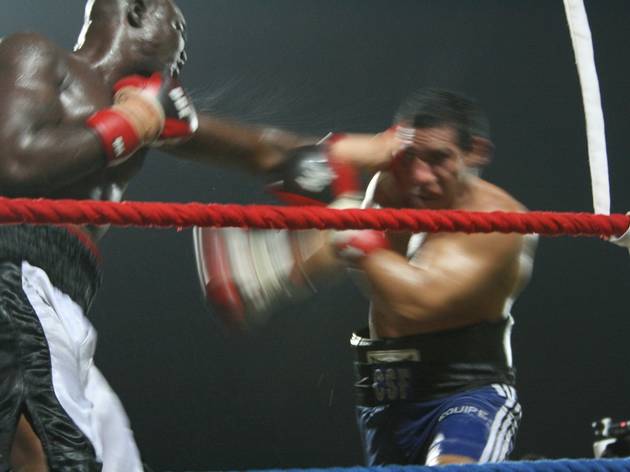 7/10
The 'Bukom Banku' lands a punch as sweat is sprayed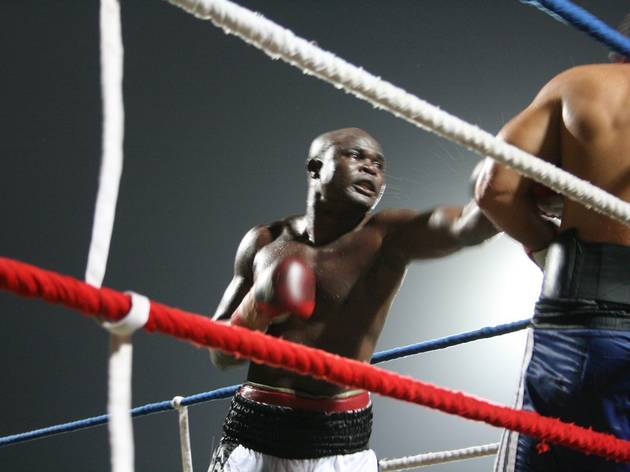 8/10
Another good punch from the long arm of Braimah 'Bukom Banku' Kamoko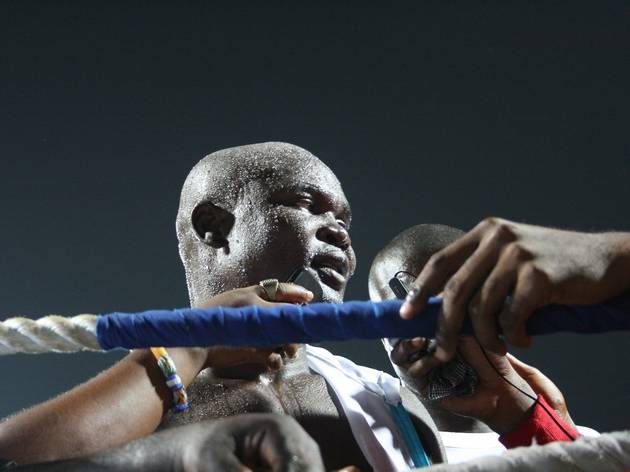 9/10
After the fight, a victorious Braimah 'Bukom Banku' Kamoko speaks to the press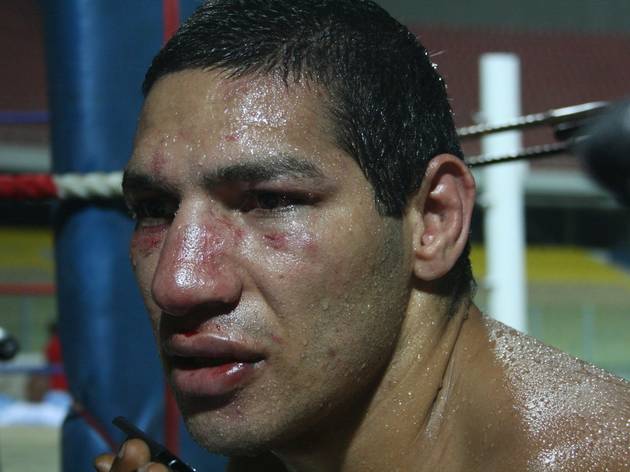 10/10
The bruised face of Brazilian Emmanuel Martin Da-Silva who will fly back to Brazil the following day
Ringside with Time Out – cheering on Jamestown's hometown hero...
It is one humid hour after midnight in Accra. The floodlights of the stadium stand dazzling bright under a hot black sky. Inside, to a 5,000-strong audience, a man in a basketball vest winds up an old air-raid siren, sending deafening circles of noise up and out into the night.
Among the thronged plastic chairs and water-sellers, there is a boxing ring. We have a spectacle at hand - hard-talking hometown fighter Braimah Kamoko, aka the Bukom Banku, is shortly to step under the lights to take on a notoriously gutsy Brazilian challenger.
Kamoko gets his nickname from the Accra quarter where he's from - Bukom is one of the poorest neighbourhoods in
Jamestown
, also home to more than 20 boxing schools. There is no other area of the world with this quantity of boxing schools, and there is no other place that has produced so many world champion boxers in the last 75 years.
It is Kamoko's first fight back after an enforced lay-off due to an eye problem. The crowd are expectant, and the man they've come to see appears in suitably dramatic fashion. He is wearing full Muslim dress and dark sunglasses, surrounded by a mob of bawling drummers.
Mocking his injury, he walks slowly, tapping his white cane as if feeling his way to the ring. Once there, he milks the swelling applause, stares at his opponent and strips off. The rhythms of the djembe drums keep coming. When he leaves the ring some 30 minutes later, covered in blood and sweat, he has another victory to his name. The night is thunderous with cheers.