Road trip: Benin and Togo
Time Out Accra takes a road east to explore the beautiful countries of Benin and Togo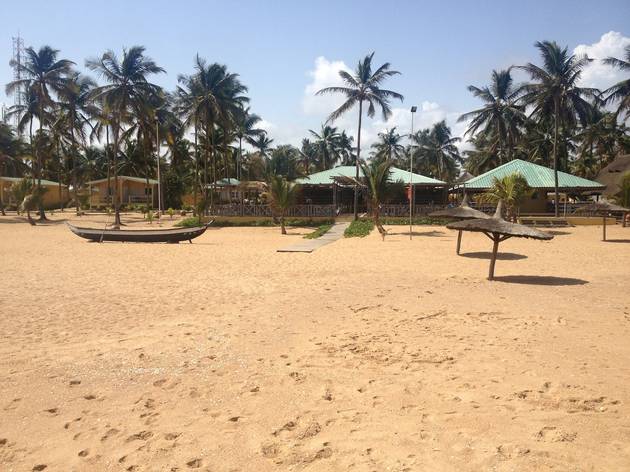 Ghanaian-based Nigerian Anita Ibru takes a road trip to explore Ghana's fascinating neighbours of Togo and Benin... and gets more than she bargained for

Ghana is an island of English language culture perched among the French-speaking countries of the Ivory Coast, Togo and Benin. Many Ghanaians don't get a chance to visit these countries rich in local and French culture and, of course food. So when friends expressed an interest in visiting Benin, I persuaded them we should take a road trip to find out what we'd been missing out on. We only had three days and three nights to drive from Accra to the Beninese city of Cotonou, passing through Togo en route, but we made number of memorable stops, taking in colonial buildings, some local history and a series of natural landscapes unlike Ghana. It was a long journey, but enough time to get a true taste of Benin and Togo. We chose not to rough it, finding a good balance between fine dining, three-star accommodation and sightseeing.

Accra to Lomé

To reach Togo's capital, Lomé, from Accra, we first had to drive across a wide stretch of savannah east of Accra, followed by a narrower road between the sea and Lake Volta, to reach the village of Aflao on the Ghanaian side of the Ghana-Togo border. It was a smooth journey, passing the industrial surrounds of Tema before we got a glimpse of the Songaw Lagoon, the biggest salt mining area in Ghana. The salt lakes were an early highlight of our journey; the salt harvesting in the area make it a protected zone. It's also a potentially popular eco-tourist destination, being home to some rare species of flora and fauna, including sea turtles. Continuing on, we made our way through the Volta region to Sogakope, which I instantly christened 'the bread village'. Loaves were everywhere. It transpired that the place was in fact famous for its bread and clay bread ovens. It's also home to the Holy Trinity Spa, which we passed near the Volta Lake bridge crossing. Food hawkers dished out local fare such as abolo and dried fish to passing vehicles, ours included.

At the border, the experience on the Ghana side was markedly more official than when we crossed over to the Togo side. To leave Ghana you need to have passports and money ready - ie a dash (or bribe) - for the immigration officers to stop them keeping you there any longer than necessary (it should only take about fifteen minutes). If you have an Ecowas passport the rules are a bit sporadic, but the general advice for foreigners is to obtain a seven-day visa, issued on the spot for $15 (10,000 CFA), which works out much cheaper than getting a visa at the embassy beforehand. Once you reach the other side, there are passports to receive and, again, money to leave your pocket. After a little drama we were greeted by the beautiful beachfront of the Togo border (a quite surreally relaxed setting, with the border control officers' tables outside) and we were finally on our way, enjoying the coastal drive to Lomé.

The Paris of Africa

We could see why Lomé was once colloquially known as the 'Paris of Africa'. In spite of its political problems it still kept its Gallic charm, albeit a little tired. It had colourful houses, grand boulevards, squares and pleasantly green gardens. Lomé also retains traces of its colonial architectural style, visible in some of the city's arcades and other old buildings such as the Cathedral of the Sacred Heart. We didn't have much time to linger but we couldn't leave Lomé without visiting its historic hotel, Sarakawa (Boulevard du Mono, BP 2232, 0 Lomé +228 22 27 65 90) which is located on Lomé Beach and close to the city centre. We dined at the restaurant Le Mercure which offers gourmet French cuisine.

Onward, we headed to Togo's Grand Market where we found local food, souvenirs and artefacts (including some rather scary ones - WHICH ONES?) followed by a quick visit to Togo National Museum. As well as getting across the context of Togo's history, it was home to everything from preserved musical instruments, weapons and dolls to collections of traditional pottery and jewellery. The city's Botanical Gardens would be another ideal stop for those in search of nature, providing an alternative to the beach views and attractions. But the biggest surprise to be found in Lomé, reminiscent of its former Paris-chic glory, is Le Beluga (Rue de L'Entente, Ex Rue de L'Ocam, Lomé +228 22 20 97 96) a high-end fusion restaurant where chef Soupany Khampraseuth serves up fine French food and wine.
Lomé to Cotonou
Beyond Togo is the Republic of Benin. Europeans first engaged in trade and commerce with the nation as early as the 16th century, with the slave trade of the Bight of Benin commencing soon after. But the hour was late as we crossed the border, so we drove straight to the country's largest city, Cotonou, to stay at its newest hotel Azalai Hotel de La Plage (05BP347 Cotonou, +229 21 31 72 00, azalaihotels.com/hotel-benin) and instead woke up early the next day to do our Benin sightseeing on the way back to Lomé.

The following morning we headed to Ouidah from Cotonou. This stretch of our journey offered the most fascinating sites and places of the trip. We headed first to The Point of No Return, a handsome and poignant commemorative monument that was erected to remind visitors and locals about the country's dark slave trade history. Even though the title denotes 'no return' there is some superstitious hope surrounding the monument - that the captives will someday return, at least in spirit. The ocean backdrop was breathtaking, and it was painful to reflect on the fact that this would have been the last view the slaves would have had of their homeland before their voyage to hell. The slave trade was at its most rampant here in the early 18th century, although the entire trade era went on for three centuries.

As well as its slave trade history, Ouidah is also well known as the birthplace of Black Magic (Voodoo) and the town hosts a Voodoo Festival each January, attended by people from all around the world. Its other attractions include the Slavery Museum (located at the former Portuguese slavery port) and The Temple of Pythons. We managed to stop at the latter. It was not for the faint-hearted. There were about 40 pythons in the cavernous temple, and visitors were welcome - in fact encouraged - to wrap one round their neck! The guide was French-speaking, so some people might need a translator, but if you don't catch any French at all, the main message is: 'pythons rule the town'. They're known as 'Royal Pythons' and considered so sacred that the temple entrance is left open at night to allow them to roam the town. There's an unwritten rule that if people find the pythons in the town in the morning they should return them to the temple. Unbelievable. We visited further sites connected to the slave trade history, including The Tree of Forgetfulness. Captured slaves would walk around the trunk hoping to forget their past lives and identities before being put onto the boats for America). Men used to walk around the tree 9 times, women 7 times. The tree itself has now been replaced by a statue of a mermaid, representing the sea and the journey to a new life of slavery. Nearby was the Monument of Repentance, erected in 1988 by the elders of Ouidah to ask for forgiveness for their ancestors' collaboration in the diabolical slave trade.

Ouidah is also home to Hotel Casa del Papa, which was to be our last stop before heading back to the Benin-Togo border. (Casa del Papa, Ouidah Plage, Ouidah, Benin, ask for Mr De Souza on +229 95 95 12 50, www.casadelpapa.com). We certainly saved the best for last: this is the Cote d'Azur of West Africa in terms of its coastline. The resort even has an extra touch of the exotic by being located between the sea and the lagoon. It was a stunning sight: a red-earth dirt track juxtaposed by hot pink and salmon-coloured bougainvillea on the driveway, and the resort's banana yellow chalets standing out against an azure sea in the distance. The resort also had a spa on stilts and great pools (for both adults and children), as well as watersports and mini golf.

Ouidah to Lomé

During the last stretch of the journey from Benin back to Togo we made one last stop - at Hotel le Lac, Abgodrafo. It's a great place to call in for a swim, with a lovely clean pool (or a lake if you're feeling adventurous). It also offers watersports (you can hire jetskis and pedalos). We didn't have a night to spare so had a meal - which was quite pricey - before continuing back to Lomé.

We drove the same stretch of road back, although this time passed through Vume, known for its wonderful Ghanaian pottery, much of which was displayed for sale by the roadside, and finally reached Accra, 70 hours after first leaving.