Where to go in Ghana • Kumasi
Venture beyond Accra to see Ghana's other attractions, and drop in on Ghana's second city , Kumasi – it's like Acca, but with the volume turned all the way up...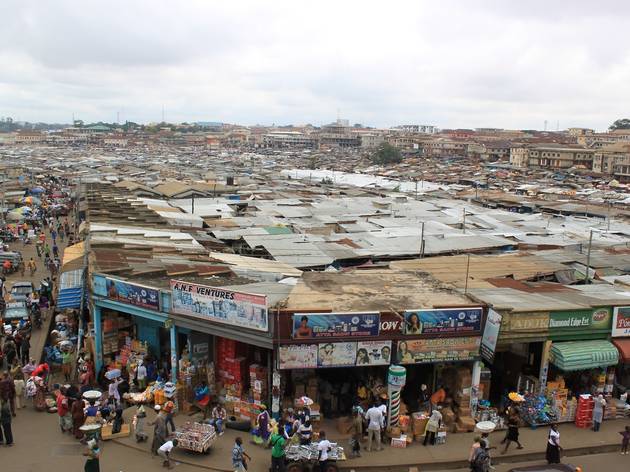 If you've ever wondered what it's like to have all five senses forcefully assaulted at the same time - and if the whirl of Accra isn't heart-pumping enough - hop on an STC bus and head five hours north to Ghana's second city. To describe Kumasi as hectic is an understatement. It's more crowded than the capital, more energised, and in many ways more intoxicating. That's not to decry Accra, of course, but simply to say that there are huge differences between the two cities.

Perhaps the main reason for Kumasi's reputation is the gargantuan sprawl of Kejetia Market, often described as the largest of its kind in West Africa. It occupies around 12 hectares in the very centre of the city and provides a place of work for some 10,000 traders. It is hot, raucous and endlessly colourful. You can wander it for hours, never tracing the same patch of ground twice. A maze of open lanes and covered alleyways spreads and curves in every direction, revealing specialist zones selling almost everything imaginable. Soap and shoes, beads and underwear, pans and drums, hens and yams, fish and footballs, spices and shea butter.

The market itself has hazy borders, so its energy spills out into the surrounding streets and neighbourhoods, making central Kumasi a kind of ongoing flow of life, noise and trade. Car radios boom out hiplife tracks. Vendors with head-perched baskets wind through the pavement crowds. Strong-armed women pound fufu outside kitchens. Kumasi is a hugely absorbing place to be.

But the city, as you'll no doubt be aware, is about far more than simple street-level dynamism. Asante culture occupies a special place in national life, and Kumasi and its surrounds have provided its beating heart ever since a loose confederation of local tribes was banded into a single regional kingdom - the Asante - in the 1670s. It's said that a golden stool descended from heaven and fell into the lap of Osei Tutu, who subsequently became the realm's first leader. The current Asante king is actually a direct descendant of Osei Tutu, and the fact that he not only still lives in Kumasi, but is considered by many locals to be a more important figure than the president, tells you all you need to know about how relevant the Asante culture remains today.

It's estimated that there are close to seven million ethnic Asante in modern Ghana, or a fifth of the country's population, and a visit to the region is by far the best way to explore the culture's roots. Kumasi itself was the scene of lengthy battles between British colonialists and early Asante tribesmen - the city was burnt to the ground as recently as 1874 - and the Prempeh II Jubilee Museum gives a good historical overview of this and other episodes. Among its exhibits is the fake golden stool that was handed over in an attempt to fool the British. Close by to the museum is the Okomfo Anokye Sword, which has stood half-submerged for 300 years, marking the spot where the golden stool is said to have first appeared.

If you really want to experience something to tell the folks back home though, time your trip to Kumasi to coincide with the Adae. Held every sixth Sunday, when the current king opens the gates of the royal palace to accept homage from his people, it showcases the Asante lifestyle at its most traditional. In its pomp, the Asante controlled several goldmines - and, rather more regrettably, several slave routes - so its wealth was at times enormous, a fact still evident in some of its rituals. Expect drumming displays, elaborate dancing, ceremonial umbrellas, rainbow robes and a general air of fantasy: it's an event that perfectly encapsulates the culture's colourful vitality. Visitors are welcome to attend, and the experience is highly recommended. After all, how often do you get to call in on a king?


Like all areas of the country, the Kumasi region has various different faces. While the city itself runs along at a breathless pace and a one-minute walk can take you past roadside barbers, ranting evangelists and snarling traffic horns, the countryside surrounding it, by comparison, is a haven of peace. The fertile green landscapes around Kumasi are still home to many of the states and settlements initially brought together under the Asante banner in the 17th century. This means there are large numbers of cultural sites to visit, almost all of them possible to incorporate as day-trips from the city itself. Attractions range from traditional Obosomfie fetish shrines (every bit as curious as they sound) to Asante art galleries and authentic Kente-weaving communities. If you have a few days to spare, the region gives opportunity for unrushed investigation.

Towns and villages with good potential for cultural travellers include Effiduase, Ejisu - renowned as the birthplace of Yaa Asantewaa, a legendarily brave Asante Queen Mother - and Adanwomase, the latter being a good place to learn more about Kente and its production.

Kumasi's central location makes it a busy transport hub - almost all main roads in the south wind up there eventually - and it's similarly well connected to Ghana's north. For travellers, this holds the obvious benefit of being able to include the city as part of a wider itinerary but, more than that, also makes it somewhere that, for all its proud Asante heritage, draws in copious influences from other areas of the country. If there's anywhere away from Accra and the coast that shows just how Ghana's evolving from year to year, this is the place.

Where to eat
Substantial platefuls of Chinese food can be acquired at the Quick Bite Fast Food, a local favourite in the centre of town (Permpeh 11 Rd, Adum), or head to The Dish (6th St, off Hudson Rd, +233 32 20 30 355) for a more laid-back atmosphere and reasonably priced fare. The Kentish Kitchen at the Centre for National Culture offers a selection of authentic dishes.


_______________________________________________________________________
Where to stay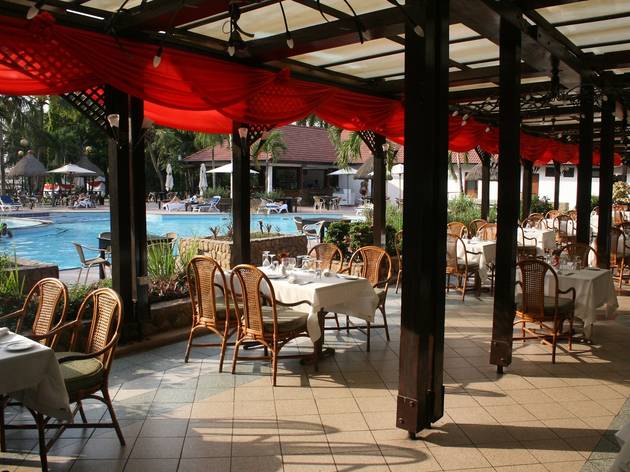 Set in tropical gardens and in the centre of Asante's business district is the elegant 160-room Golden Tulip Hotel. It's the only really international standard hotel in the city. There are also several apartments with a kitchenette and living room. It's popular with conference visitors and the discerning alike. There is a bar and restaurant, tennis courts, a shop and a casino. And it's got a nice pool.
This is a relaxing, lakeside stopover. Built in 2000, it has 20 simple and stylish rooms overlooking the lake from the foot of the nearby mountains. Activities you can take include boat rides and tours to local villages.
More to explore