The 20 best Amsterdam restaurants and cafés
Amsterdam's Michelin-starred restaurants meet cosy cafés in a city of culinary surprises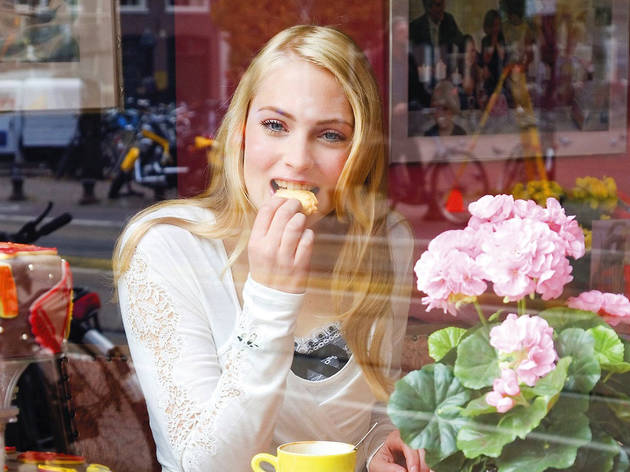 There's an almost endless stream of new and daring places to eat in Amsterdam, and gossip is most fevered around places that combine culinary delight with eccentric locations. These tend to be the best restaurants in Amsterdam.
De Kas, for example, is in an old greenhouse; Hotel de Goudfazant is in a warehouse; Dauphine is in a former Renault showroom; and Pont 13 is in a retired ferry. Just across the way from the latter, REM Eiland (Haparandadam 45, 688 5501, www.remeiland.com) is perhaps the boldest architectural addition of recent years. A pirate radio broadcasting rig in its former life, this dizzying structure was towed from the waters of the North Sea and now boasts heady views across new and old Amsterdam from atop its helipad.
Restaurant Freud (Spaarndammerstraat 424, 688 5548, www.restaurantfreud.nl), offers 'insanely tasty food', prepared and served up by former psychiatric patients, whereas out east, excellent new addition Rijsel (Marcusstraat 52b, 463 2142, www.rijsel.com) has made light of the less-than-stellar reputation of Dutch cuisine by setting up shop in the former home of a school for home economics.
The term 'Dutch cuisine' once inspired peals of laughter. But well-travelled chefs such as Ron Blaauw have returned home to apply their lessons to fresh local and often organic ingredients (you can source your own at Noordermarkt's Saturday organic market). Transcending its setting as a land best suited to spuds, cabbages, carrots and cows, the nation is now employing its greenhouses to grow an array of interesting ingredients. Eet smakelijk!
Amsterdam's best restaurants and cafés
This spacious monument to industry just west of the Jordaan pumped water from the coast's dunes for around a century. Now it pumps out honest Dutch and French dishes - from krokets to caviar - under a mammoth ceiling and floodlighting rescued from the old Ajax stadium. It's a truly unique - and child-friendly - experience.
This tiny restaurant is always packed tight, so you really need to book ahead to make sure of enjoying its excellent set menu of meat or fish dishes.
An Indonesian restaurant near Leidseplein that combines tongue-tantalising food with designer decor. Add a decent bottle of wine and it's the perfect date, fashionable without being fussy and always impressive both in terms of atmosphere and eats.
A new landmark, this former tobacco factory has titillated the local scene with its sense of designer space, excellent wines and a kitchen that stays open late pumping out reasonably-priced French classics.
All of Amsterdam – students, tourists, lesbigays, cinema-goers, the fashion pack – come here for lunch, coffee or something stronger all day long, making it sometimes difficult to bag a seat. Upstairs becomes a restaurant after 5.30pm. Be prepared to fight for a spot on the Amstel-side terrace in summer, with its sweeping views beloved of tourists.
'My Aunt's Cake' started life as a purveyor of over-the-top cakes (which they still make) before becoming the campest tea-room in town. In a glowing pink space filled with mismatched furniture, it's particularly gay-friendly (note the Tom of Finland cake). A genuine local gem with bags full of character.
Show more
See more great restaurants and cafés in Amsterdam