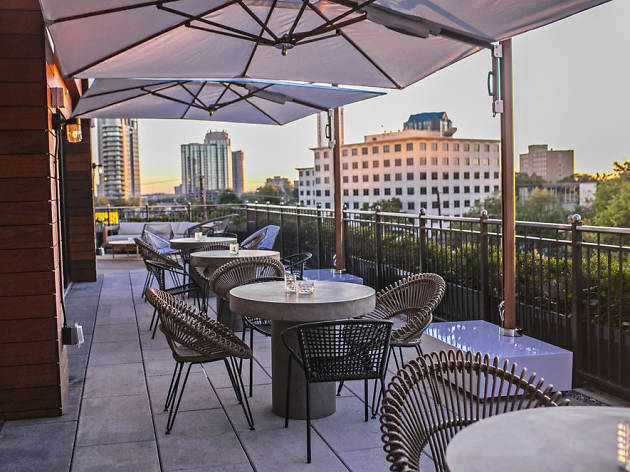 The 11 best rooftop bars in Atlanta
Enjoy cool drinks with a side of fresh air by using this guide to Atlanta's best rooftop bars
Whenever the forecast offers a break from Atlanta's notoriously steamy conditions, one of the most popular things to do in the city becomes drinking outdoors. While there are dozens of patios and sidewalk spots to choose from, you can take your fun up a notch by checking out a rooftop bar.
The city continues to grow and expand, and there's no better way to enjoy scenic views than to do so while enjoying a well-made cocktail or craft beer at one of the best nightlife spots in town. And whereas Buckhead used to be the Mecca of rooftop bars, alfresco drinking spots can now be found all over the metro area. From a Downtown option atop a historic hotel to an award-winning restaurant in Midtown to the beer garden above the buzzing Ponce City Market, these popular options provide relaxing breezes, inviting views, and lots of fun.
Best rooftop bars in Atlanta
Photograph: Courtesy Yelp/Nefize T.
What is it: Sophisticated 11th floor rooftop lounge at Downtown Atlanta's historic Glenn Hotel.
Why go: You'll be hard-pressed to say which is more stunning - the panoramic views of the Centennial Park District or the luxurious, handcrafted fusion cocktails. SkyLounge has routinely been voted "best of" among rooftop bars by various national outlets. Weekends feature musical performances. The outdoor area is very popular, but the interior is just as classy.
Photograph: Courtesy Yelp/Abhishek C.
2. Tuk Tuk Thai Food Loft
What is it: Award-winning Thai restaurant on the Midtown/Bucktown border with great views of the Downtown skyline.
Why go: While the authentic flavors of Thai street food are the main draw, Tuk Tuk's city views are are equally thrilling. Grab a drink - perhaps a pretty Thai tea or mango Mai Tai - on the patio and watch the sparkle of the Downtown lights. When you're ready to move inside for some delicious small plates, you'll still be able to enjoy the views.
Photograph: Courtesy Yelp/Todd W.
What is it: Local brewery with a spacious brewpub, eclectic menu and city views.
Why go: In addition to featuring a rotation of 12 house-made beers on tap (ales, lagers, IPAs and more), 5 Seasons serves a tasty menu of locally-sourced pub fare. Any pint is improved with some fresh air, and locals love the sweeping views from the rooftop patio.
Photograph: Courtesy Yelp/Erin G.
What is it: Outdoor beer garden atop the massive (and massively popular) Ponce City Market.
Why go: As if a rooftop amusement park weren't enough, Ponce City Market also features a beer garden up top. 9 Mile Station offers local beers, innovative craft cocktails, sophisticated shots, a nice wine selection, and an elevated menu of European-inspired American fare. After a few drinks, wave at the shoppers below and challenge a friend to a round of mini golf.
Photograph: Courtesy Yelp/Kyle S.
What is it: A 20,000 square-foot local craft brewery situated on the east side of the Beltline.
Why go: Great beer, local food, and a fun brewery tour are all reasons to check out New Realm. But the brewery also offers lively views of bustling Beltline Park. The expansive rooftop patio is a perfect for an outdoor pint, and it's also where you'll find weekly trivia nights and cornhole tournaments. You might catch a yoga class down below, but up on the roof with a beer is probably where you'd rather be.
Photograph: Courtesy Yelp/Little 5 Corner Tavern
6. Little 5 Corner Tavern
What is it: One of a mini chain of Atlanta taverns, located in the eclectic Little Five Points neighborhood.
Why go: While the roof deck may not be too high up, it still affords great views of the street activity below. You never know who or what you'll see wandering by, as Little Five Points remains a neighborhood full of interesting characters. Plus, after a few beers and a Carpetbagger (a burger that's stuffed with blue cheese, PBR-battered, deep-fried, and dipped in buffalo sauce), you'll definitely need some fresh air.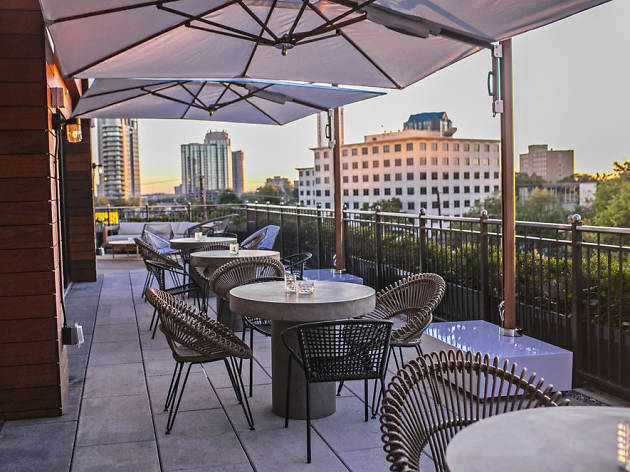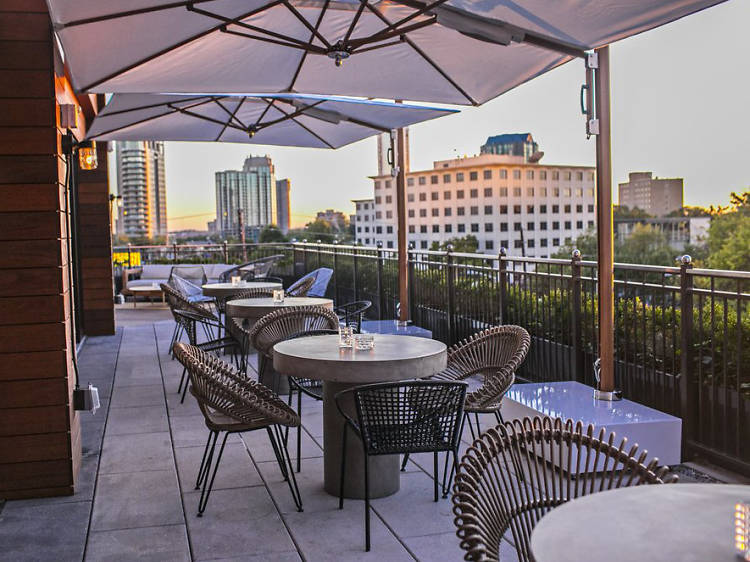 Photograph: Courtesy Yelp/The Regent Cocktail Club
7. The Regent Cocktail Club
What is it: Posh lounge featuring craft cocktails and whiskey, located above American Cut Steakhouse in Buckhead.
Why go: This elegant, 1940s-inspired cocktail lounge offers beautiful views of the city. You'll definitely want to dress up, order a martini or a whiskey and sit in a cocktail strainer-shaped chair on the outdoor deck. Most nights feature live music or a DJ. Check the calendar for Havana Nights and enjoy salsa music and mojitos.
Photograph: Courtesy Facebook/Wetbar, W Atlanta Downtown
What is it: Rooftop pool deck and bar on the 16th floor of Atlanta's W Hotel Downtown.
Why go: This "all-weather" rooftop pool bar - it has a covered deck - serves as a swanky spot for a dip and a drink. You'll get a fantastic view of Downtown from the infinity pool, and the excellent cocktails pair well with tunes from live DJs. It's a weekends-only, see-and-be-seen kind of place, so plan accordingly and make a reservation.
Photograph: Courtesy Yelp/Ron B.
9. Six Feet Under Grant Park
What is it: One of two locations of this casual bar and restaurant, overlooking Oakland Cemetery in Grant Park.
Why go: A fish camp in the middle of Atlanta? It's a stretch, but Six Feet Under creates that vibe with a laid-back decor and baskets of seafood and fried dishes. The rooftop views of Grant Park and the city skyline remind you of your urban surroundings, and a solid beer selection plus an extensive cocktail list make this one of the city's most popular alfresco options.
Photograph: Courtesy Yelp/Molly C.
What is it: Buckhead Irish bar drawing crowds for beer, inspired pub fare, and soccer matches.
Why go: Fado is the spot for English Premier League football, and you'll find fans in here watching matches at all hours. It has all the standard trappings of an Irish pub, with a surprisingly elevated menu - even their traditional rashers and breakfast puddings use locally-sourced ingredients. But the rooftop terrace is where it's at - comfortable and convivial, with great views.
Photograph: Courtesy Yelp/Daniel B.
What is it: Traditional sushi spot with beautiful views of the Midtown skyline.
Why go: This sleek spot is home to some of the most innovative sushi in town. On top of that, O-Ku has an extensive sake list and menu of cocktails that feature japanese whiskey, sochu, Asian fruits, and other creative ingredients. Best of all, you can enjoy your cocktails up on the airy rooftop's comfy couches and cozy tables.
Check out more of Atlanta's nightlife scene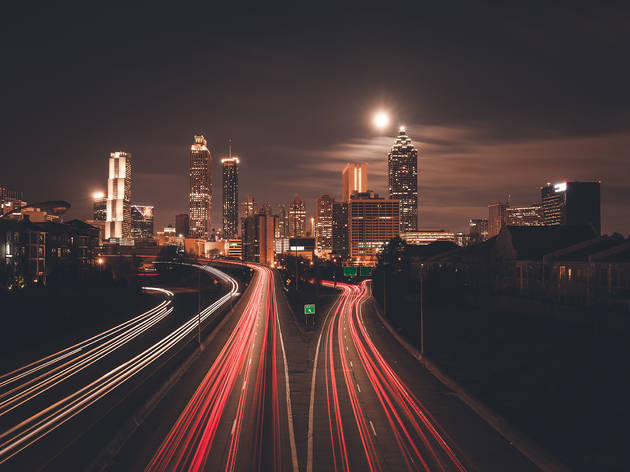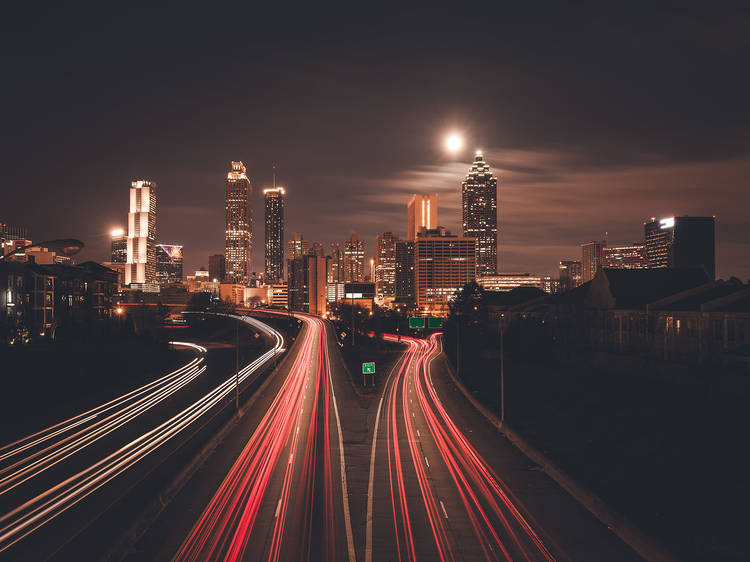 From craft cocktail dens to dance clubs and lively rooftop hangouts, here are the best nightlife spots in Atlanta. No matter what, the city's nightlife is bound to throw up something you'll love.
Best selling Time Out Offers