Heads up! We're working hard to be accurate – but these are unusual times, so please always check before heading out.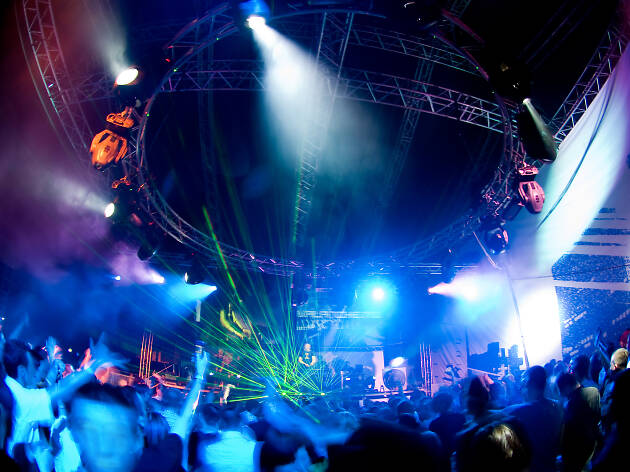 The 11 best clubs in Atlanta
Most of the best clubs in Atlanta have been open for ages, defining the city's nightlife scene through the ages
The nightlife scene in the capital of Georgia is a true beast: from popular hookah bars to bars frequented by mostly locals, the city is varied—but it is the best clubs in Atlanta that provide the clearest picture of what life after dark in town really looks like.
One thing is certain, though: nightclubs here tend to come and go very quickly. A popular destination today (Vision! 112! Atlanta Live!) might be permanently closed tomorrow, given Atlantans' penchant for the new over the tried-and-true—which gives our list of best clubs in town that much more weight.
The venues we highlight are so important to the local after-dark identity that they've stayed open through various eras defined by different trends (and we're not even including strip clubs, which are part of a culture worth exploring all on its own). These are simply the best nightclubs in Atlanta, ranked in order of greatness and judged by their consistency, ability to survive through the times and their aptness at delivering a promised great time with your cover charge.
Best clubs in Atlanta
Photograph: Courtesy Yelp/Scott H.
Both gen-X-ers and millennials can agree that the subterranean MJQ is one of Atlanta's greatest venues for losing yourself in music. This is why, like much of the timeless tunes carefully curated by DJs like Kemit and Karl Injex over the years, it has lasted for over 20 years, which is much longer than some of the songs you'll hear in other clubs this summer. While the neighborhood around it has certainly become swankier (it's hard to be a few steps away from Ponce City Market and not see the changes), MJQ has not simply retained its stains and grungy, sweaty club appeal: it has celebrated them with few changes. Without a doubt, this is the most beloved club in town and still the best option for literal underground hip-hop.
Photograph: Courtesy Yelp/Lawrence M.
Gold Room's past is an interesting one: originally an esteemed-but-ill-reputed strip club in the 1990s (with mafia ties and prostitutes counting professional athletes as clients) it eventually transformed into a shiny shrine to Atlanta's gilded nighttime glory. The spirit of the Gold Club is still alive inside, thanks to the golden poles lining the transparent window rail fencing in the main central seating area, where tables were the main focus. Now there are large plants, sectional gold couches and splashy lighting that can only be described as tropical, all of which help you and everyone else be as noticed as possible, whether you're a local or global celebrity.
Photograph: Courtesy Yelp/Irma D.
It's not big and it's not exactly the most visible place, but it's got a big reputation for being one of the most counted-on places with great music for dancing in Atlanta. The internet has now made it the city's worst kept secret but, for years, you'd never know where it was if you weren't looking. Hidden behind a basic-looking Mexican restaurant on Ponce, this secret dancing destination opened almost 10 years ago and is still going strong. Some folks who defined the venue: DJ Jamad, Wally Sparks and late mixmaster-extraordinaire Speakerfoxxx, who, before her untimely passing, was known for touring with Memphis rapper Gangsta Boo and brought legendary producer Mannie Fresh to El Bar's 5th anniversary.
Photograph: Courtesy Yelp/Abstrct C.
Graveyard Tavern's basement level is where the bass beats bang during themed dance parties (disco, all-Beyonce, etc.) that bring out the sweat in everyone that can fit inside. It's also a great venue for intimate performances, doing particularly well with the hip-hop and indie set: they've hosted satellite shows for the annual All Three Coasts (A3C) Festival that have included live shows from Scarface, Project Pat and other southern rap legends.
Photograph: Courtesy Yelp/Brittany S.
Moving through Havana Club is like moving through an international soundscape. From the main room entrance where house music is the standard to the Latin room lounge and on back towards the "EDM festival"-inspired Havanahaus, you've got 15,000 square feet of partying in Buckhead decadence. It's not a cheap date: tables and bottle service never are, but you may notice an upcharge of $100 or more here. But if you want a scene where you'll be seen and snapped by paparazzi, this is the place, so dress in your absolute best or at least present as much confidence as possible.
Photograph: Courtesy Yelp/Shelby P.
If there's a club that's going to be in a The Fast and the Furious movie, it's probably Opera. Located just behind Peachtree Street in midtown, Opera was once an actual opera house and features a just-renovated-enough look from its history to retain an opulent vibe, whether you're on the huge dance floor moving to a variety of sounds (you can hear pop, electronic, trap and more here) or looking down from the balcony. Along with some of the world's top DJs (David Guetta, Oakenfold), it's one of the few nightclubs in Atlanta that can boast of having hosted the late great Prince.
Photograph: Courtesy Yelp/Tracey B.
M Bar makes great use of less space in order to create an atmosphere of exclusivity or, at the very least, discernment among the evening entertainment set. There's a balance of casual upper-classism here, where you don't necessarily need a millionaire's savings to present yourself as valuing quality company, music, ambiance and attitude. It's a place where you can sit down on the plush silver velvet banquette which lines half of the interior and smoke hookah with friends or hang on the other side of the room and enjoy dance-worthy love songs while propped up along the bar. It's a place where excellence is the norm and no one inside feels excluded.
Photograph: Courtesy Music Room
There's not a whole lot of room for dancing downstairs in Music Room, partially thanks to the large rectangular bar that takes up much of the floor space. But once you've had a couple of two-ingredient cocktails or PBRs, find a spot near the small stage and begin gyrating, jumping and jamming to the always-impressive programming by visiting DJs spinning funk, Afrobeat, disco, underground house and other sounds that inspire a no-wallflower atmosphere. Someone should have pointed Sean "Diddy" Combs in this direction when he said Atlantans don't like to dance and told him to just look for the club with the huge boombox mural covering its entrance.
Photograph: Courtesy Yelp/Vincent M.
Though the name suggests a restaurant, there's much more to Suite, known until 2013 as Luckie Lounge, than the menu. The massive multi-floor building boasts thousands of square feet on the main floor for general mingling, but it's the metallic gold VIP section and indoor/outdoor SkyDeck, which extends through retractable garage windows to an open-air platform with a killer view of downtown, that gives you that upgraded feeling. Get upstairs and claim one of the white leather couches or challenge a friend to a flashy game of billiards on the sparkling blue pool tables. You'll always find a crowd here—the prime location in the convention area near Centennial Park means it's always packed with in- and out-of-towners on weekends, but even on weekdays there are unique events like crab legs and karaoke happy hour to occupy your time.
Photograph: Courtesy Yelp/Brent Y.
The geometric shapes of the golden chandeliers, recurring celebrity hosts like Big Tigger, Jermaine Dupri and others, plus regular appearances by the hottest recording artists in hip-hop and pop music (Teyana Taylor, 50 Cent, YG), and deep West Midtown location have given this off-the-beaten-path party complex a major reputation. That's particularly impressive when you remember Revel is only six months old and closer to the industrial backstreets of Marietta Boulevard than Peachtree Street's city lights.
Photograph: Courtesy Yelp/Jim S.
With an upstairs dance floor and a backlit onyx bar downstairs, plus lots of fluorescent lighting all over, Halo definitely boasts a spirit-lifting energy as well as an out-of-plain-sight location that's slightly separated from the Midtown club district, giving the place a distinct standalone identity. Paintings of dearly departed superstars like The Notorious B.I.G., Prince and others pay homage to the angels watching over the high-style crowd as deejays pump house music, throwback hip-hop, uptempo soul and reggae through the speakers. Don't be afraid to get here a little later in the evening—the crowd sometimes stalls in arriving—but be sure to come in style as the dress code is strictly enforced.
Need a pick-me-up?
Atlanta may be stationed in the South, but it's every bit an international city and business hub with hustle and bustle to spare, so it's no wonder that Atlantas (and visitors) take their need for tranquility seriously: enter the best spas in Atlanta.