Heads up! We're working hard to be accurate – but these are unusual times, so please always check before heading out.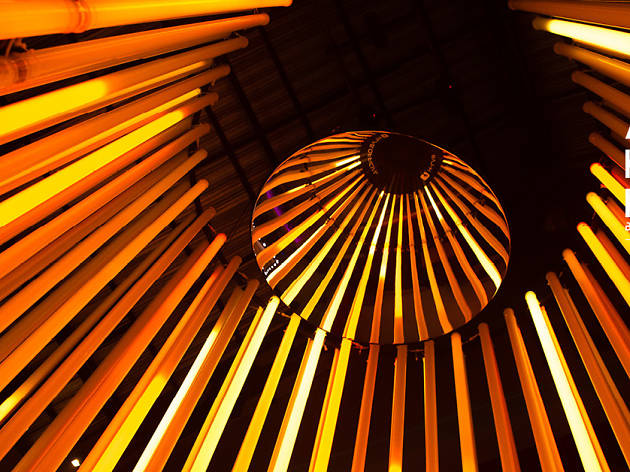 A complete list of lighting installations at Awakening Bangkok 2019
Stroll down the streets to witness these extravagant lighting showcases.
Awakening Bangkok, a festival of lights organized by Time Out Bangkok, along with a few distinguished partners, nudges this historic district "awake" with light installations—exhibited in the area's most iconic structures—that hearken back to Charoenkrung's heritage but also give a glimpse of its future.
We invite you to take a walk down memory lane—in more ways than one—and admire these riveting showcases created by Bangkok's emerging visual designers. And as you amble down the path once trod upon by the ancestors of the city, may you rediscover the many charms and hidden attractions of the locale that first put Bangkok on the map.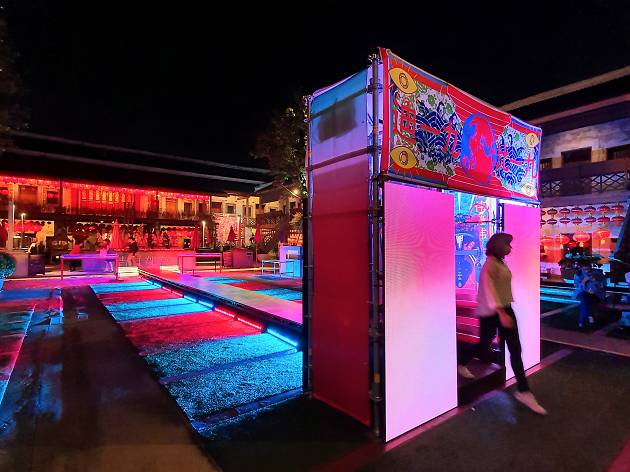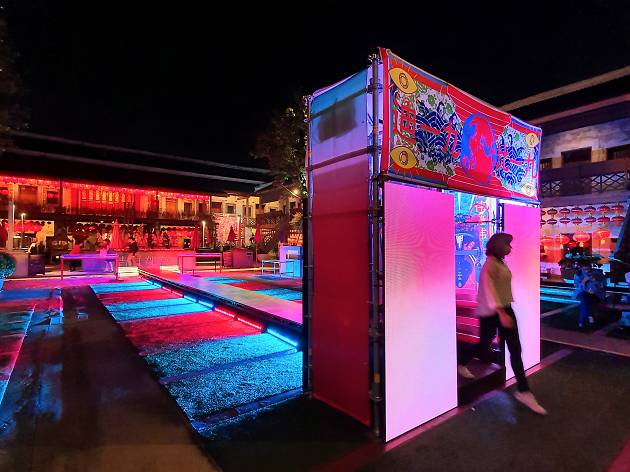 Top Koaysomboon/Time Out Bangkok
1. Lhong 1919 presents D19B19
Artist: Don Boy
Location: Lhong 1919
The historic Teochew port-turned-creative space is now home, albeit a temporary one, to visual and sound design team Don Boy's lighting installation, D19B19. The group considers itself a visitor to any site they exhibit in. No matter how much they learn, they could only be outsiders, and can only tell stories from their own perspective. This thought is the foundation for their Alien Spaceship series, which questions how aliens that have landed on Earth will react to their surroundings and what they could possibly learn. D19B19 imagines the third alien landing in the series and sets it inside a Chinese opera. The installation uses pre-programmed lighting and elements related to the premises, from a gate that represents the blessings Mazu (Lhong's goddess) showers upon travelers to graphic art that imitates Chinese opera costumes.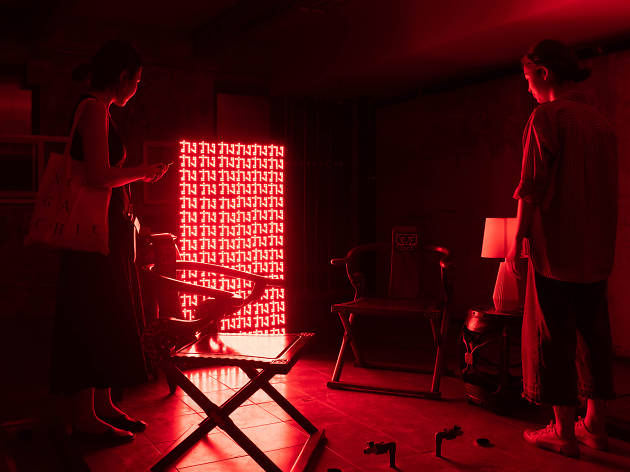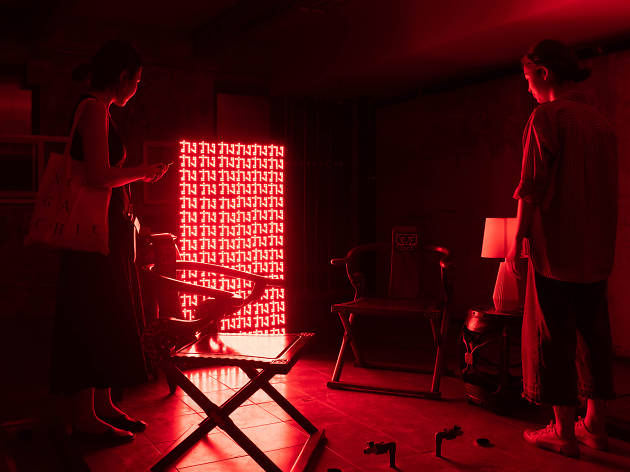 Tanisorn Vongsoontorn/Time Out Bangkok
2. A Conversation with My Past Self 
Artist: Please Feel Invented
Location: A house opposite Rong Kuek Shrine
Interior design squad Please Feel Invented reviews the connection between human beings through a double-location projection mapping installation that enables visitors to interact with the artwork. Record yourself at the first spot and them rush over to the second spot, which displays these delayed recorded images of yourself.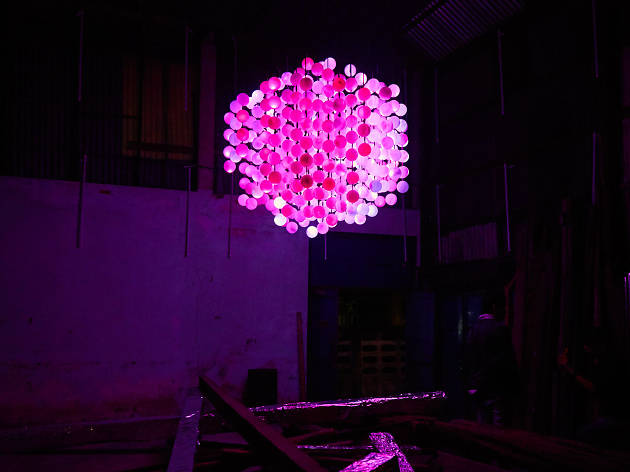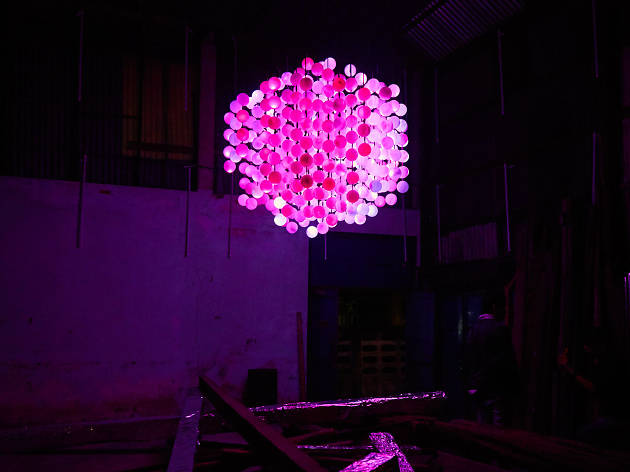 Poomparee Submuang
Artist: COTH Studio
Location: Baan Rim Naam
COTH Studio, in collaboration with four different artists, takes inspiration from that fascinating moment when sunlight is reflected on the water during the sunset and passes through parts of Baan Rim Naam, to create 5:50 Project.
The collective piece includes The Eyes and The Sun, a light installation embedded with a kinetic function; The Rule of Nature, a set of mirrors that reflect the colors of the sunset onto dark corners; Into the Chao Phraya, which imagines how sea creatures would feel during the sunset; and Altering, a series of sunset scenes recorded on different days.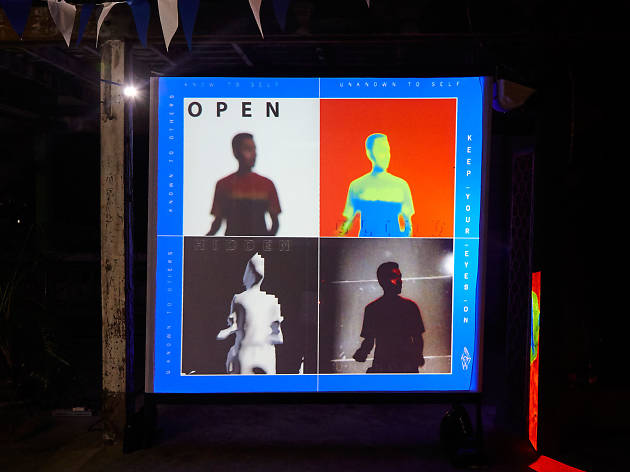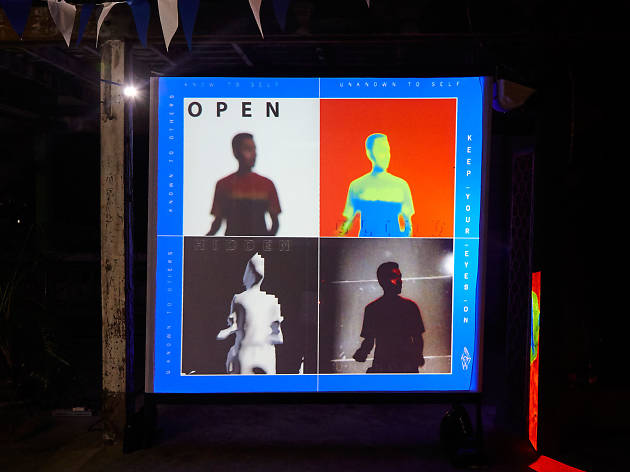 Poomparee Submuang
4. OPEN-BLIND-HIDDEN-UNKNOWN
Artist: KEEP_YOUR_EYES_ON
Location: Baan Rim Naam
What if humans are transparent? How would we reflect the lights that shine off them? Artist group KEEP_YOUR_EYES_ON delves into these thoughts by using interactive videos and polarized cameras that help people discover their "unseeable" selves.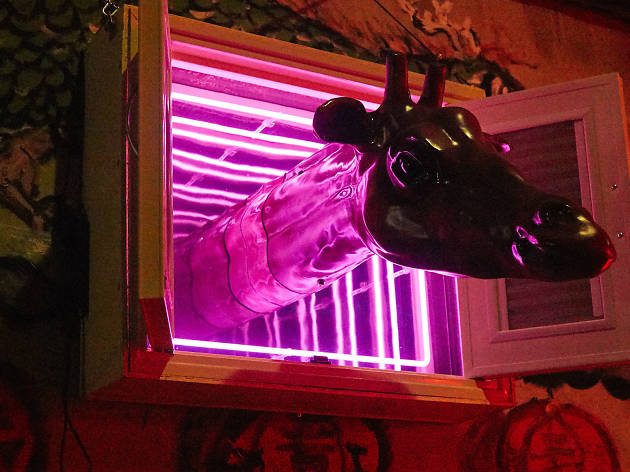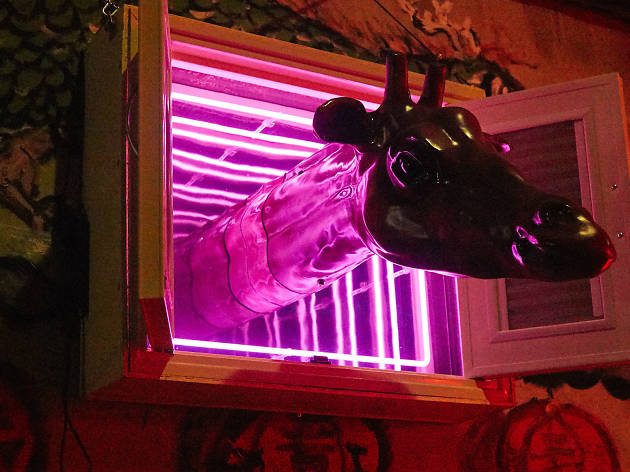 Poomparee Submuang
Artist: Ittirat Keawmanorom
Location: Entrance to Talad Noi Community
The disappearance of the Dusit Zoo inspired sculptor Ittirat Keawmanorom to create teleported giraffes that beg, or perhaps even answer, the questions: Where did they go? Are they now in an unknown space?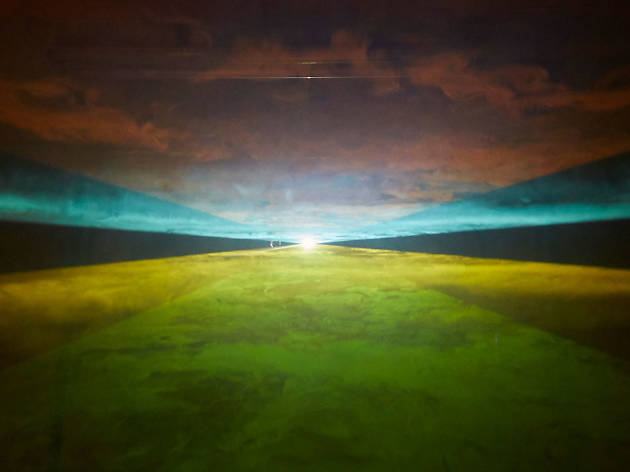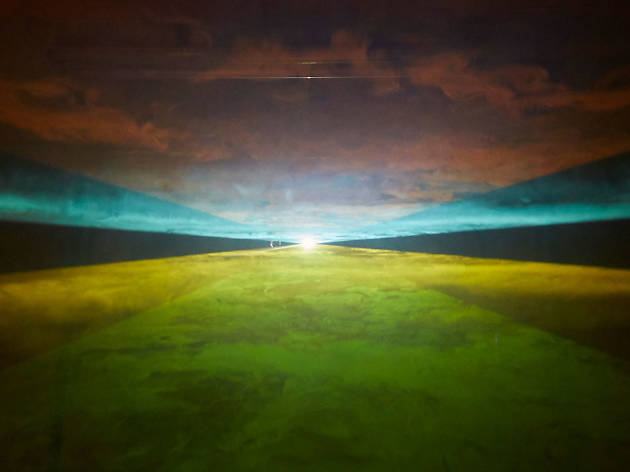 Poomparee Submuang
Artist: Hatchew People
Location: Baan Realrare
Everyone knows what a roong ("rainbow" in Thai) is, but nobody has really been able to come close and actually feel or touch it. Hatchew People's artwork depicts rainbows over clouds to explore the pursuit of imagery—things that exist but you can't actually own.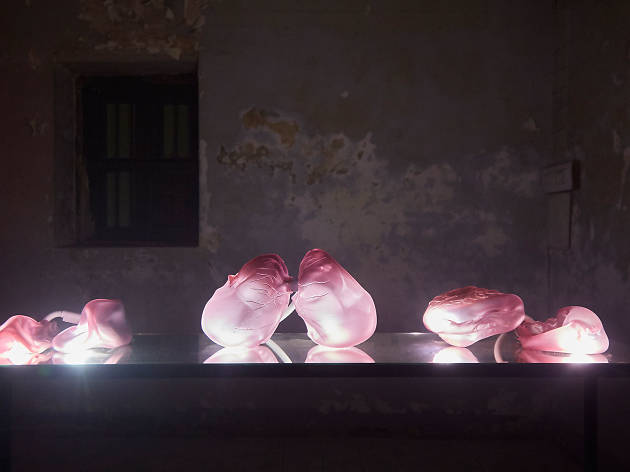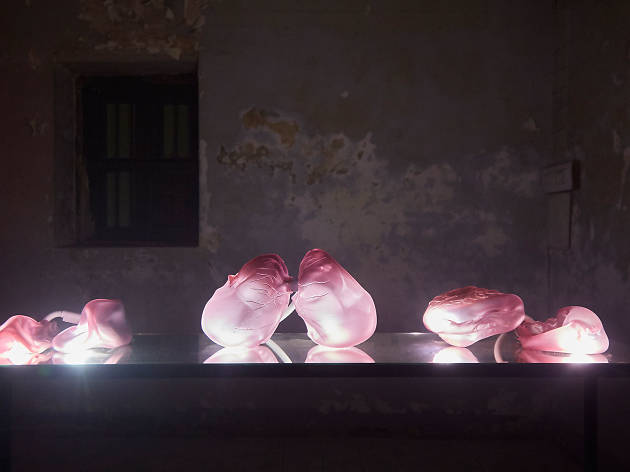 Poomparee Submuang
Artist: Ake Rawdmek from BGC Glass Studio
Location: Baan Realrare
Reflecting on the polluted atmosphere Bangkokians are living in, artist Ake Rawdmek has created eerie lung-shaped glass sculptures that feature a systematic lighting technology programmed according to an actual human's breathing. 2019 Breath is a redevelopment of a similar installation exhibited at Hotel Art Fair 2019.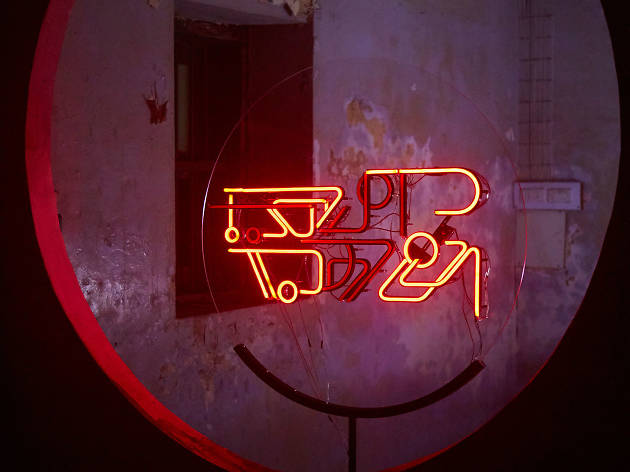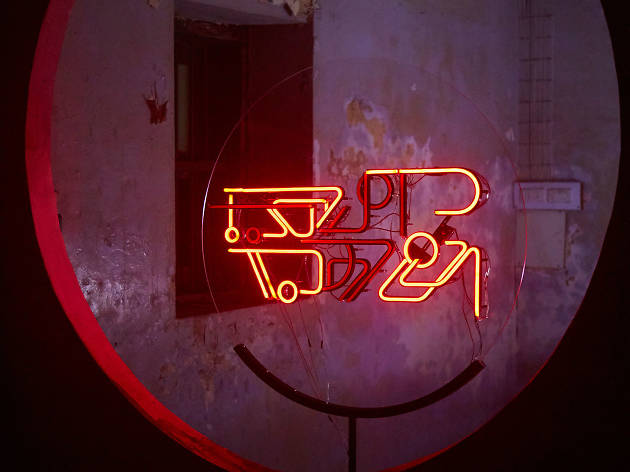 Poomparee Submuang
Artist: Shi Lin
Location: Baan Realrare
Shi Lin uses a kinetic system to explore the thin line between change and permanence. In doing so, she explores the concept of time, and questions the enduring quality of places and our beliefs, and our own perpetuity.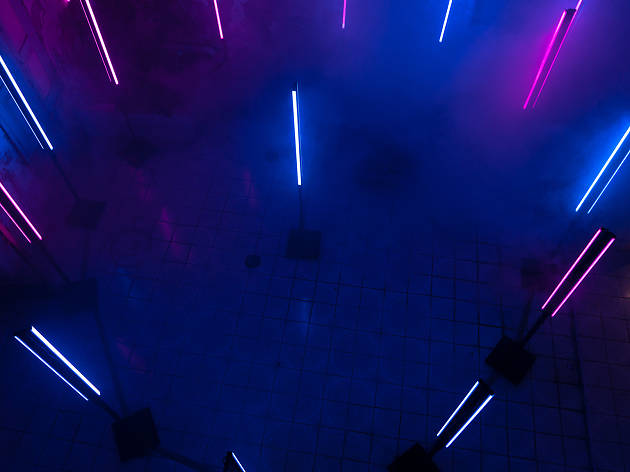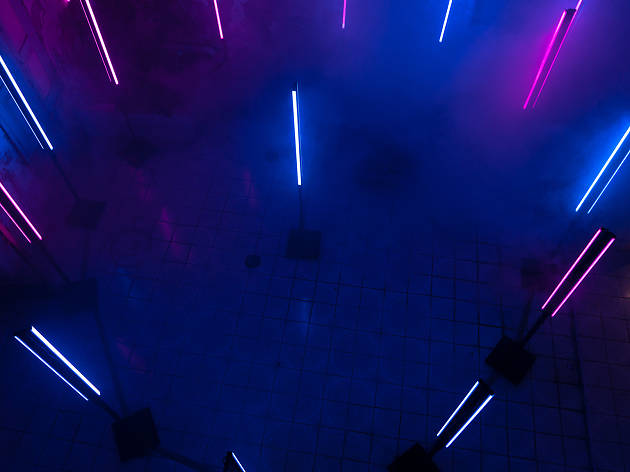 Time Out Bangkok
Artist: Living Spirits
Location: Baan Realrare
A follow-up to their previous Awakening Bangkok installation, Antenna of Centuries by Living Spirits uses vertical, pre-programmed light tubes to transport you to various periods of Charoenkrung, from when the first asphalt road was laid to the heyday of marine trade to the unforeseeable future. Scan the provided QR code to control the lighting show via your smartphone, and transform yourself into an instant "time traveler."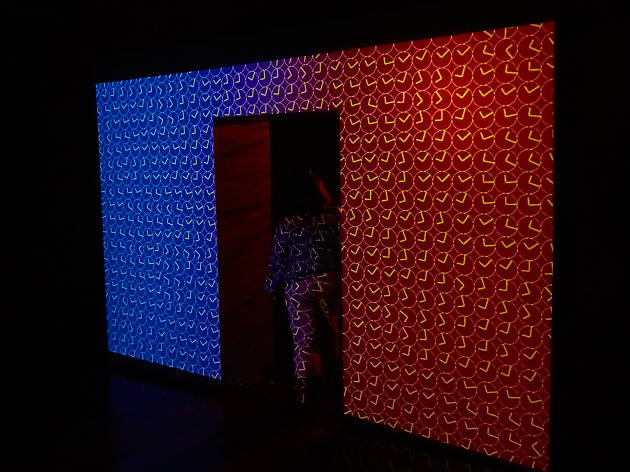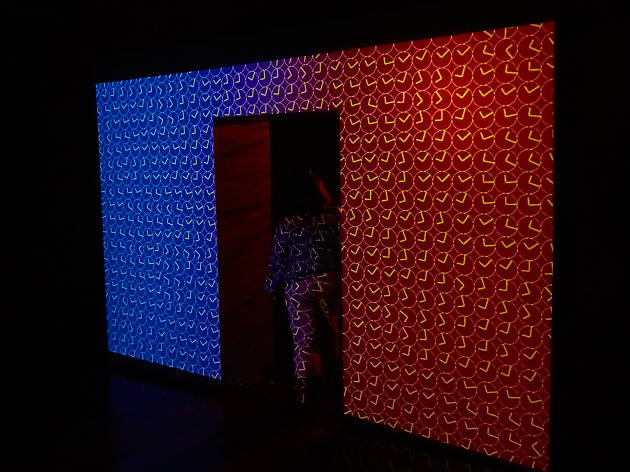 Poomparee Submuang
Artist: CONSCIOUS X KIMBAB:)
Location: Realrare House
Collaborative team Conscious X Kimbab:) takes a closer look at the speed of time through a 3D projection installation that displays images showing how Charoenkrung has changed throughout the decades. Called Time Gate, this artwork is a portal that stands between two worlds: the old Chinese-inspired past portrayed through motion graphics, and the new future, depicted through dreamy, futuristic ambient lights.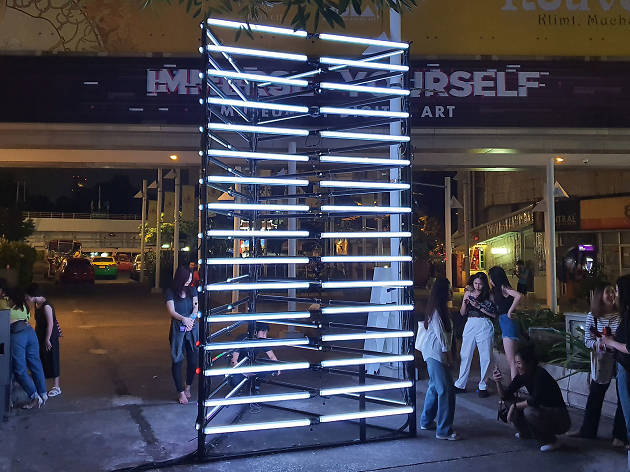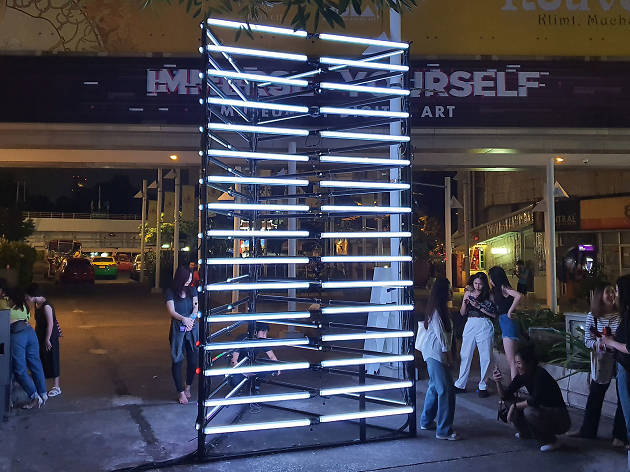 Top Koaysomboon/Time Out Bangkok
Artist: TYJ
Location: River City
Lighting in any form—from blazing fires to glittering lights—holds an allure for human beings. Though mesmerizing, light can also be a trap, and TYJ creates this massive lighting installation to test this notion.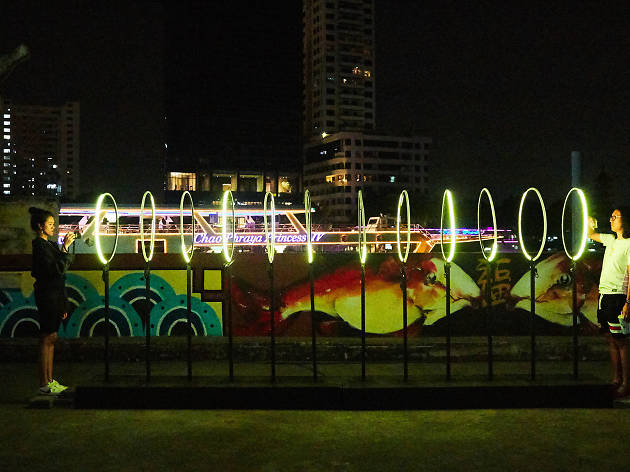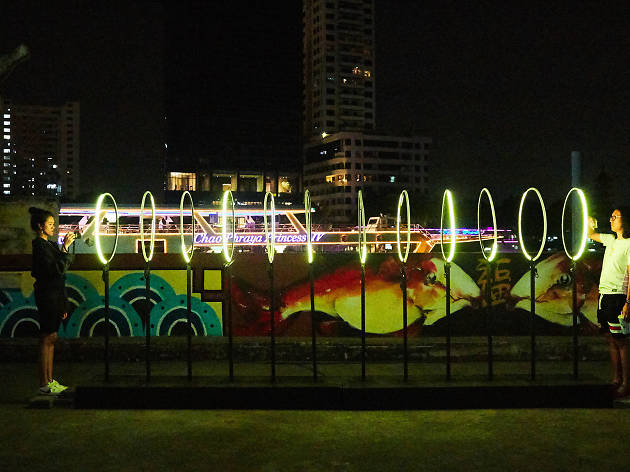 Poomparee Submuang
Artist: Saturate Designs
Location: Rong Kuek Shrine
The tides go up and down twice a day every 12 hours as a result of the gravitational force of the moon. This balance affects how all creatures on Earth live their lives. Saturate Designs reimagines this natural phenomenon with the use of 12 round lights that make us realize how nature's perfection keeps life going.
Poomparee Submuang
Artist: Saturate Designs
Location: Si Phraya Pier
Inspired by fireflies, a species rarely seen these days due to environmental degradation, Artificial Nature reminds us that, no matter how refined they are, artificial things could never replace the gifts of Mother Nature.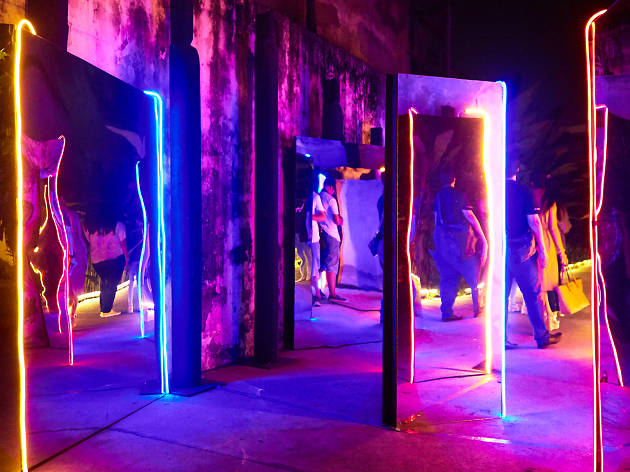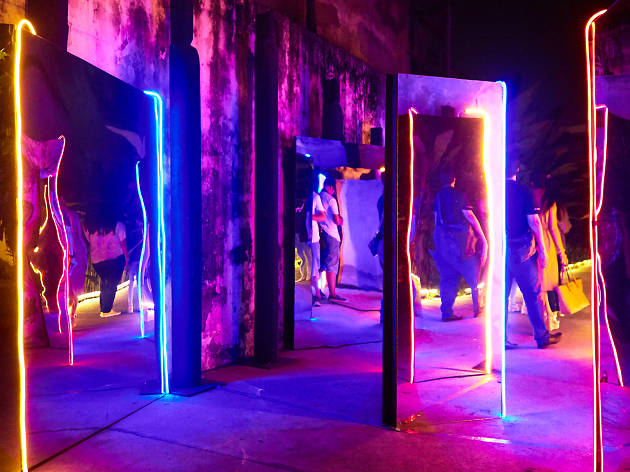 Poomparee Submuang
Artist: VAWA Studio
Location: ATT 19
ATT19, the Chinese-language institution-turned-art hub, has inspired Vawa to create a lighting piece that explores the idea of repurposing a heritage site while keeping its integrity. A series of reflective mirrors placed in unusual angles display vivid colors from every corner. When the rays of light meet, they create different hues, hinting that things aren't always what they seem. The studio goes on to question what's revealed in reflections. If you look at distorted mirror, are you still you even it doesn't look exactly like you?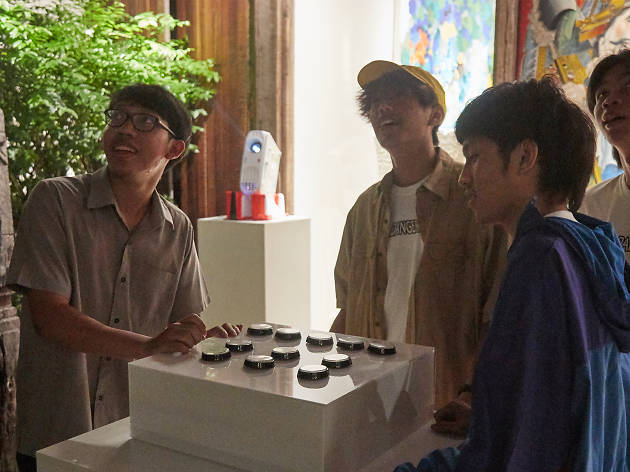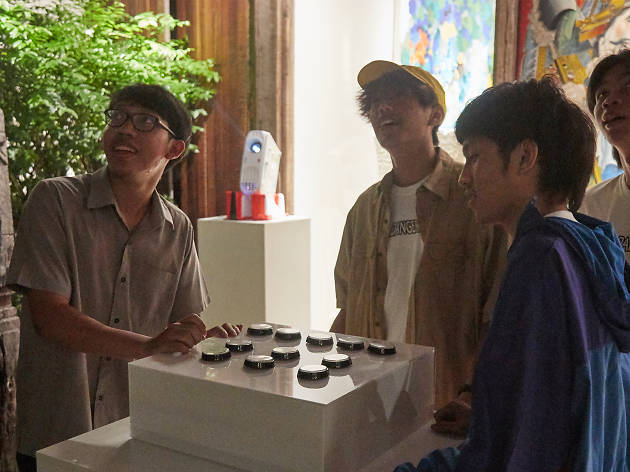 poomrapee submuang
Artist: Jarvis
Location: ATT 19
Inspired by the impressive and complex mix of characters in Charoenkrung, Jayjay, a collaborative art collective composed of communication design and sound design students, has created graphic renditions that incorporate pre-recorded sounds from the neighborhood. Viewers are welcome to interact with the installation, and create their own visual and sound loops using a switchboard.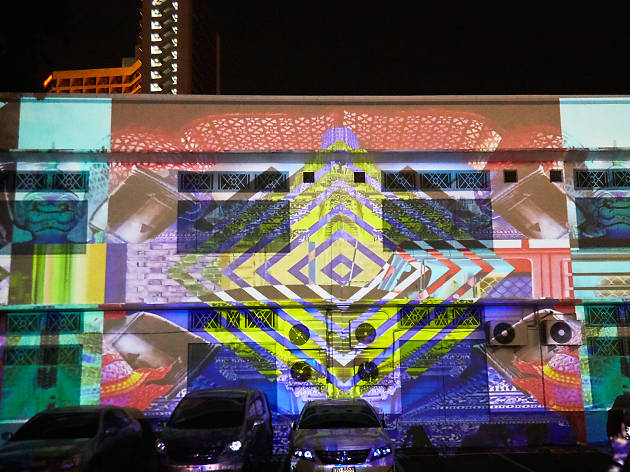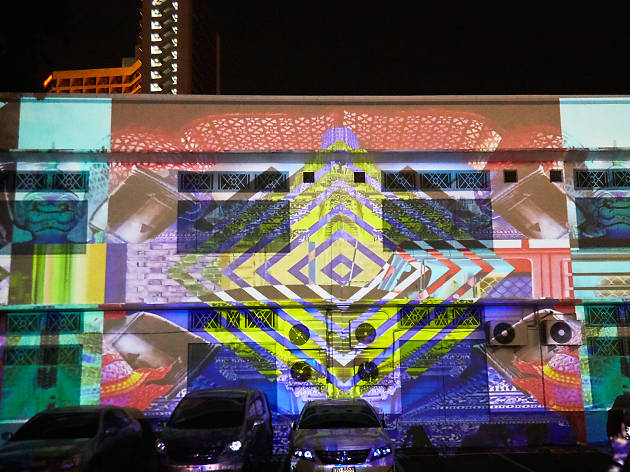 Poomparee Submuang
Artist: 305STOP
Location: Warehouse 30
Visual artist 305STOP goes big—literally–with an extravagant 3D projection that covers the entire Warehouse 30. Inspired by the Charoenkrung lifestyle, from the perspective of both locals and visitors, the young artist conveys Thainess through vivid and geometric pop art-inspired moving graphics.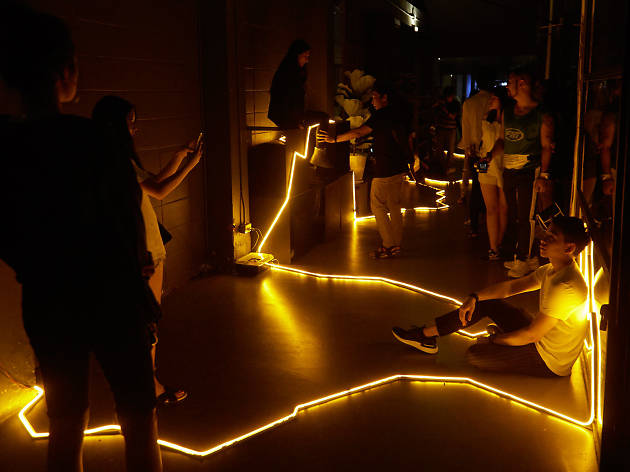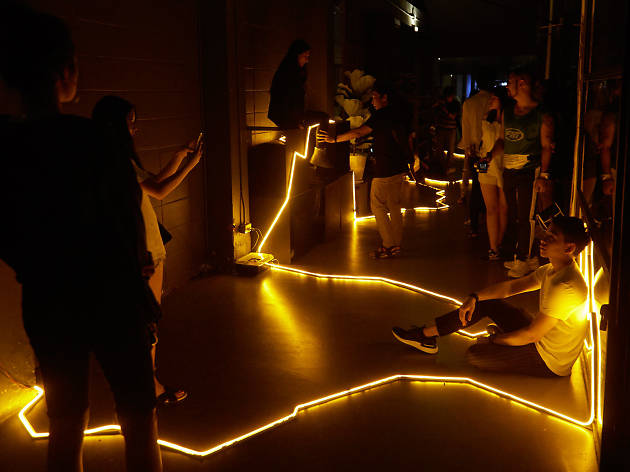 Poomparee Submuang
Artist: Thanabodee Wattanarak
Location: Warehouse 30
Silpakorn University art student Thanabodee Wattanarak uses massive lighting tubes to touch on the idea of borderlines, which usually ignite cultural and political problems. Thanabodee hopes that each step through this light installation awakens the thought of creating unity beyond human-made borders.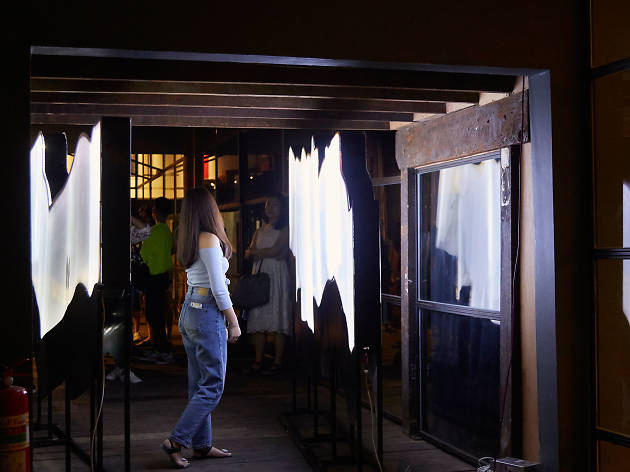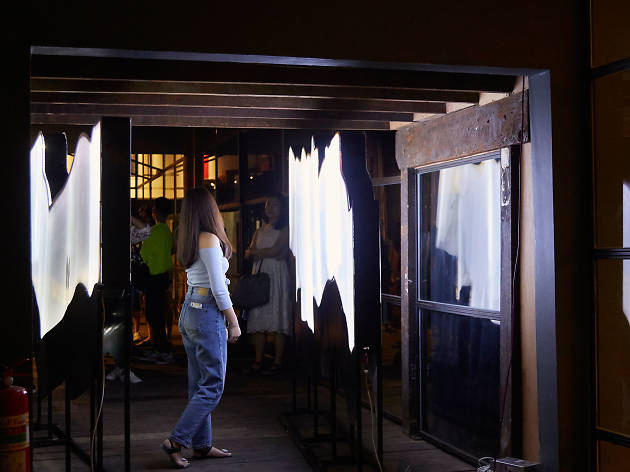 Poomparee Submuang
Artist: Virinsire Chomchey
Location: Warehouse 30
Inspired by the history of Charoenkrung, Virinsire Chomchey assembles a collection of distorted images of lights taken around the neighborhood. Each photo is meant to represent different stories told by different people.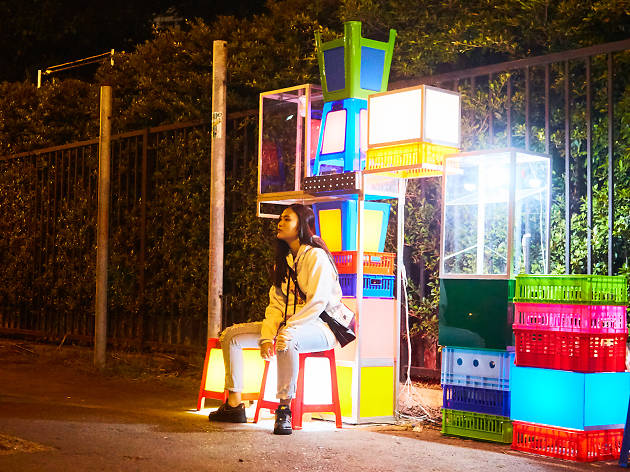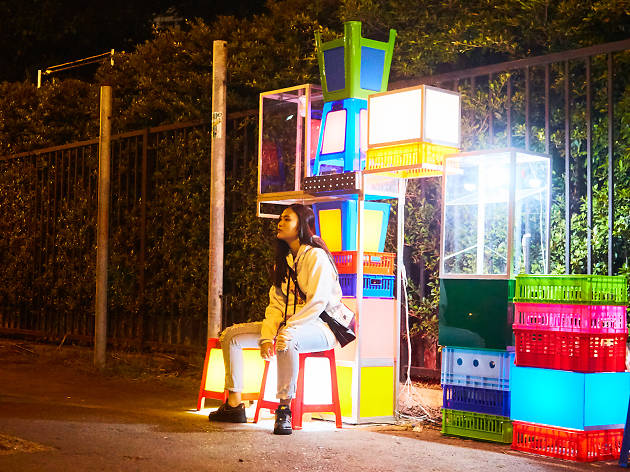 Poomparee Submuang
Artist: Kiattisak Muangkham
Location: Soi Charoenkrung 32
Using neon-lit objects typically seen in street food stalls, like plastic chairs and baskets, and glasses, this piece delves into the Thai eating culture as well as the aesthetic of Thai street food stalls.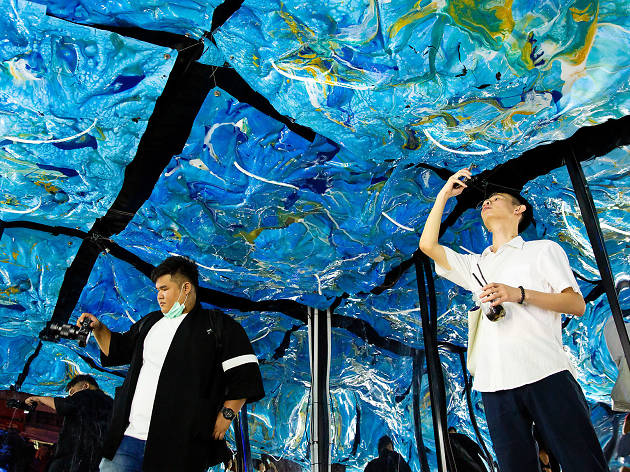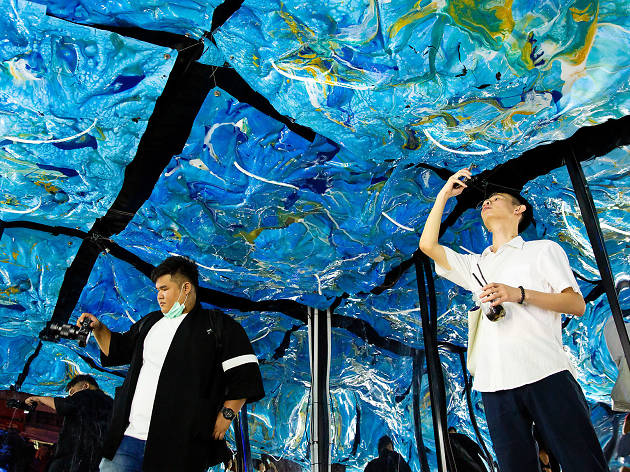 Sereechai Puttes/Time Out Bangkok
20. Into the Plastic World
Artist: Khobfa Chanpensri
Location: The Grand Postal Building
Have you ever wondered how sea creatures feel living in an ocean full of plastic trash? Khobfa recreates the feeling for humans by building a huge acrylic fish tank with walls made of single-side acrylic mirrors. Mounted and hung from the ceiling are wave-like floating light installations made of recycled PET bottles.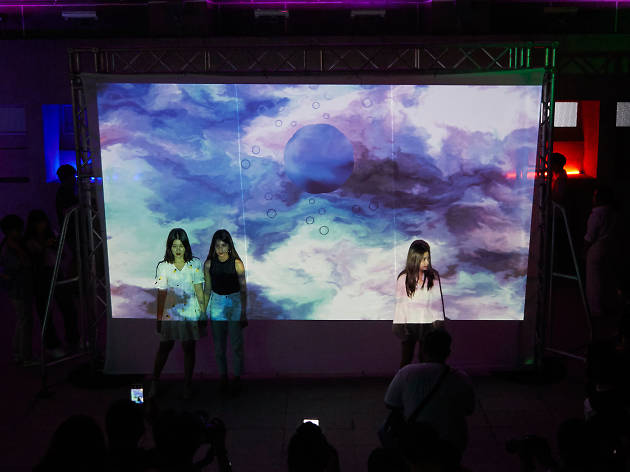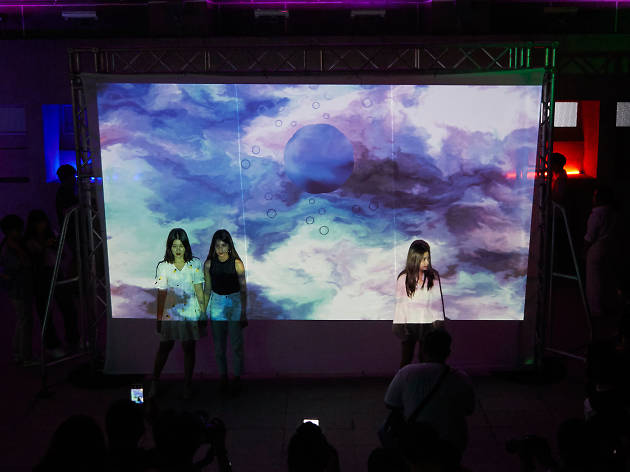 Poomparee Submuang
Artist: Bariyard
Location: The Grand Postal Building
Programmer-turned-visual artist Worawit "Bas" Ruengruen portrays the idea of seeing oneself in a parallel universe through awe-inspiring visuals created using the C++ programming language as an algorithm. This interactive light installation displays a colorful slit sequence that responds to one's movement from a high-definition projector.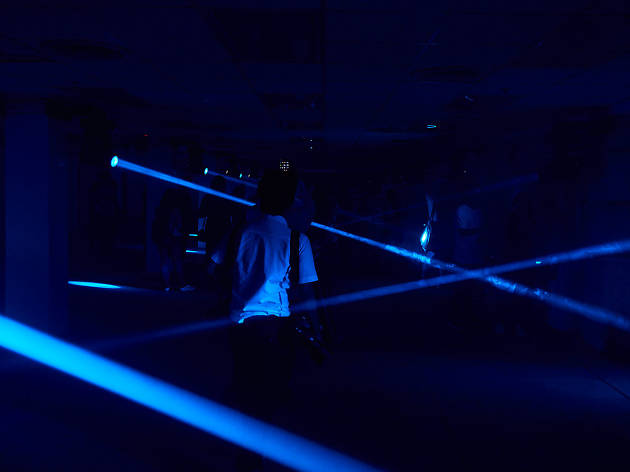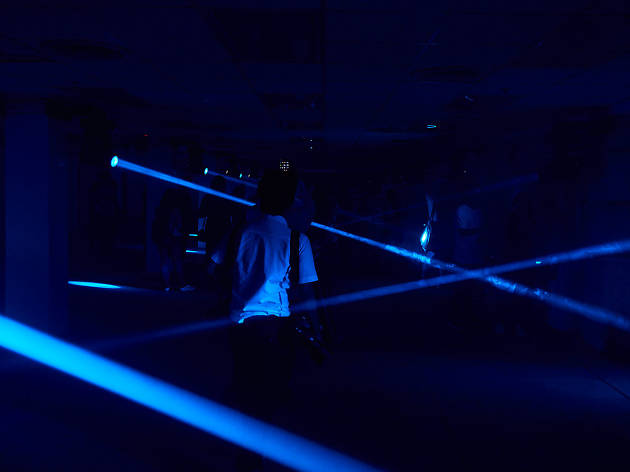 Poomparee Submuang
22. Unidirectional of the Uniform
Artist: Peem Poolpol
Location: Grand Postal Building
Lighting designer Peem Poolpol revisits the groundbreaking light showcase he staged at Awakening Bangkok 2018, Uncertainty of the Uniform, to conceptually narrate the continuation of an ongoing artistic endeavor. Unidirectional of the Uniform reimagines the infinity of time with a site-specific light showcase that casts lights from a single direction, in one uniform, stimulating a space where there seems to be no beginning nor an end. Just Visitors are welcome to return to the same spot and get lost in their own imagination.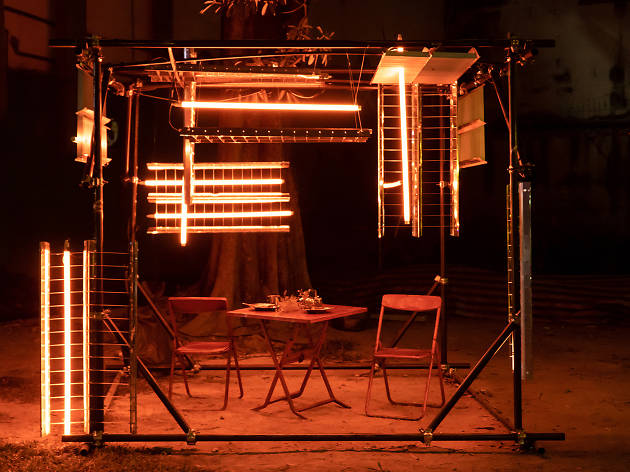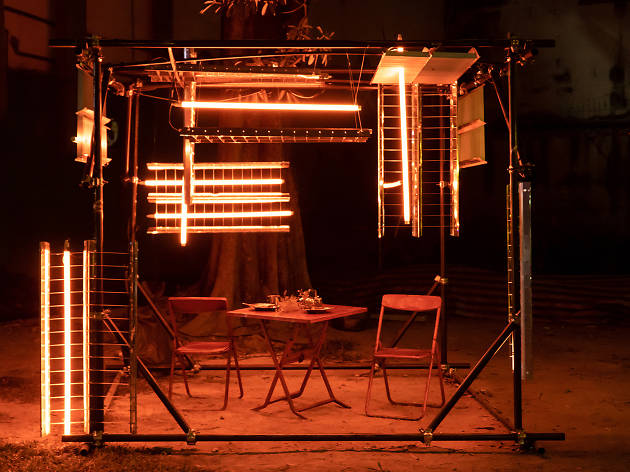 Tanisorn Vongsoontorn/Time Out Bangkok
23. Hungryness After Work
Artist: Cha-Poh-Khit
Location: Haroon Mosque Community
Hunger pangs after a whole day at work are all too real, so you run towards the nearest street food joint to fill up. Cha-Poh-Kit stimulates this daily phenomenon by lighting up a mishmash of stuff found on the streets in yellow, the hue that's relatively unique to street food places in Bangkok.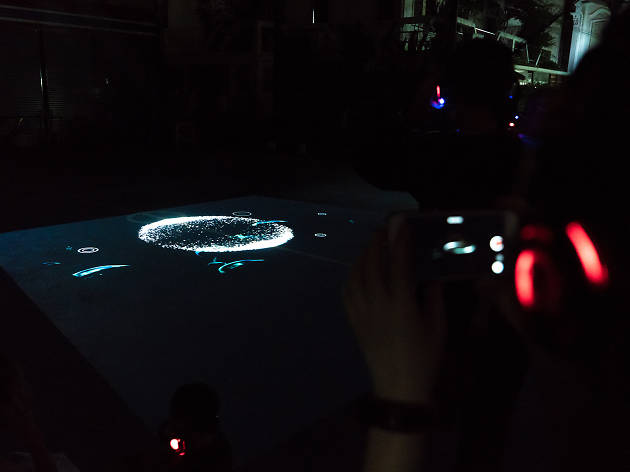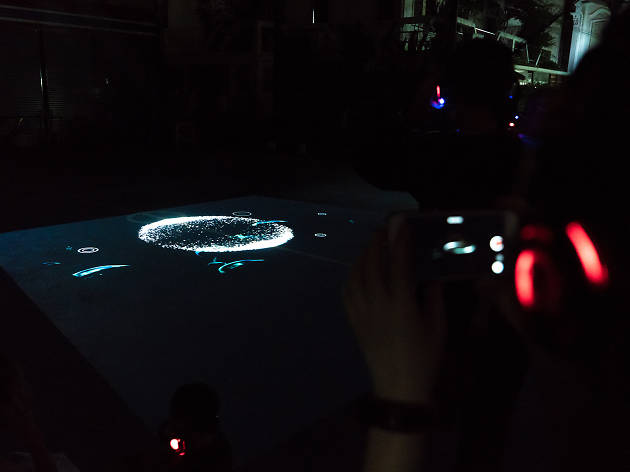 Tanisorn Vongsoontorn/Time Out Bangkok
Artist: MHAPA
Location: Haroon Mosque Community
This immersive installation, inspired by the idea that all matters in the universe are connected to each other—think the geometric Flower of Life pattern seen in atoms and metatrons—wants people to explore and interpret their own journey through overlapping circles projected on the floor.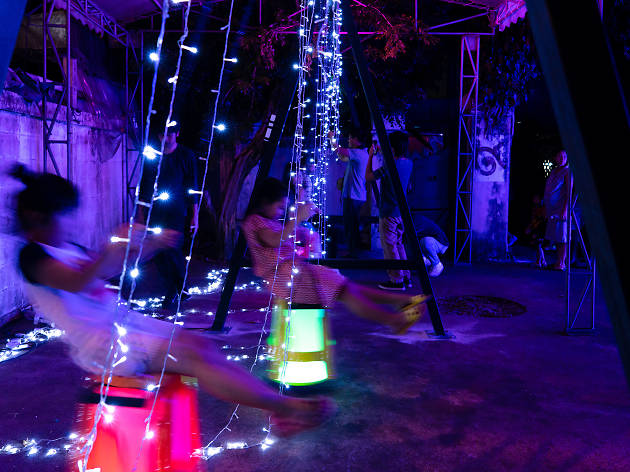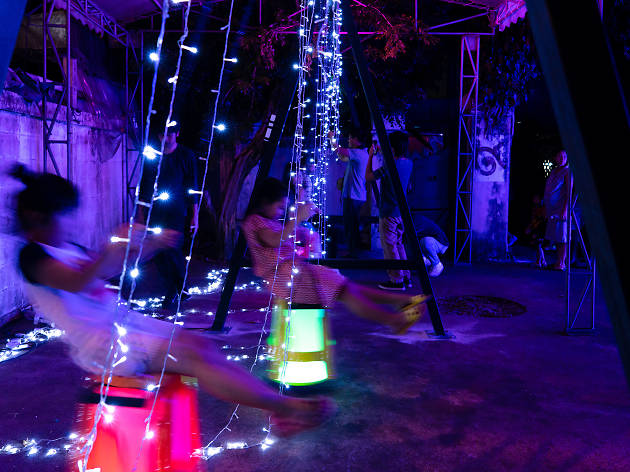 Tanisorn Vongsoontorn/Time Out Bangkok
Artist: MustStart
Location: Marine Police Lodge
Inspired by the concept of looking back to move forward, as well as fun childhood memories, MustStart creates a mini playground with glowing swings and hula hoops. This artwork suggests that the more we look back, the further we move forward.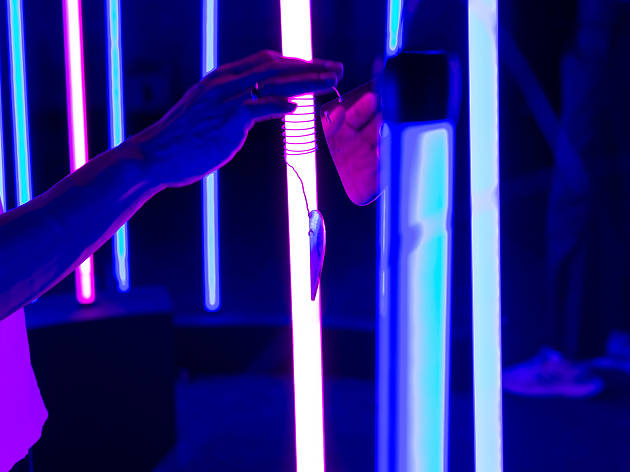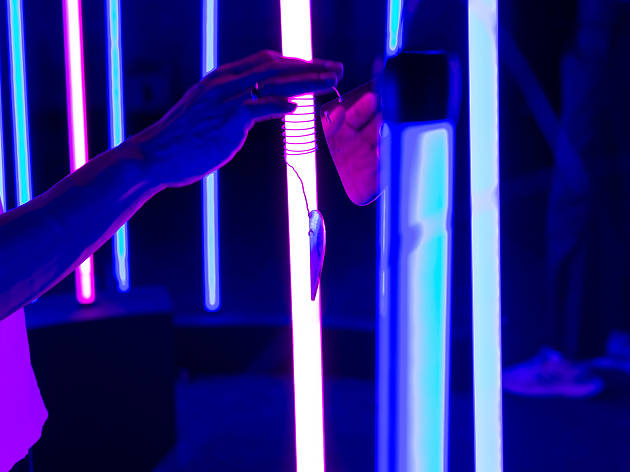 Sereechai Puttes/Time Out Bangkok
Artist: Unplan
Location: Marine Police Lodge
Unplan founder and creative director Patamon Nisabodee explores the idea of existence, the interaction between beings, and the concept of past, present and future through an illuminated garden of butterflies, a symbolic creature that's related to mysterious spiritual terms or theories (butterfly effect, butterfly kiss, butterfly hugs, etc.). According to the artist, touching and interacting with the spiritual creature makes us realize our existence and probably foresee enlightenment.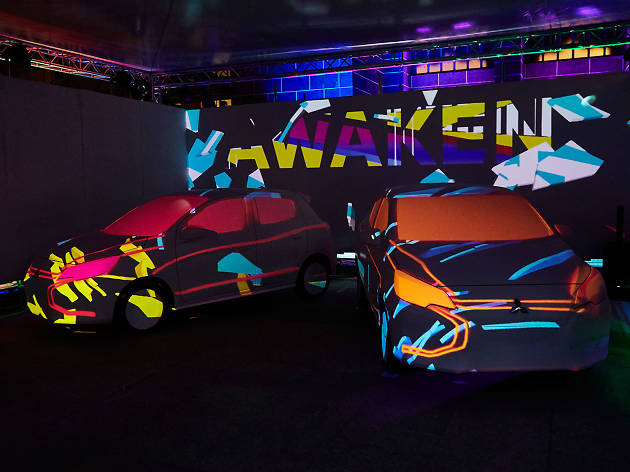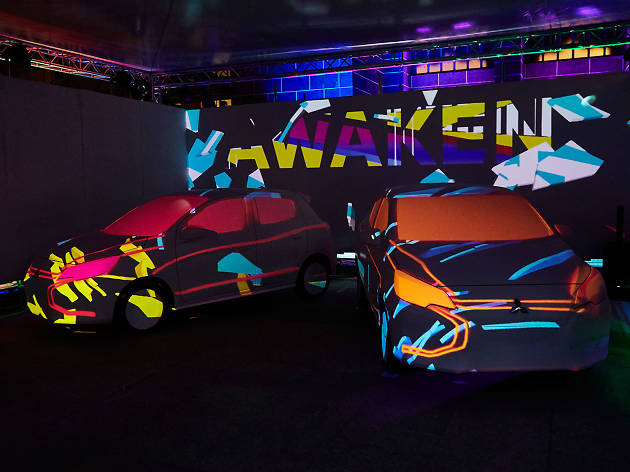 Poomparee Submuang
27. Misubishi Motors presents Awaken Your Power
Artist: Don Boy
Location: The Grand Postal Building
Visual art collective Don Boy's cutting-edge 3D mappings, projected on two new Mitsubishi city cars, are all about awakening your inner spirit and evoking your inner senses. Inspired by the young, hip and modern aesthetics of the Mitsubishi Attrage and Mitsubishi Mirage and the urbanites who sport them, Don Boy audio-visual art explores seven different themes: Bold, Extraordinary, Confident, Explorative, Curious, Creative and Unique.
Getting lost in Don Boy's 3D mapping universe isn't the only way you can enjoy Awaken Your Power; interactive features such as light tunnels, interactive projections and areas for chillaxing, invite patrons to take on a more active part in the show. Visitors are also encouraged to snap photos and share them on social media.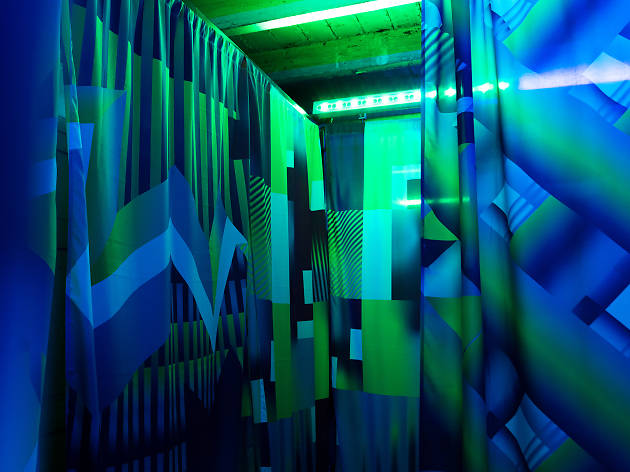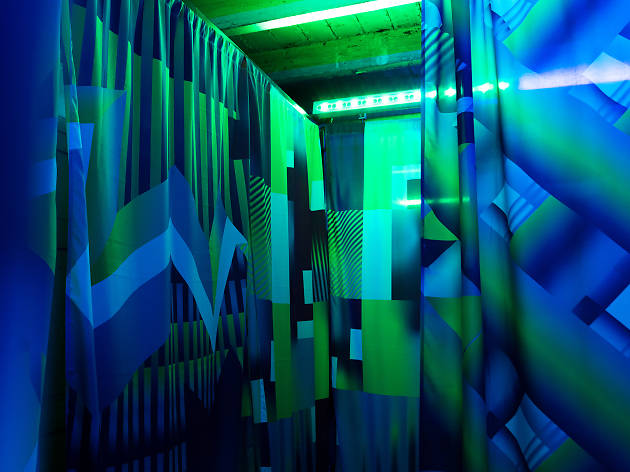 Tanisorn Vongsoontorn/Time Out Bangkok
Artist: Round and Nine
Location: Marine Police Lodge
Round and Nine explores the contradiction between the aging facade of the Marine Police Lodge and a newly created graphic curtain. The artwork raises the question of whether the light installation should be there or not.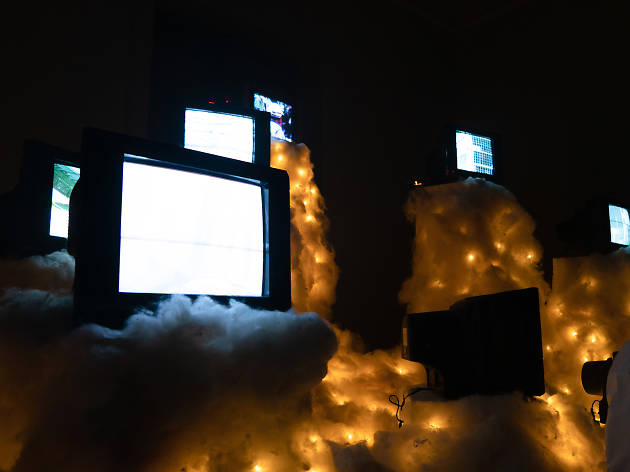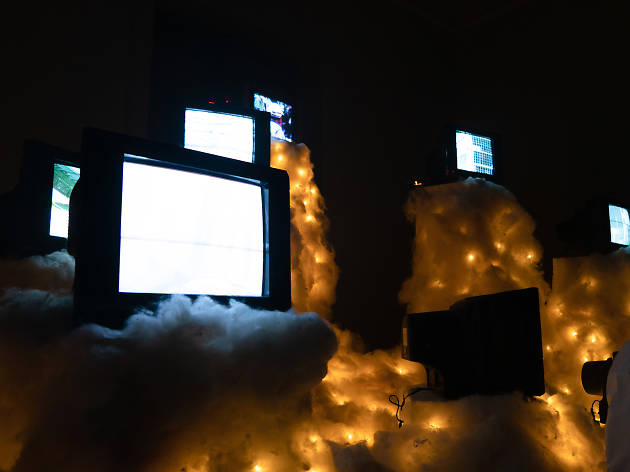 Tanisorn Vongsoontorn/Time Out Bangkok
Artist: Yeast
Location: Marine Police Lodge
Yeast conceives the gentrification of Charoenkrung—the collision of the old and the new—as the three stages of alienation: departure, transition and arrival, and interprets them through three art installations in three different rooms. The first room acts as a decontamination room, swathed in white LED light that helps eliminate the viewers' visuals of the outside world. The second room displays a '90s TV set that shows distorted images of Charoenkrung, and features a floor padded with compressed sponges to give the feeling of transition. The final room represents absence and displays another set of distorted visions of Charoenkrung wrapped in a foggy mist -- as if it never exists.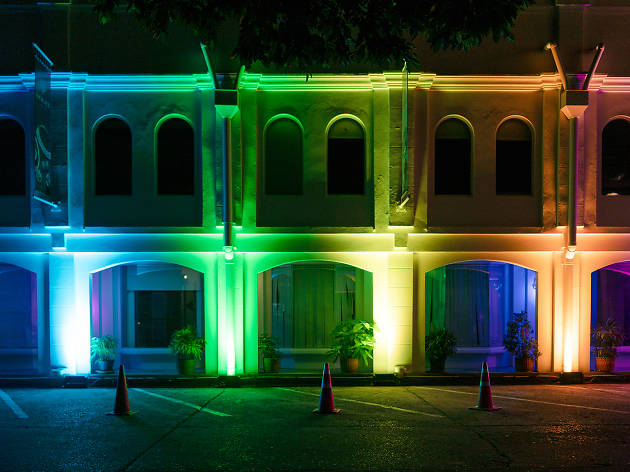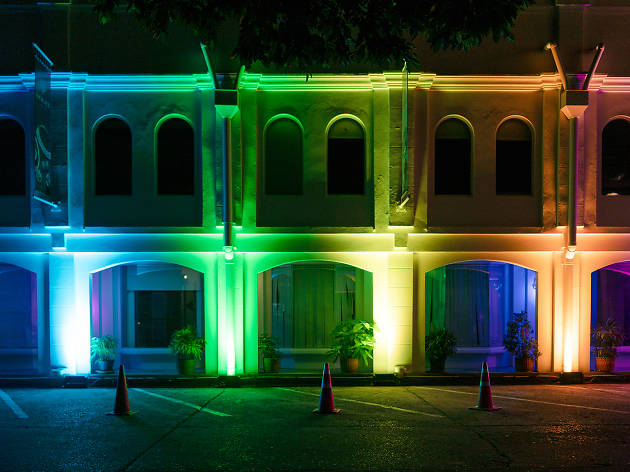 Tanisorn Vongsoontorn/Time Out Bangkok
Artist: Saturate Designs
Location: O.P. Place
We're surrounded by all things at moving at different speeds—fast or slow. And things always have the origin, transportation, and the arrival point of impact—only we don't always see them. Transit reimagines these passages as the constant movement of trains, communicated using pre-programmed lighting, sounds and the arches of O.P. Place.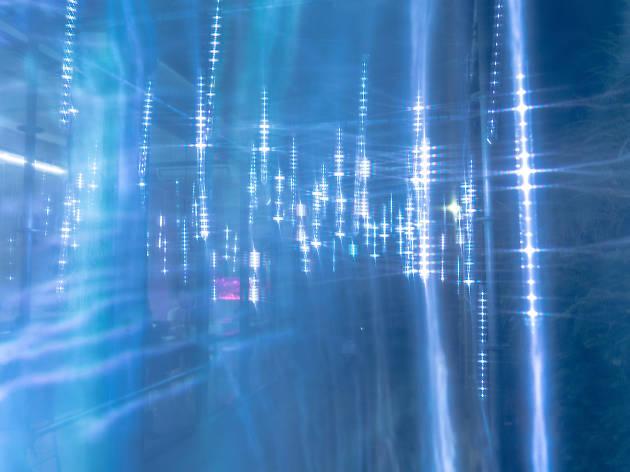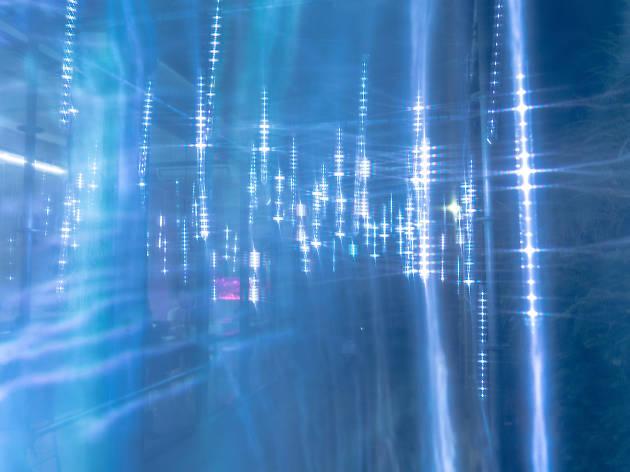 Tanisorn Vongsoontorn/Time Out Bangkok
Artist: Saturate Designs
Location: About White Cafe
Saturate Designs explores the blurry connection between Bangkok's skyscraper-filled skyline and a bamboo forest. Both look peaceful and calm from the outside, but hide a complicated ecosystem within.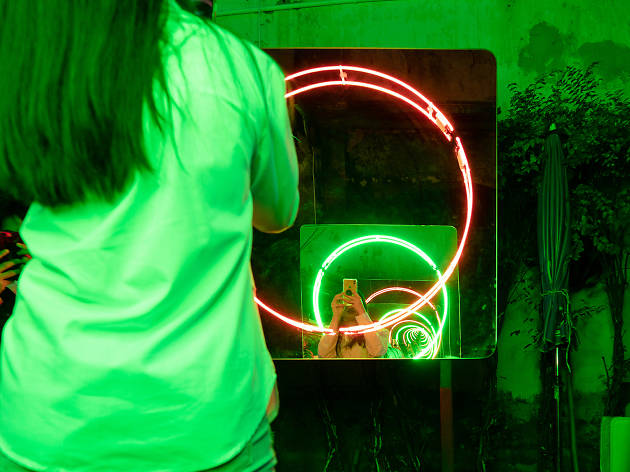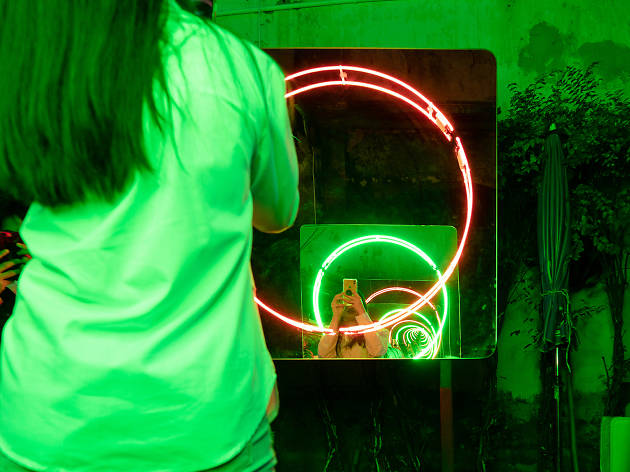 Tanisorn Vongsoontorn/Time Out Bangkok
Artist: Splendour Solis
Location: Prince Theatre Heritage Stay
Splendour Solis returns to the Awakening Bangkok stage and to Prince Theatre Heritage Stay with a monumental piece that deals with the existence of things. This installation, a sequel to the work they exhibited at last year's run, fills up the entrance to the theater-turned-hotel. Two massive mirrors, framed with bright, sight-blurring lights, face one another, allowing visitors to see infinite reflections of themselves. Through this installation, the art collective is trying to shed light on parts that exist even if they're not seen, and likens their work to the sun—even though we don't see it at night, it still shines on other parts of the world.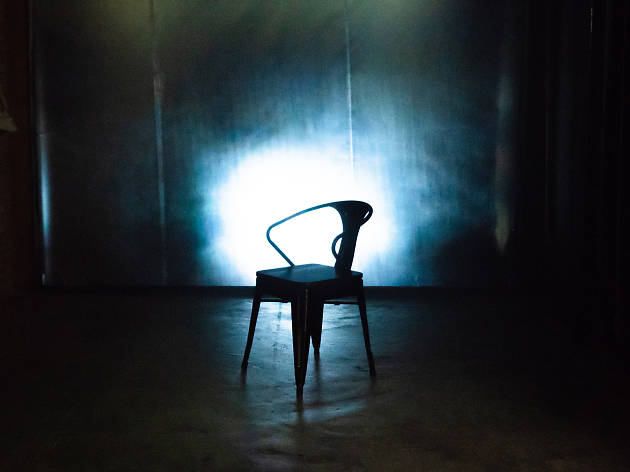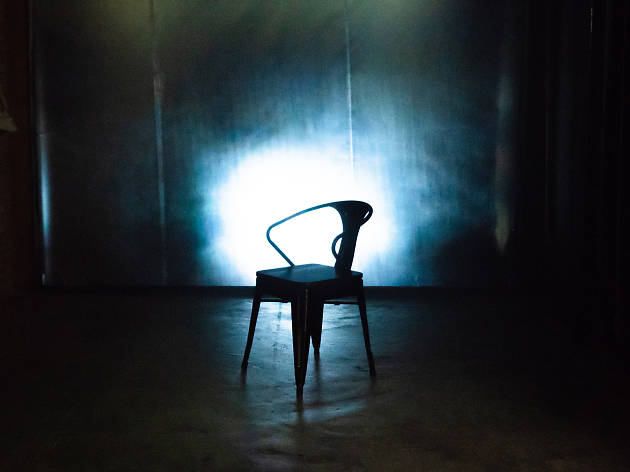 Tanisorn Vongsoontorn/Time Out Bangkok
Artist: ASITNAHC
Location: Prince Theatre Heritage Stay
Perhaps one of the most nerve-wracking installations this year, ASITNAHC's The Alien examines the idea of the unknown, cloudy future, which includes contact with aliens or an extraterrestrial species we know nothing about. Communication with them may help us move forward—or may not.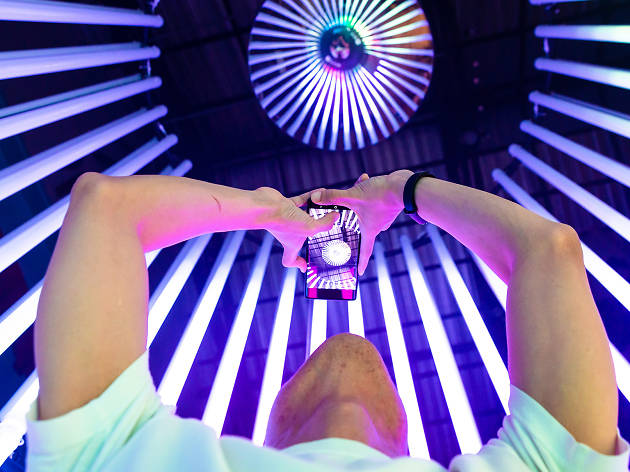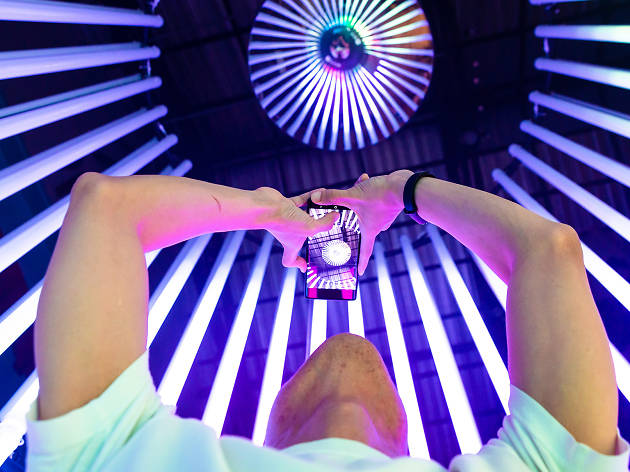 Sereechai Puttes/Time Out Bangkok
Artist: H-Lab
Location: Prince Theatre Heritage Stay
This immersive art installation is constructed out of 50-meter LED tubes mounted into a circular shape with a curved mirror plunging down from the ceiling. Laser lights from the curved fisheye mirror point in different directions, illuminating the peripheral vision and changing one's point of view from a horizontal perspective. The experience is enhanced by hazy mist and ambient sounds.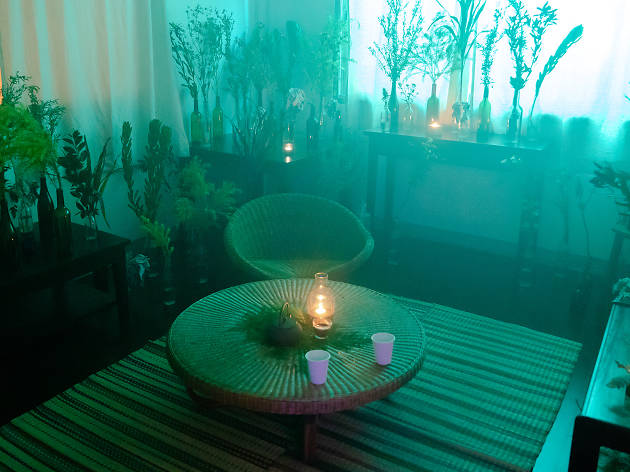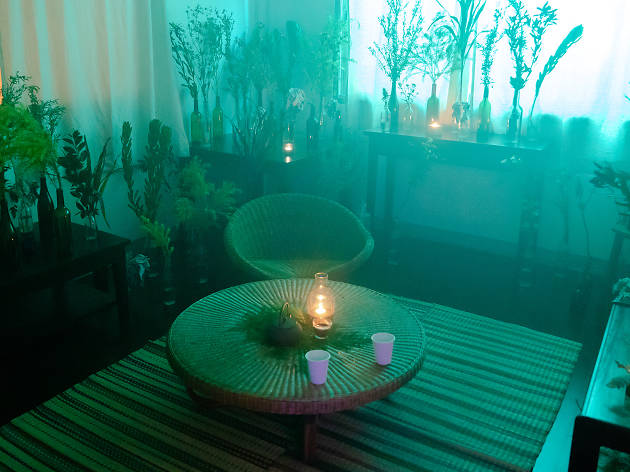 Tanisorn Vongsoontorn/Time Out Bangkok
35. Another Side of the Darkness
Artist: Slure Project by Alternative Universe
Location: Slure
Deeply inspired by Plato's "Allegory of the Cave," which discusses how humans perceive reality, creative group Alternative Universe turns its home, Slure, into a physical representation of the apologue. Another Side of the Darkness allows visitors to illuminate a darkened space in their own way, thus giving them a renewed appreciation of the importance of light. The first floor holds "The Cave," the darkest room which only sees glimmers of light from the flashlights given to visitors. The second floor showcases "The Fire," indicating the discovery of fire through different artistic displays. Lastly, "The Sun" on the third floor features bright light and natural elements representing what's outside of the cave. The site-specific exhibition is co-designed by cinematographer Rapatchanun Cochaputsup, film director Sivaroj Kongsakul, and artist Tossapol Boonsinsukh.
Location: ICONSIAM
ICONSIAM, an Awakening Bangkok partner, celebrates its first anniversary and the festive year-end season with a golden lighting installation that takes over its entire riverfront promenade. This stunning extravaganza features massive glittering Christmas trees and light decorations inspired by traditional Thai stupas.