A brief history of entertainments at royal funerals in Thailand
Get to know the theatrical performances involved in Thai royal funerals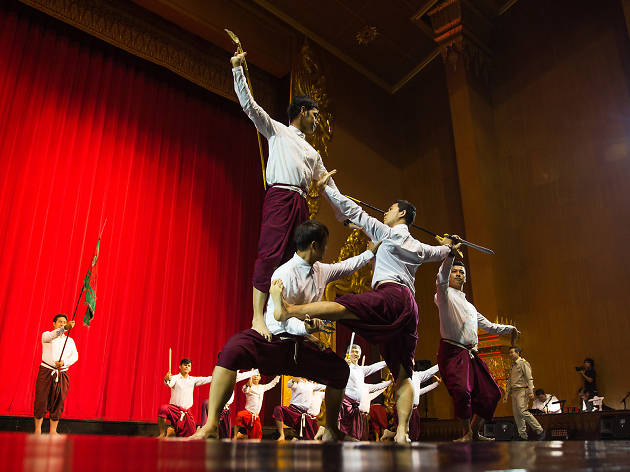 A notable part of the royal funeral of His Majesty King Bhumibol Adulyadej is a series of entertainments to perform during the royal funeral ceremonies. Yes, entertainments. Entertainments at a funeral of a monarch may not seem like a common practice in other parts of the world, but according to traditional Buddhist-Hindu beliefs in Thai culture, royal funerals shouldn't be all about mourning but should also celebrate the return of god-like kings to heaven, as well as their legacy left on earth. Royal funerals of Thai monarchs in the past involved elaborate art, parades, theatrical performances and musical concerts—all regarded as sacred practices to uplift the royal spirits to the afterlife. Historians also believe that funeral entertainments were created to help people overcome their sadness.
The first evidence revealing entertainment at royal funerals, or "mahorasop na fai" or "mahorasop sompoch" in Thai, dates back to the Ayuthaya era, which predates the current Rattanakosin era we're now in. It involved numerous types of theatrical performances, many of which were influenced by performing arts from other cultures yet were prevalent during the reign of the late king.
For the royal funeral of the beloved late King Bhumibol, various performing arts, both traditional (to reflect the kingdom's heritage) and contemporary (to represent King Bhumibol's vision in bridging tradition with modernity), and involving a vast number of performers, will be performed on three stages in front of the cremation site on the main day (26 Oct). The public can witness these mind-blowing performances through LCD screens installed around the old town, and via public broadcast on TV. However, the government is working on restaging these long-lost arts for the public after the royal funeral ceremonies.
Read more
Many of us are aware of the late King Bhumibol's talents in different fields, but only a few art history buffs know about Manohra ballet, the first Thai-style ballet in history co-composed by His Majesty. It all started when King Bhumibol Adulyadej paid an official visit to the Phattalung province in 1959.
The wooden puppet show is one of the most common traditional performances in Thailand—if not in Asia. But nothing can be on par with Hoon Luang, or the royal puppets, which is considered that highest class of puppets in Thai culture. Hoon Luang is the term uses to call the highest class of Thai puppet played and showed only in the royal court.
One of the highlights from the funeral entertainments is a traditional shadow puppet show called Nang Yai ("a large piece of leather" in Thai), a shadow play that encompasses numerous heritage art, from exquisite craftsmanship to elaborate traditional choreography.
More to explore