Funeral entertainment to honor King Bhumibol: Nang Yai
A rarely-seen shadow puppet show most Thais have never seen in their lives is restaged to honor the late king.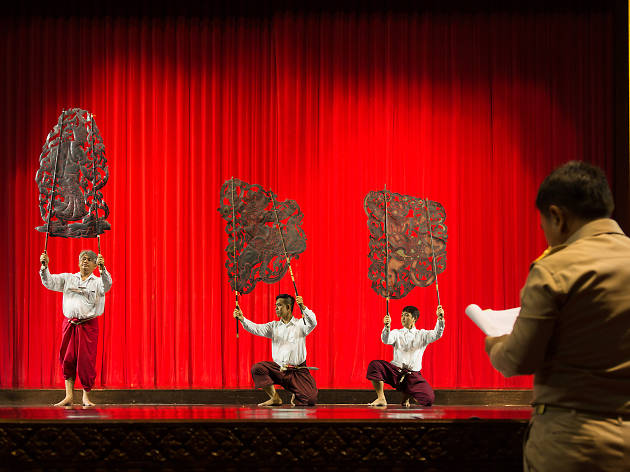 One of the highlights from the funeral entertainments is a traditional shadow puppet show called Nang Yai ("a large piece of leather" in Thai), a shadow play that encompasses numerous heritage art, from exquisite craftsmanship to elaborate traditional choreography. Believed to have arrived in the kingdom more than 500 years ago, the shadow play was adapted and evolved into part of the haute art performed in the royal court that was popular among the aristocrats of old.
Though its roots trace back to the Indian-Javanese shadow play, Nang Yai is unique in its own right. Each Nang Yai piece, usually made with the hide of a large cow of buffalo, depicts a scene from Ramakien, the Thai version of the Hindu epic Ramayana. The show is performed by Nang Yai actors carrying and dancing according to the storyline in front of a warmly lit background from the beginning till the end. The audience will not only see the puppets but the performers as well; all Nang Yai performers are trained to dance to represent a character or a scene while dubbers narrate the story and an ensemble of classical Thai musicians play tunes in the background. Historians believe that ancient Nang Yai dances were the inspiration for Khon, a later-developed Thai high-art performance that involves elaborate costumes.
Because of conservation efforts and costly production—not to mention the difficulty of finding a massive piece of hide—Nang Yai has become less popular, lesser known and has almost died out over the years. There are only a few Nang Yai groups left in the country, and most of them are government-funded.
During King Rama IX's crematorium, a 30-minute Nang Yai performance will be shown on stage alongside a Khon performance. The shadow play will start off with the episode "Pak Sam Tra," a traditional performance that pays respect to gods and teachers, and blesses the performers as well as the audience with prosperity. This will be followed by the episode "Jab Ling Hua Kham," which portrays the fight between two monkeys—one good and one disobedient—and hints of an ideal, peaceful society where everyone does good deeds for their nation.
Read more
A notable part of the royal funeral of His Majesty King Bhumibol Adulyadej is a series of entertainments to perform during the royal funeral ceremonies. According to traditional Buddhist-Hindu beliefs in Thai culture, royal funerals shouldn't be all about mourning but should also celebrate the return of god-like kings to heaven, as well as their legacy left on earth.
Many of us are aware of the late King Bhumibol's talents in different fields, but only a few art history buffs know about Manohra ballet, the first Thai-style ballet in history co-composed by His Majesty. It all started when King Bhumibol Adulyadej paid an official visit to the Phattalung province in 1959.
The wooden puppet show is one of the most common traditional performances in Thailand—if not in Asia. But nothing can be on par with Hoon Luang, or the royal puppets, which is considered that highest class of puppets in Thai culture. Hoon Luang is the term uses to call the highest class of Thai puppet played and showed only in the royal court.
More to explore