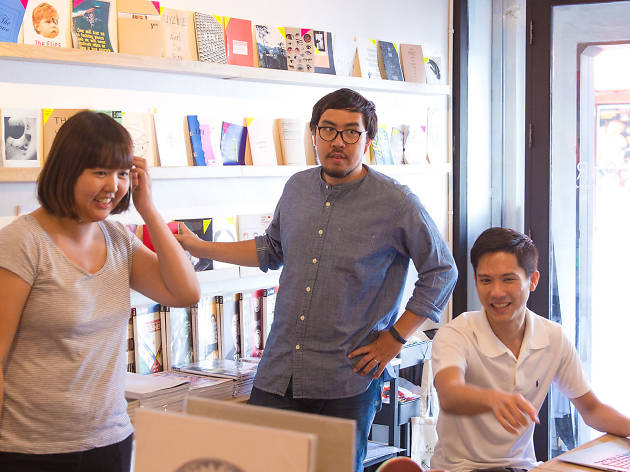 It's a little surprising to find this modern converted shophouse, with its gleaming glass façade, sitting alongside a dodgy-looking-cinema-turned-somtam-parlor in Suthisan. Named Spacebar, it is Bangkok's newest playground for young creative types. We take a quick look at this inspiring new space.
Spacebar was initially the brainchild of four friends—Wimonporn Ratchataganok, Songklod Saengvoratip, Wisaruth Wisidh and Parinya Panyato (the latter departed before the official launch). The remaining three are all part of Daypoets, which publishes A Day, Hamburger andThe Momentum. Wimonporn is a digital content manager, Songklod is a programmer, and Wisaruth is a social media specialist.
Spacebar consists of two parts: a space for artists to exhibit their works and a platform for those looking to hire artists, and a brick-and-mortar store that works as a showroom and a community space for like-minded individuals.
The items currently displayed in the shop are books published by Daypoets, as well as books and zines (handmade books) produced by artists in their network. They are now in the process of growing more product varieties so Spacebar will not look like a subsidiary of Daypoets.
Venue name:
Spacebar
Contact:
Address:
604 Sutthisan Winichai Rd
Bangkok