Mekhong cocktails shortlisted in the Mekhong Thai Spirit Cocktails 2017
Mekhong Thai Spirit presents cocktails that represent the many facets of Thai culture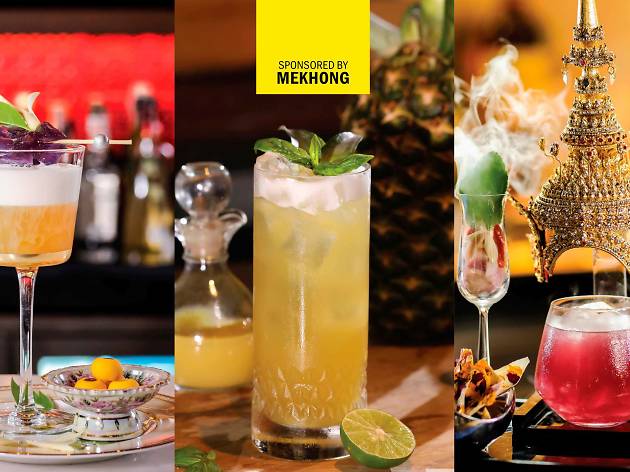 Noted Thai rum brand, Mekhong, recently hosted Mekhong Thai Spirit Cocktails 2017, a cocktail-crafting competition that searched for the perfect cocktails that best represent Thailand's multi-faceted culture. Nine drinks, created by some of the best restaurants and bars in Bangkok, made it to the shortlist, five most-voted mixes were presented to a distinguished judging panel composed of food and drinks experts and honorary guests, including Gaelle Van Hieu, Michelin's Vice President for East Asia & Australia.
Apart from two winning cocktails that were selected for Bangkok's first Michelin Gala Dinner, three other shortlisted mixes are also worth mentioning.
1. Ruen Rudee
Try it at: Saneh Jaan
Ingredients: Mekhong, Frangelico, sugarcane juice, champaka flower syrup, champaka foam and orange peel
One Michelin-starred Thai restaurant Sanah Jaan takes inspiration from ruen ruedee, a Thai dessert that was traditionally reserved for the royal court and is usually smoked with a scented candle, to create a sweet but boozy cocktail. Saneh Jaan's concoction is an aromatic sipper that combines Frangelico—which adds a hazelnut flavor to the traditional drink—with sugar cane juice and white champaka syrup. The cocktail is topped with white champaka mousse prior to serving.
Glasshouse at Sindhorn, 130-132 Wireless Road, Lumpini, 0 2650 9880
2. Siam Park
Try it at: Hyde & Seek Peeka- Boo
Ingredients: Mekhong, vanilla syrup, pineapple juice, ginger, Thai basil and lime juice
Tropical fruits and aromatic herbs are key ingredients in Thai cuisine. Upscale bistro Hyde & Seek Peek-a-Boo pays tribute to the country's indigenous produce by creating an alcohol-infused "garden within a glass." Siam Park combines the spicy notes of Mekhong with the tropical flavors of pineapple juice, ginger and Thai basil to come up with a light and sweet drink that rests easy on the palate.
1st floor, Groove, CentralWorld, Rama 1 Road, 0 2646 1099
3. Tom Yam Mekhala
Try it at: Osha
Ingredients: Mekhong, chili, galangal, lemongrass, shallots, butterfly pea tea, lime and syrup
Modern Thai eatety Osha puts together a photogenic cocktail inspired by the tale of Mekhala, the goddess of the ocean and a character in traditional Thai folklore. The pea flower-colored Tom Yum Mekhala, which also reflects the goddess' skin color, delivers exotic flavors through a mix of galangal, lemongrass, kaffir lime and shallots—the staple ingredients that go into tom yum soup—plus a shot of Mekhong to inject a spicy note to the drink. Embellished with an exquisite chada headpiece, the drink is also served with an ice ball as an allegory to a famous scene in the tale when the goddess is chased by a giant demon for her crystal ball.
Osha, 99 Wireless Road, Lumpini, 0 2256 6555
Click here to see the winners.