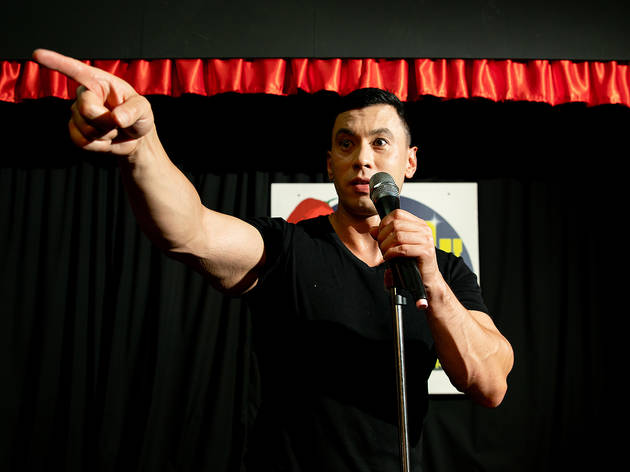 Comedy in the pandemic: How Comedy Club Bangkok's Chris Wegoda survives in a city bereft of cheer
The co-founder of Bangkok's premier comedy venue discusses lying low in a city where COVID-19 has made it hard to laugh.
It's interesting to see how professional comedians are doing at a time when people are struggling to be positive and keep in mind the motto "laughter is the best medicine".
It's something that funny guy Chris Wegoda himself is trying to deal with. In normal times, he would go to his club on Soi Sukhumvit 33/1 and perform in front of an audience, reveling in their jolly laughter. But as you can imagine, his nocturnal habits have been put on pause since all entertainment venues were shut down by the government, albeit temporarily, to control the outbreak.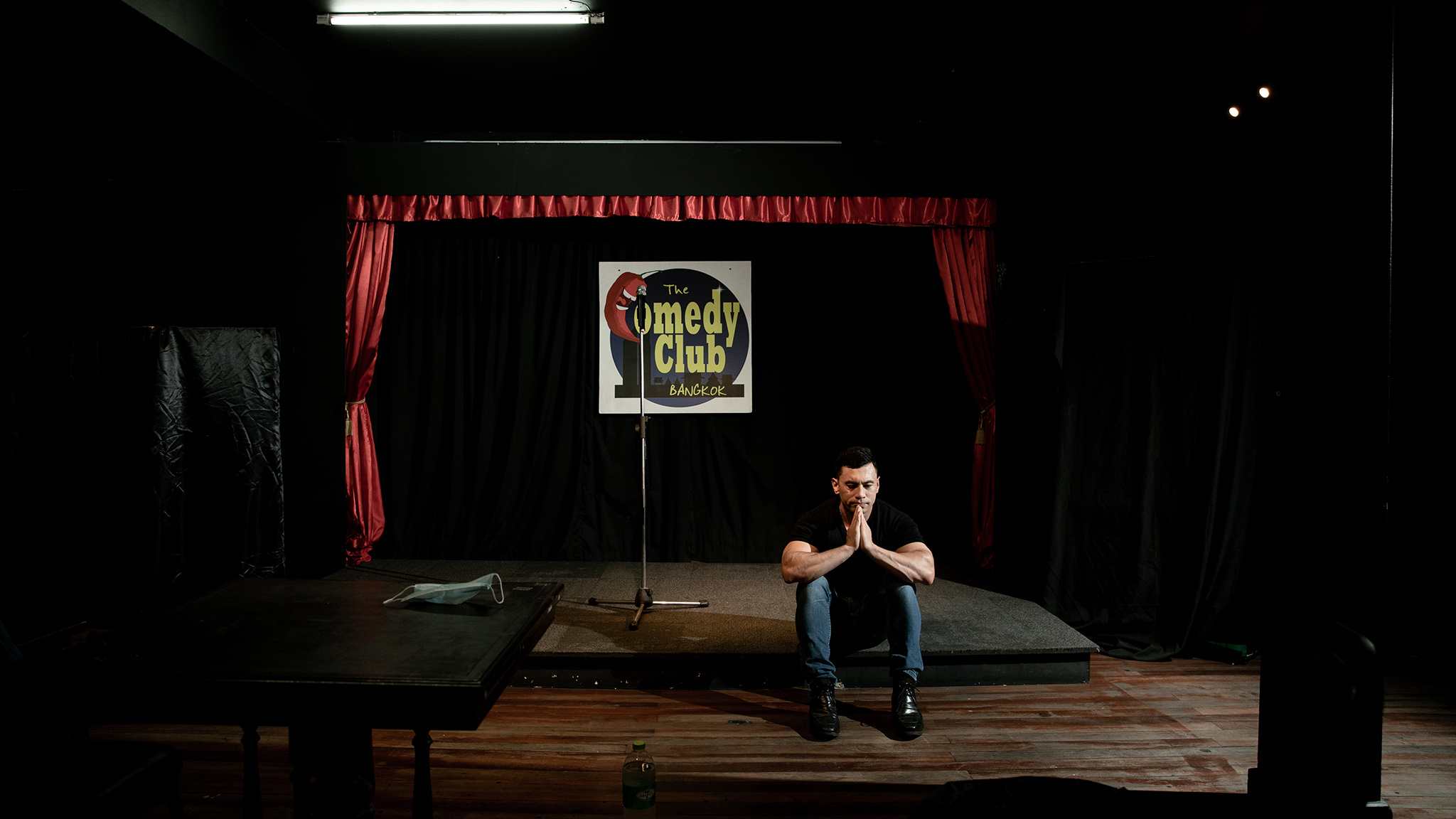 The forced hiatus was a surreal change for the Thai-British comedian, especially after seven years of near-nightly performances. Chris founded Comedy Club Bangkok, alongside his mate Drew McCreadie in September 2014, on the second floor of The Royal Oak, Bangkok's oldest English pub.
"Basically we started [it] because we really wanted to have a sense of a dedicated comedy club, which was clearly something Bangkok was lacking."
All they really wanted to do was to make people laugh. "I feel blessed to have that luxury."
"It's probably because of some mental issue or something," Chris jokes about people who like to do stand-up. "It's clear you're asking people to listen to you, which is an attention-seeking activity in many ways. But at the same time, people come here for comedy, so obviously they want to listen."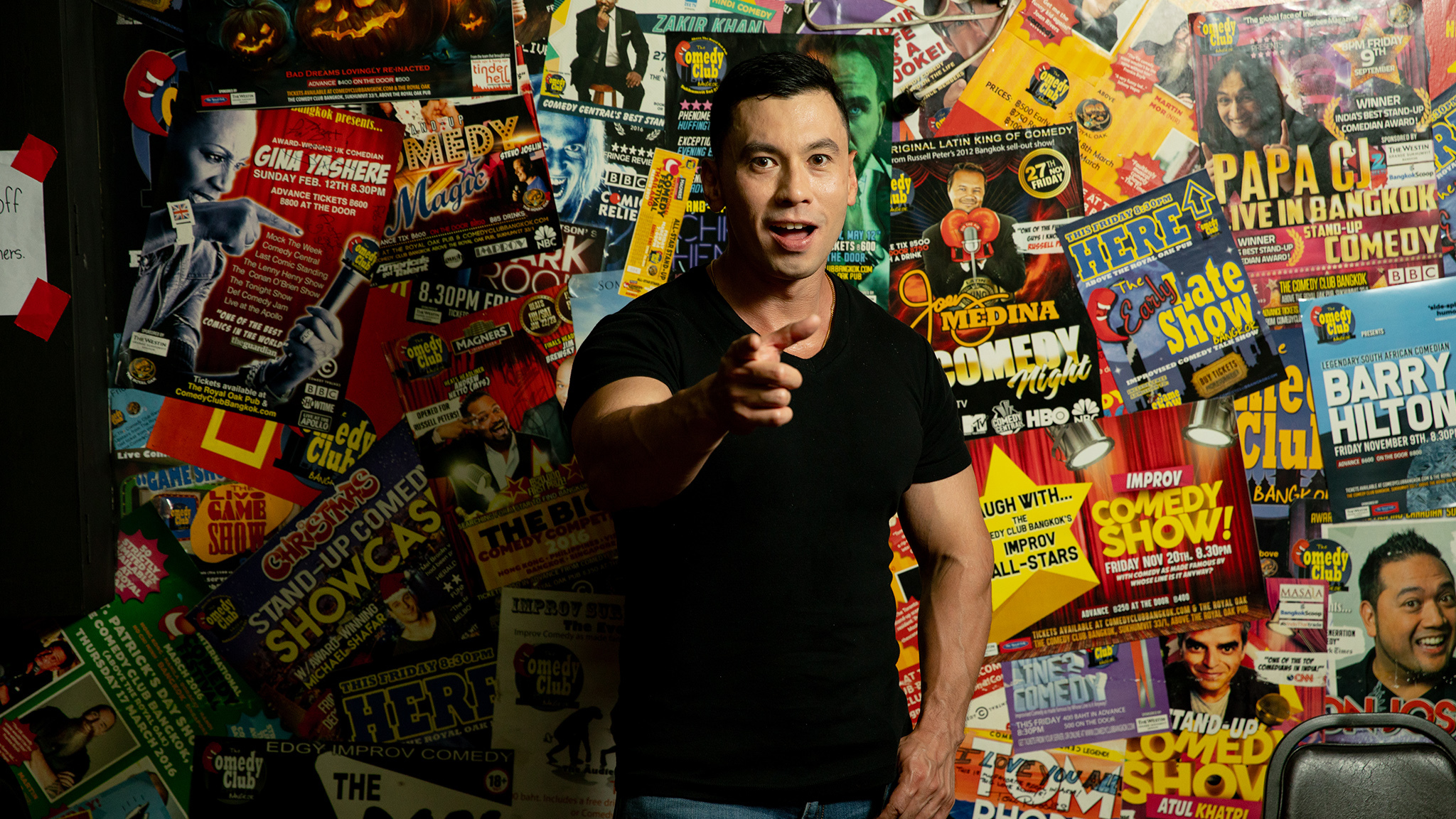 Before embarking on a career in comedy, the 40-year-old comic was teaching in an international school in Thailand. "Teaching is an honorable profession, but the thing is, if you're a painter and you teach people how to paint, you're not creating paintings yourself. You're transferring skills to other people. I wanted to create something, so for me, comedy is about creating art."
The club attracted audiences—mostly expats—who would come to see stand-up acts and improv shows featuring Chris, Drew and a long list of international comedians, including famed funny man Jimmy Carr. "Expats who regularly like seeing comedy in their hometown love to see comedy here, and people who maybe didn't see comedy there but still want to do something similar to their culture. How many English-language things can they do in Thailand?"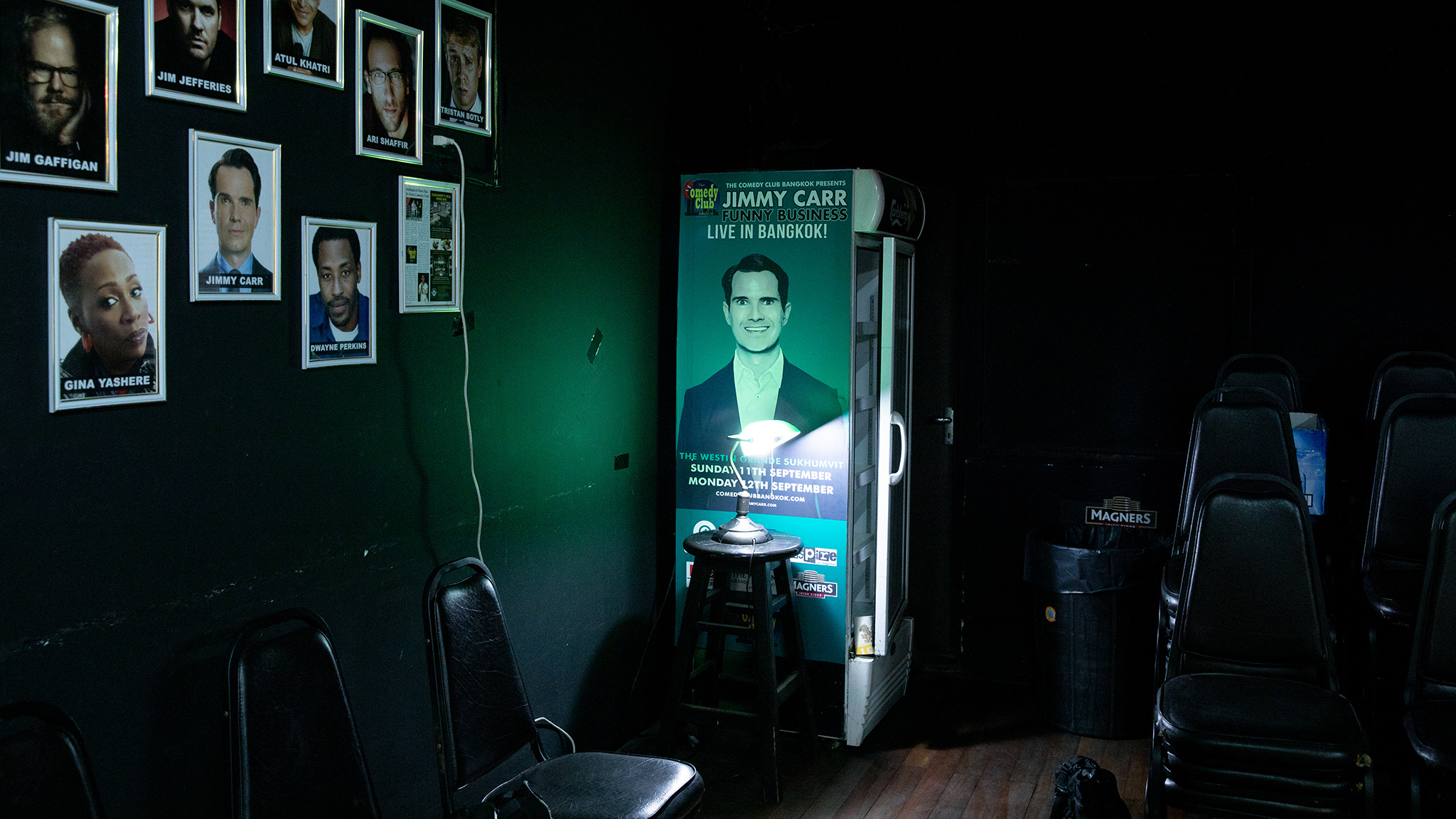 Usually, the crowd would include about five to 10 percent Thais. Chris points out, however, that the figure was starting to increase, all thanks to Netflix and the globalization of culture. Now Thais, he says "are very exposed to [the] English language in everything, including stand-up comedy."
Just before Miss Corona's arrival in the kingdom, Comedy Club Bangkok even had plans to bring in a comedian from Vietnam for a show, but ended up having to cancel.
"Nobody knew how long it would take. We had SARS and the swine flu [in the past], and they came and went, and didn't affect our lives very much," Chris muses. "But for COVID, it was a week. Then, it was a month, then six, and [then] it was like eight months!"
For Chris, it was already hard running a comedy club in a city where going to a stand-up show is not quite the thing. But it must be more difficult for him this time around, trying to run an entertainment business in circumstances that aren't completely under his control.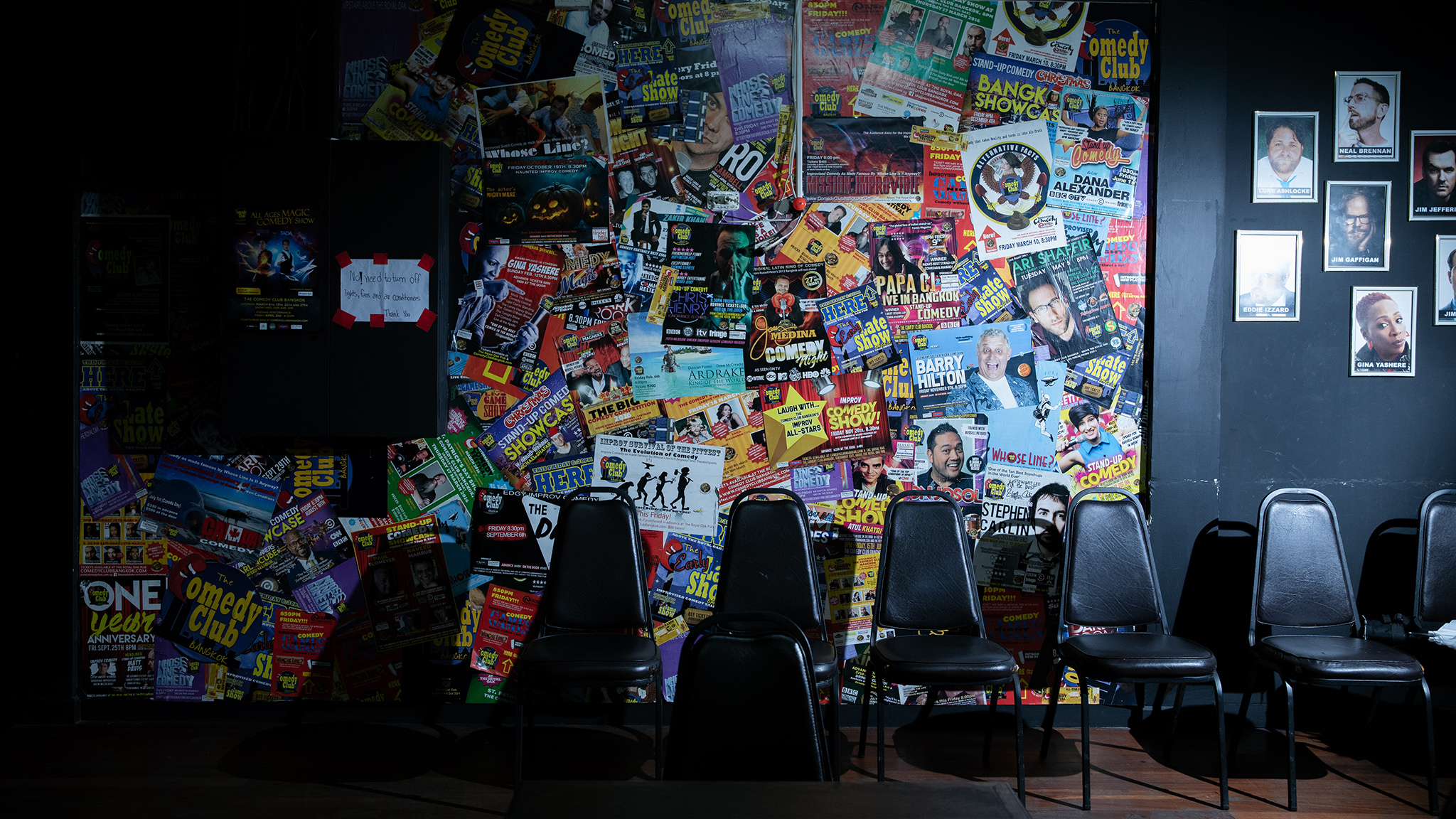 During the closure, Chris tried to do an online show but, "the experience is so different." Being unable to "bond and connect" with the audience stops him from performing. "Comedians need to go onstage to express themselves and I empathize with them. I feel sorry for them, including myself. The fact that we love making people laugh but can't perform right now is a sad point," Chris laments. "Not making money for months is very difficult, and we do have a certain degree of expense. It's depressing for everyone. There are people who need support."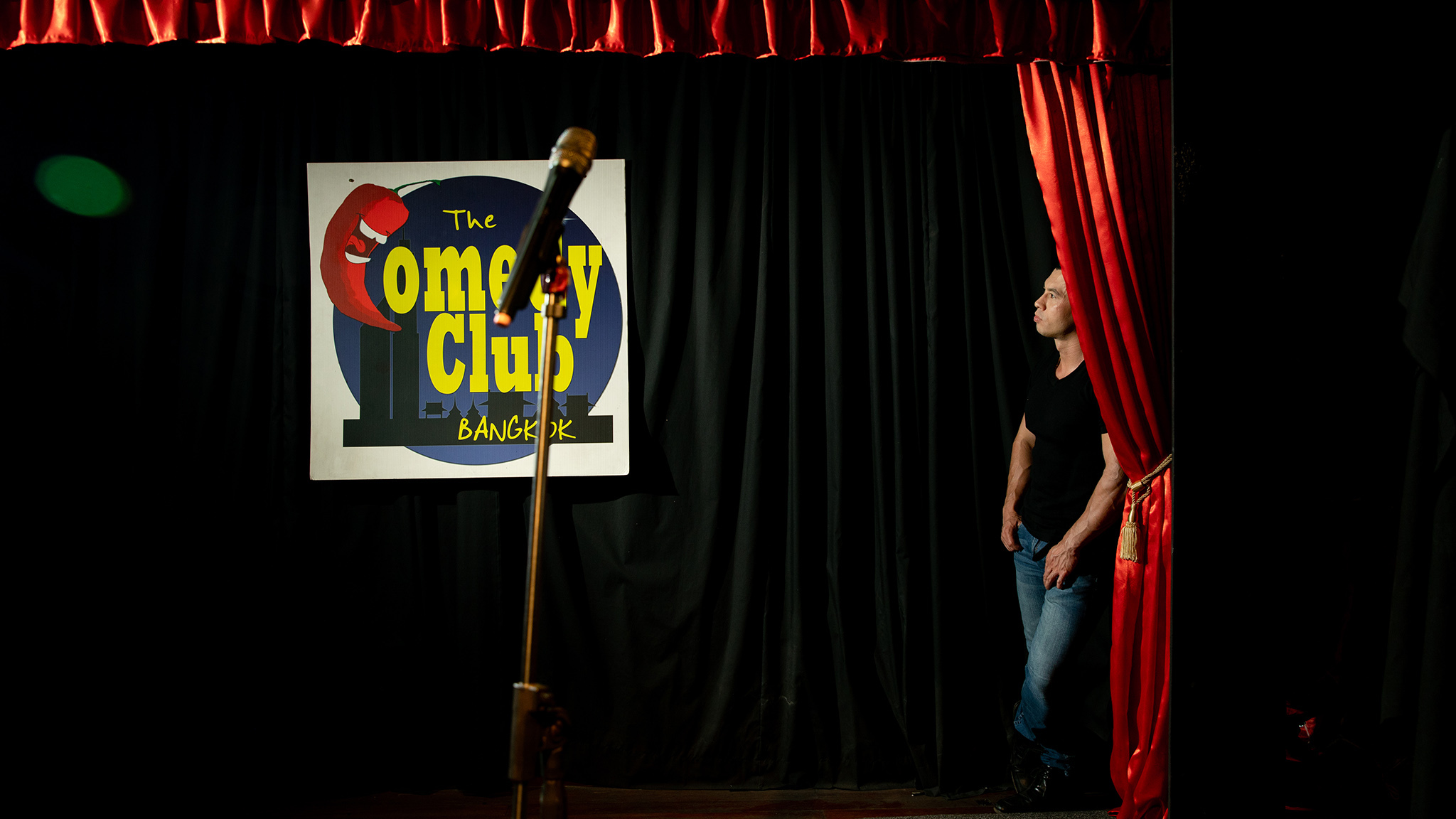 But the comedian is not one to dwell on the lack of support from the government. He realizes that there are enough people fueling the controversy surrounding how the pandemic situation has been mismanaged.
"I don't ask anything from anyone, and I just feel that we need to do our part as much as anyone else in making sure that COVID goes away. We just want to do everything we can."
What's more, he is very grateful to be in a place where people try their best to prevent the spread of the virus. "Thailand has obviously done well, compared to many other parts of the world. The Thai people and non-Thais in Thailand have been very willing to wear masks," he adds. But he does hope "that we can get the vaccines sorted, because if you look at the UK where the vaccines have been rolled out, the cases have dramatically dropped to almost nothing."
The humorist promises that Comedy Club Bangkok isn't going anywhere and that their patrons can expect a grand return once things are better. "I'd like to assure all of our fans and audience that we'll be back and make everyone laugh again. Just smile and put up with it." Wise words, indeed.
To keep in touch with Comedy Club Bangkok, follow its Facebook page here.