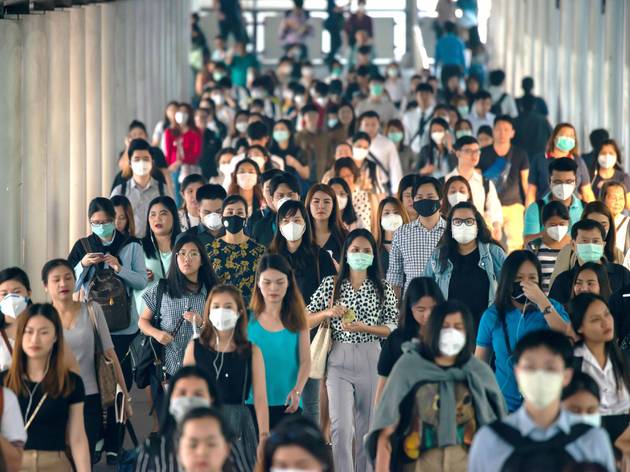 Here's the latest statement from the Tourism Authority of Thailand regarding COVID-19 outbreak
Posted: Thursday March 5 2020, 8:09pm
UPDATE (Mar 9): TAT has issued a new statement, describing a new set of guidelines for visitors traveling from COVID-19-infected zones as defined by the Thai Government. Tourists visiting Thailand from China, South Korea, Iran and Italy are now required to present a health certificate at the time of check-in at the airport of departure. They are also required to quarantine themselves for a certain period.
UPDATE (Mar 6, 12:45): TAT has published a new statement on its Newsroom, recommending locals and visitors to not panic and strictly comply with the Ministry of Health's basic principles to reduce the risk of COVID-19 infections, which include "eating cooked food, using serving spoons, washing hands frequently and wearing a mask when going to a crowded place." It also refers to the revised list of COVID-19-affected countries as officially announced via The Royal Thai Government Gazette: China (Hong Kong and Macao included), South Korea, Italy and Iran.
UPDATE (Mar 6, 09:00): TAT has already unpublished the content released on Mar 5. You can, however, see the screenshot of the email sent to the media below.
Today (Mar 5) The Tourism Authority of Thailand today (TAT) has released the latest statement regarding concern over the control measures for visitors from affected areas during the COVID-19 outbreak situation.
In the statement, the TAT confirms that no travel restrictions have been implemented on travelers visiting from affected areas such as China, Japan, Hong Kong Singapore and South Korea.
It also says that the Thai government hasn't issued any official announcement regarding self-quarantine for visitors. The Department of Disease Control, however, has increased the "disease surveillance protocol" for visitors disembarking at 46 international arrival checkpoints throughout the kingdom (including airports, seaports and ground ports).
The Tourism Authority of Thailand also gives recommendations for tourists traveling in Thailand. Read the complete statement below.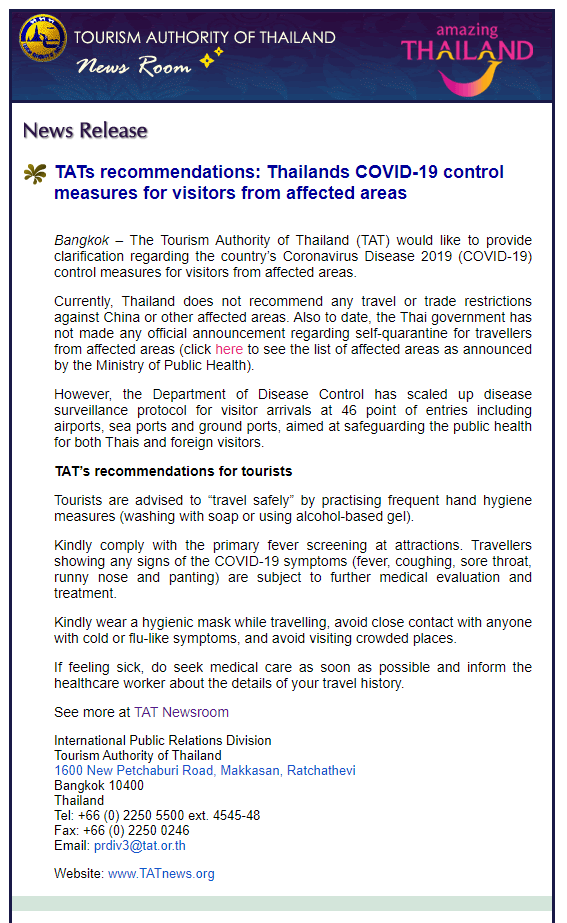 Visitors seeking more information may contact the Tourism Authority of Thailand Contact Center (call 1672) or Tourist Police (call 1155).
Share the story