Bangkok's best afternoon tea
Treat yourself to our favorite salons serving the city's best afternoon tea sets.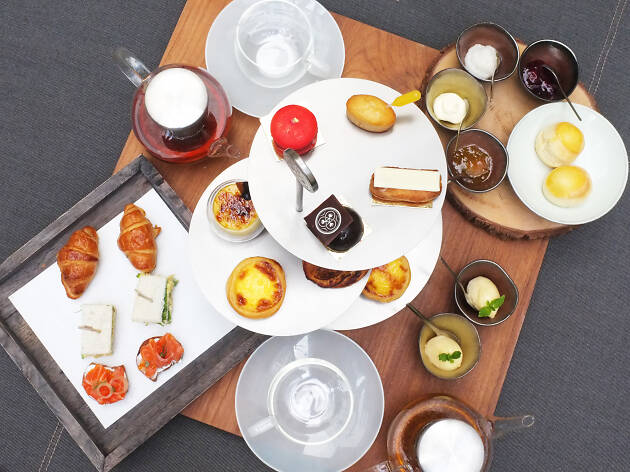 Bangkok's best afternoon tea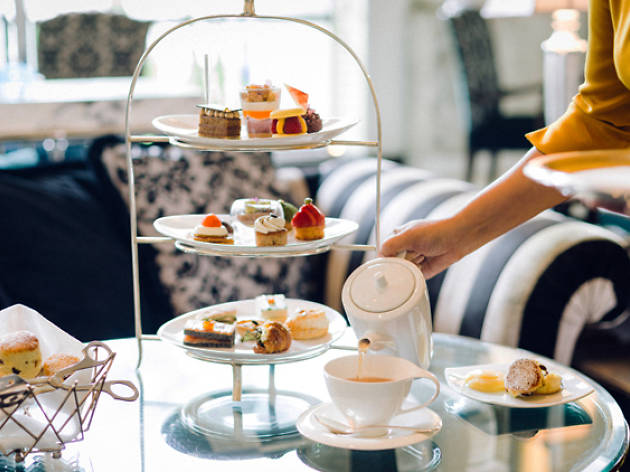 Enjoy the Afternoon Tea set at The Lobby Lounge with special blends from a French gourmet tea company, Mariage Frères. You will experience Eléphant Blanc, a combination of rose and lavender aromas tea, Lune Rouge, flowery and spicy green tea and Temple De L'aube, inspired by Wat Arun with the scent of flower and exotic fruits. Plus pastry and dessert like Pizzetta, Mont Blanc and Rasberry Canelé.

The price is B850++ for two person, and it is served on weekdays from 14:00-18:00 and on weekends, it is a tea buffet from 14:00-18:00.
Moroccan-style afternoon tea set by executive pastry chef, Saifui Huda is inspired by Moroccan life style and created to celebrate Easter. Two special blends, minty Moroccan tea and fruity Grand Wedding tea, are served with their signature dessert like Signature Baked Marble Cheese Cake, Belgium Chocolate Truffle and Blueberry Scone.

The set is B550++ per person and B850++ for two person, and is served everyday from 14:30-17:30.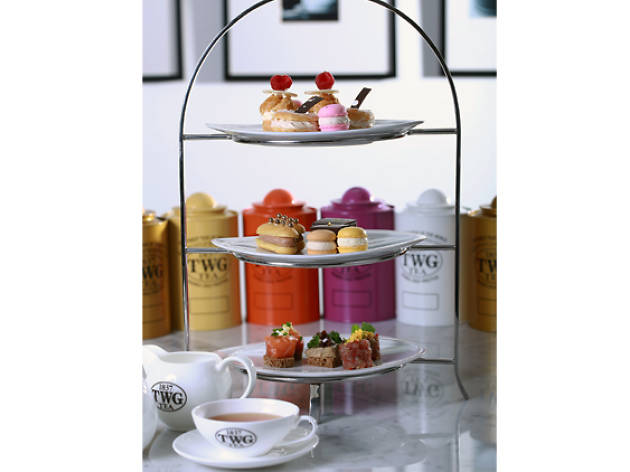 French-style afternoon tea set by Zing combines teas from TWG like Smoky Earl Grey, black tea with a scent of bergamot and Eternal Summer, a refreshing red tea with the hightlight like mini macaron with various fillings and food and dessert like foie gras terrine, tuna tartare, smoked salmon with sour cream, macaron, chocolate eclair, vanilla mille-feuille and many more.

Enjoy the set for only B699++ for two person everyday from 14:00-17:00.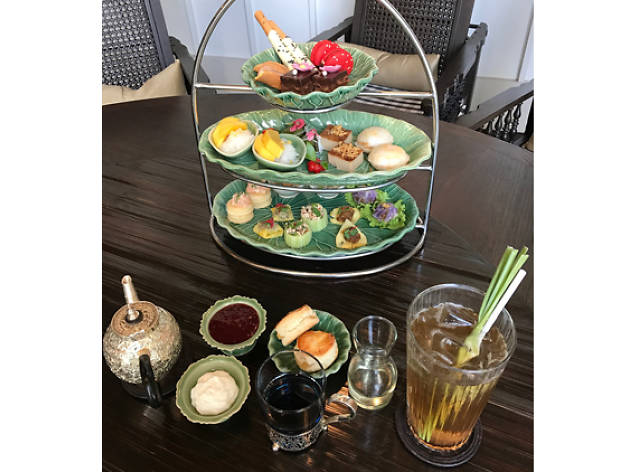 Afternoon tea set at Erawan tea room is different from other places as they serve Thai style set. You will get to taste traditional Thai snacks in the royal court like Goong Hom Sabai (Fried Prawns in won ton paper), Chormuang Sai Pu (flower shaped crabmeat dumpling), Khao tang na tang (rice cracker with coconut dip) and more. Plus summer dessert menu: Mango sticky rice, Khanom Krok (rice pudding) and Khanom Bueng (Thai crepe). Thai herbal teas like Lemongrass Tea, Pandan Tea and Butterfly-pea Flower Tea are also served here.

The afternoon tea set is B600 and served from 14:30-18:00 everyday.
Sakura bloosom have been turned into an afternoon tea set at Up & Above Bar. With the inspiration from color and scent of Sakura bloosom, the set comprises of finger foods and sweetened snacks. These pink snacks are best paired with premium Saro tea, Mariage Frères teas, a glass of Champagne, or Prosecco.

The set is B1,190++ inclusive of premium coffee or tea for 2 persons, B1,690++ with Sake (250 ml) or with 2 glasses of Prosecco, Baht 2,750 with 2 glasses of Champagne, and served from 14:00-17:00 everyday.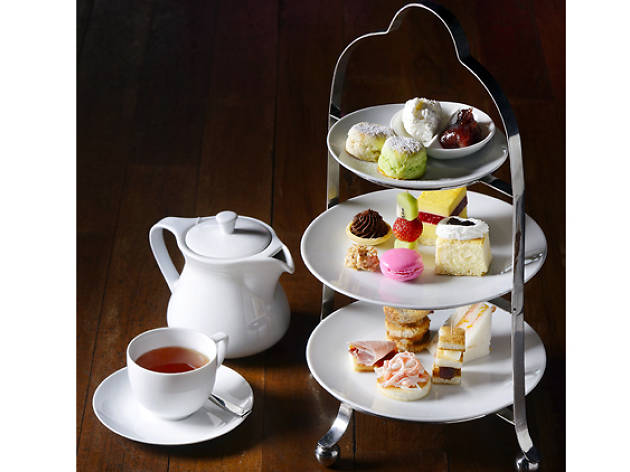 The afternoon tea set by R Bar is ready to cool down your hot summerday with rose scented, French vanilla tea served with smoked salmon, crab stick sandwich and whole wheat bread with duck breast pate, inclding dessert like chocolate truffle made from non-fat dark chocolate and refresing mango mousse.

The price is B750++ for two people, and it's available from 14:00-17:00.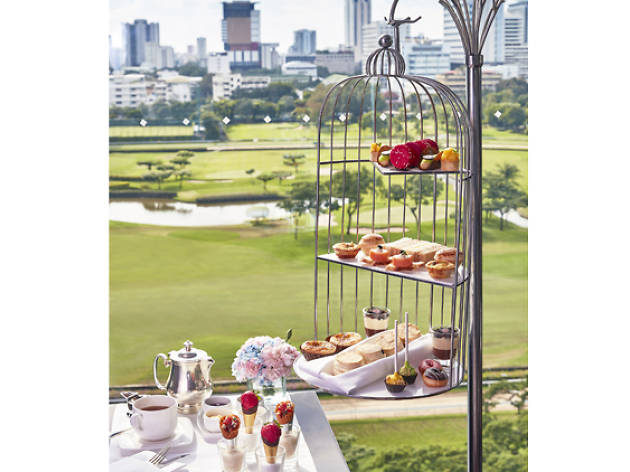 Luxury afternoon tea set at St Regis Bangkok offers you various tea selections from TWG like 1837 Black, Vanilla Bourbon and Silver Moon with a choice of Thai or Western style tea meal. Miang Kam, Kratong Thong Tuna and Chormuang Sai Pla, Khanom Chan and Khanom Sod Sai are what you'll experience in the Thai set, while highlights from Western meal are Original Raisin Scones served with Clotted Cream and Berry Jam, Chocolate Mousse and Mango Tart.

The afternoon tea set is B1,250++ for two people and served everyday from 14:00-17:00.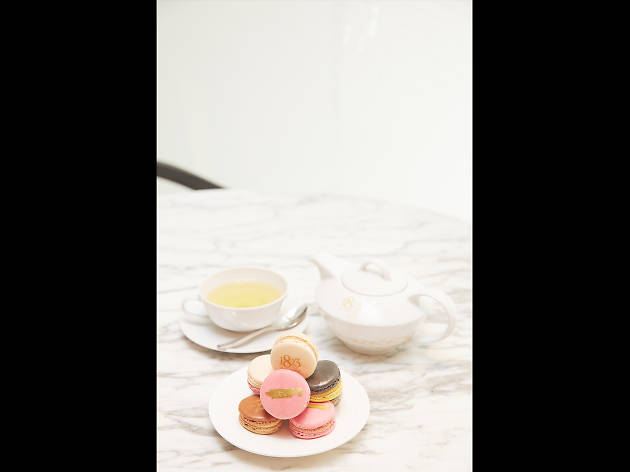 This summer, 1823 Tea Lounge by Ronnefeldt offers you a summer tea set, "Voilà l'été with selections of tea meal and dessert like crab croquettes with apple and capsicum caviar sauce, cucumber sandwich with cream cheese pesto, strawberry and shrimp gazpacho, scones served with strawberry jam and original clotted cream, salt caramel cream puff and many more.

The afternoon tea set is B1,370++ for 2 person from 10:00-20:00 everyday.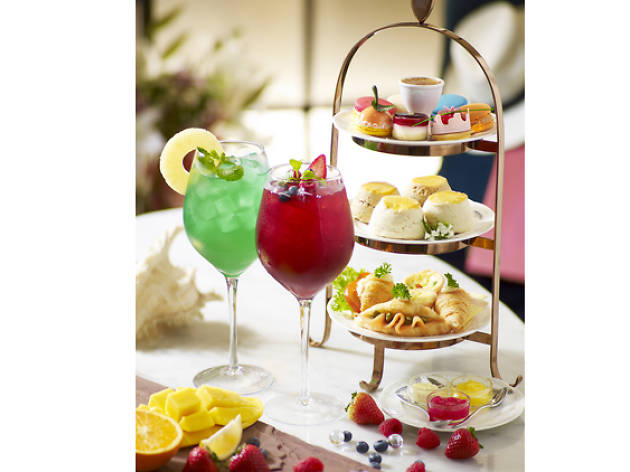 Twinings Tea Boutique presents an afternoon tea set with two special summer-inspired ice tea from Twinings, Berry Blush and Blue Paradise. Plus Exotic Mango & Ginger Tea, the creation by Twingings' tea masters, which is fine green tea from China infused with manngo and young ginger. The set includes Mini Rasberry Cheese, Orange Yoghurt Mousse and Strawberry Mousse.

The afternoon tea set with two iced tea is B1,589.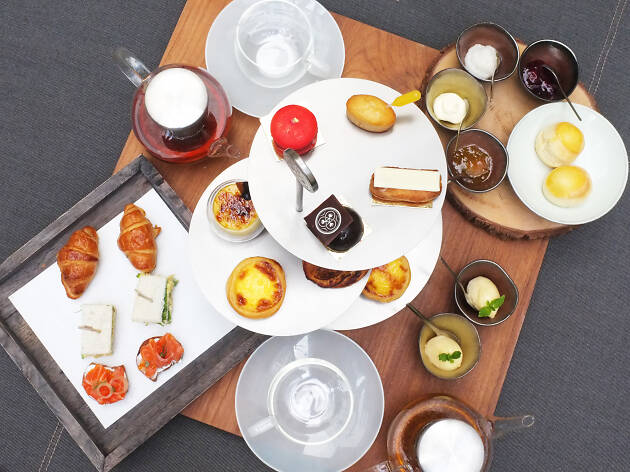 Spend your afternoon with small bites and aromatic tea in the courtyard of a colonial-style building that was built in 1889.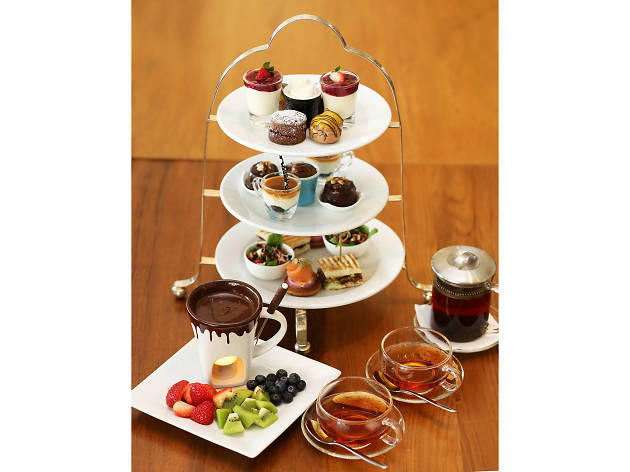 Break the rules and go unique with a small yet cute chocolate fondue set to accompany your high tea. At the Zest Bar, this luscious treat is perfect with their signature tea.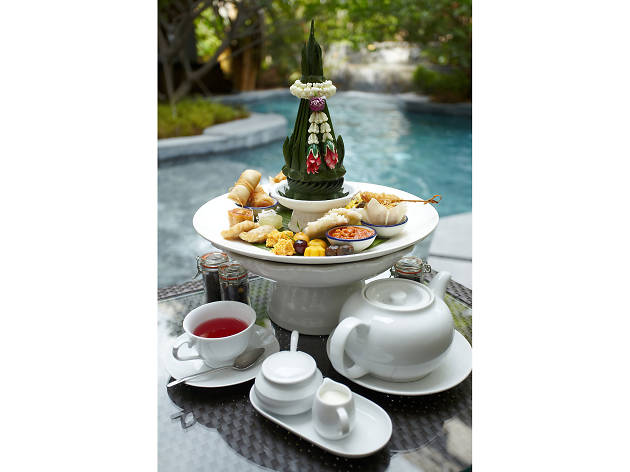 Forget the cliché of scones and clotted cream. Go Thai with national favorites like look chub, foy thong, thong aek, poh pia poo and mie grob.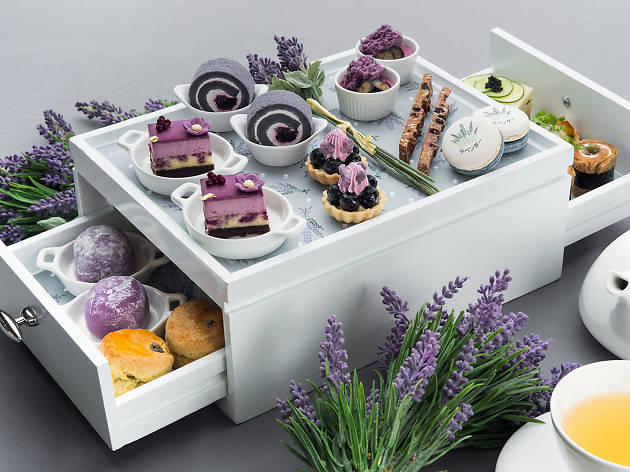 Haven't got enough coins to fly to the lavender fields in Hokkaido? Take selfies instead with a lavender fields-inspired afternoon tea set, featuring a lavender cake, lavender and blueberry jam rolls, lavender and blueberry tartlets, and lavender and blackcurrent lavender scones.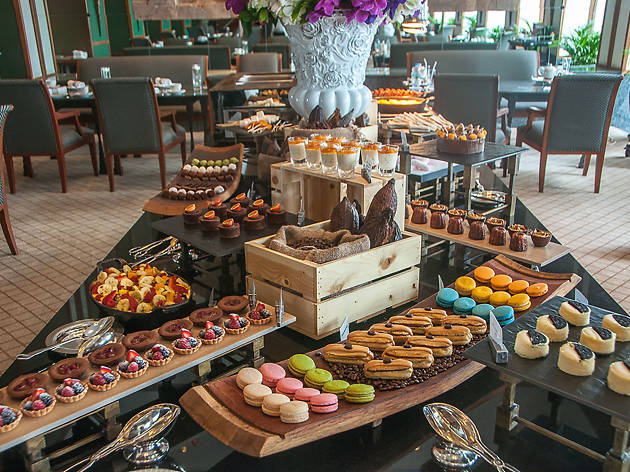 If you are fond of chocolate, skip the scones and jam and please her with all-you-can-eat premuim chocolate and pastries at Lobby Salon, The Sukhothai Bangkok. Opt for the perfect tea to pair with her favorite choccy.