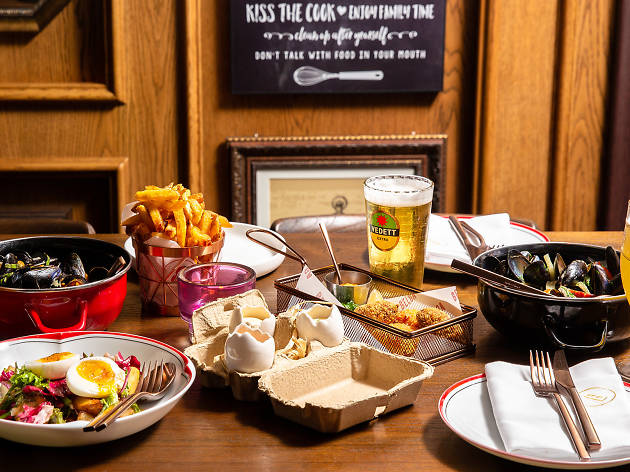 Time Out says
A one-stop destination for the ultimate Belgian dining and drinking experience
Bangkok offers a gamut of international dining options less popular culinary offerings like Belgian food. Its offerings may be overshadowed by the French and German neighbors, but Belgium does have a number of mouth-watering epicurean delights, be it fluffy waffles, indulgent chocolate, or appetizing moules frites (steamed mussels and fries). And we haven't even started on its beer!
All these and a number of regional Belgian specialties are just waiting to be discovered on the 32nd floor of Sofitel Bangkok Sukhumvit. Taking over the space vacated by fine dining French restaurant L'Appart, Belga is your one-stop destination for savoring Belgian dishes while wg a wide range of the country's delectable brews in an atmosphere reminiscent of Brussel's charming brasseries.
The decor of the rooftop brasserie gives a glimpse of the many sights and attractions of Belgium's capital city. The walls depict landmarks such as the Grand-Place, Brussels' most famed destination, and lively drawings of characters from The Adventures of Tintin, the comics series by Belgian cartoonist Georges Remi. Bright red shelves show off the country's rich beer culture, stocking an abundance of bottles of white, lambic, Trappist and fruit beers. Go further in to access a handsome bar which serves beer from the tap, and the outdoor terrace, which offers magnificent views of Bangkok against the sunset.
Head chef Nicolas Basset has put together a menu that includes signature dishes from notable regions in Belgium. From Brussels, you have flavorful croquette bites stuffed with grey shrimps or cheese (B350). This is a snack that the Belgians usually enjoy with beer. There's also the moules frites (B590/BB1,090), which serves the best mussels imported from Europe. Choose between classic Moules Mariniere or the house signature Moules Hoegaarden, a great combination of Hoegaarden Witte Beer with cream and pancetta, or try the localized tom-yum style variation. The Moules frites are served with triple cooked frites a creamy mayonnaise dip, which the restaurant's "maitre de mayonnaise" flavors up at your table according to your preference.
After eating your way through the capital, take a short detour to the historic, French-speaking town of Liege. The destination is known for its Salade Liegeoise (B290/B480), a hearty salad loaded with potato slices, bacon lardons, green beans and hard-boiled eggs. For bigger eaters, the region has Boulet Sauce Lapin (B590), a dish of meatballs made with a mix of beef & pork, served with stoemp (a root vegetable mash potato) and onion gravy.
The Flanders region also has a number of popular staples that feature culinary influences from its Flemish inhabitants. Try the creamy chicken waterzooi (B650) with white wine sauce or the carbonnade a la flamande (B790), a dish of braised beef cooked with stout beer and pancetta.
A Belgian culinary experience is not complete if you don't try their world-famous waffles (B250). The restaurant offers two variations. The Brussels-style waffles are light and crispy, while the ones from Liege are sweeter and chewier, both come with a rich Belgian chocolate sauce.
If you want to take your meal to the next level, Master of Beer and Ceremony Peter Laird is on hand to recommend which beers pair best with the dishes you ordered. For instance, he says that the light and refreshing Vedette Extra Blond (from B180) goes well with the cheese-injected croquettes, while the citrusy Limburgse Witte (B280) is the perfect pair for Moules Frites. Moreover, Belga is one of just Nine venues in the world and the only one in South East Asia, to serve Duvel on Tap, Belgiums most exclusive draught beer.
With tasty fare, a casual ambiance and an impressive collection of beers, Belga is the ultimate destination to appreciate the best Belgium has to offer.
Details
Address:
189
32/F, Sofitel Bangkok Sukhumvit
Sukhumvit Road
Bangkok


Contact:
Opening hours:
Open daily 17:00-01:00
Users say