Bring your friends and family to feast on Christmas set menu at TWG Tea Salon
TWG offers a variety of festive cocktails, main courses and desserts infused with TWG tea blends.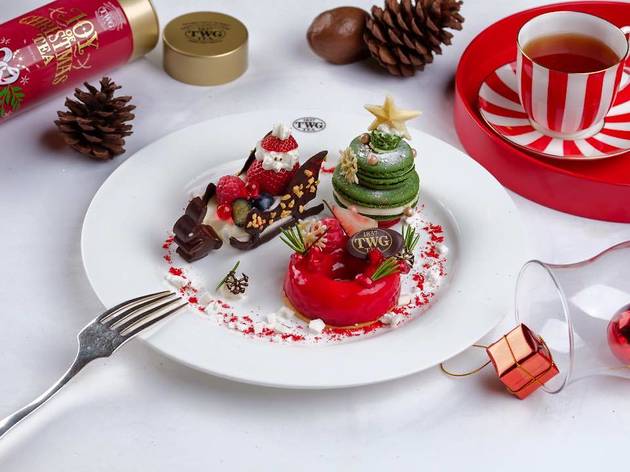 Exclusively for this holiday season, TWG is serving up a selection of festive mocktails infused with TWG tea blends. Highlights include Christmas Blush mocktail (B190) infused with White Christmas tea (Yin Zhen white tea blended with fruits and spices), berries and apple, Mistletoe Kiss mocktail (B190) featuring blueberries, hazelnut and Noel! Noel! tea (white and black tea blend blended with clementine and Tahitian vanilla), and Délice de Noël mocktail (B190) infused with Noel! Noel! Tea, lychee and mango juice.
As for the mains, Christmas Wellington (B360) get you high up in the Christmas spirits. The dish highlights chicken breast wrapped with turkey bacon, truffle duxelle, multi-grain béchamel, and braised red cabbage infused with Joy of Christmas tea (black tea blended with spiced fruits and velvety chocolate) paired with cranberry gravy and garlic cream sauce.
Seafood lovers, opt for cranberry linguine and roast clam (B360) served with tomato and cranberry sauce infused with, again, Joy of Christmas Tea before drizzling with salmon roe and parmesan cheese.
Diners with a sweet tooth, end your meal with festive desserts like raspberry tiramisu wreath (B260), a combination of almond sablé, vanilla sponge and tiramisu mousse coated with raspberry jelly infused with Sakura! Sakura! Tea, Christmas Tree Macaron (B260) filled with ganache infused with Vanilla Bourbon Tea (South African red tea blended with vanilla), and, last but not least, the meringue-base Sleigh Pavlova (B260) that embodies Joy of Christmas Tea infused Chantilly cream garnished with chocolate, fresh strawberry and orange confit.
The tea salon also offers the limited edition Joy of Christmas Tea infused macaron (until 7 Jan, B59 per piece), inspired by glowy-white snow and jewels, combining the magaron texture with white almond shells filled with a ruby-red ganache. All of these festive-looking treats promise to delight your day.
TWG Tea Salons & Boutiques at Emporium branch. 0 2259 9510