Ekkamai's noodle joints
Along Ekkamai Road, beer bottles are being traded for noodle bowls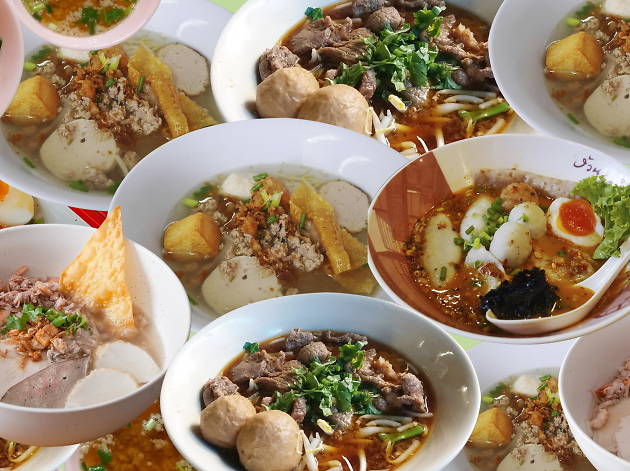 Ekkamai still draws herds of party animals, thanks to the cluster of raucous nightclubs and cocktail bars that line the main drag. But the lengthy stretch is also attracting diners wanting to fill up on steaming slurp-worthy eats, from chewy ramen to fiery tom yum-flavored noodles. Ekkamai Road has become ground zero for a wide of variety of noodle joints. If you ever tire of the beer and spirits scene on Ekkamai, you can always ply the street's noodle trade and trade in the cocktail-filled high ball glasses with broth-filled bowls.
Ekkamai's noodle joints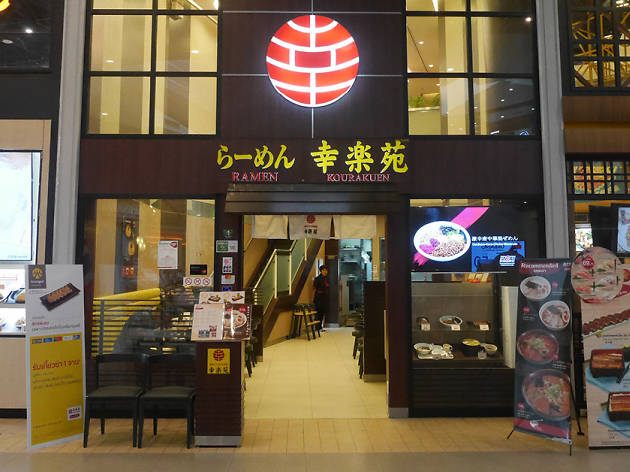 With more than 500 branches across Japan and four in Bangkok, the decade-old Ramen Korakuen has built its reputation on chachumen, traditional Tokyostyle noodles in brown shoyu-based broth served with pork belly slices.
This new noodle parlor specializes in soupy street-style egg noodles with barbequed pork and pork wontons. The eatery is highly popular during lunch among hungry office workers so you may want to consider popping in early to avoid waiting in line.
Located on the upper floor of Ekkamai Power Centre (known among locals as Big C Ekkamai), this noodle franchise is famous for its delicious fish balls, which is the perfect accompaniment to eatery's springy noodle variations.
Basically a pushcart parked in front of a rundown shophouse, this Ekkamai noodle spot peddles oldschool chicken noodles in sweet broth. The shop is open until late and has become the perfect post-party comfort fare.
Used to be, the only way to enjoy Ban Beung's famous noodles was to make a trip all the way to the small town in Chonburi (that's easily a two-hour detour just to have your fill savory soup). Your life is now easier thanks to Mamarin, the new noodle spot in Ekkamai that has brought the district's signature delicacy to downtown Bangkok. In the old days, Ban Beung was a well-known settlement for the Teochew Chinese, one of the migratory groups that greatly influenced Thai-Chinese cooking. Ban Beung-style noodles quickly became known for its flavorful noodles, which was prepared with dried squid, dried shrimp and pork bone. Mamarin whips up its own version following the family recipe of Ban Beung-born owner Cake Poonyamund (who's also one of the members of the soulful band B5). You can opt for the classic version (B89), which comes with pork, fish cake, seafood bits and deep-fried wontons; the spicy tom yum version (B89); or the intensely hot yentafo (B99). Apart from the noodles, Mamarin also serves hearty dishes like spotted mackerel fried rice, and addictive desserts like butterfly pea-infused sticky rice with coconut milk and longan (B65).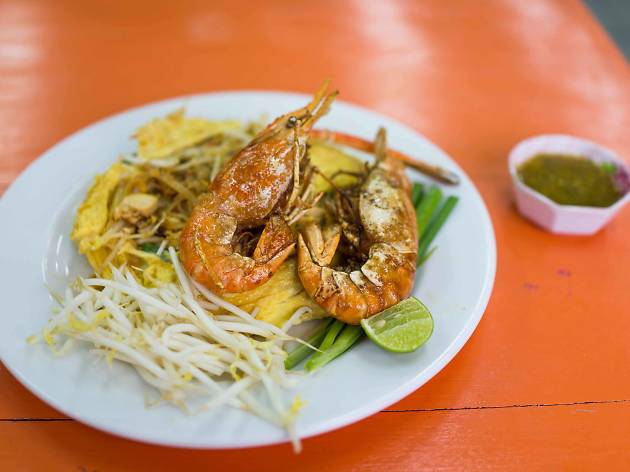 Tucked in the bustling Ekkamai stretch is this pad thai parlor which are popular among all-nighters after the clubs in the neighborhoods are closed. The highlight is the river prawn pad thai which comes out on neither too dry nor wet, served wrapped in omelet that's filled with delicate smoky flavor and two jumbo size prawns with fresh sprout and bean curd served separately on the side (B150). For a budget option, a simple pad thai with dried shrimps is also a good choice for good old classic throwback.
A champion of egg noodles with barbequed pork and soft-boiled egg, this old-school noodle shop morphed from a simple pushcart and is probably the most famous eatery of its kind in Ekkamai. Waits are notoriously long (its name translates to "Uncle Slow") but the food is definitely worth it
As its name suggests, this eatery is famous for perfectly cooked noodles served with tender beef slices in a flavorful broth. Premium beef options are also on offer.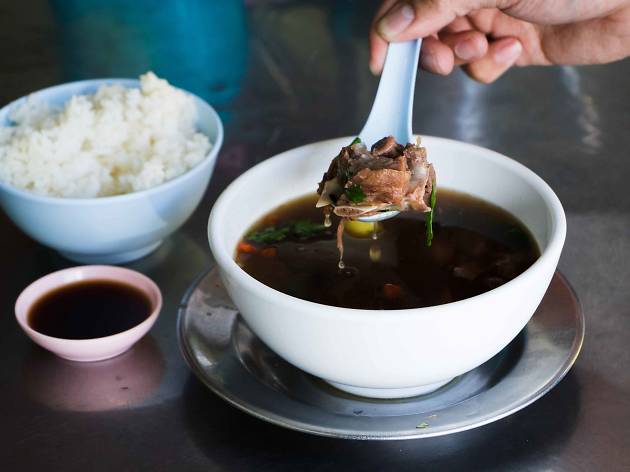 An institution for over 50 years, Wattanapanich is famous for its traditional Chinese-style stewed beef and goat. Now run by the third generation, Wattanapanich still delivers on consistency. Whether you ask for melt-in-your-mouth, grade-B cuts (shank, brisket) or chewy offals (innards, tripe and ligaments), each dish is meticulously prepared. The parts are slowly braised in an enormous pot with Chinese medicinal herbs and spices.