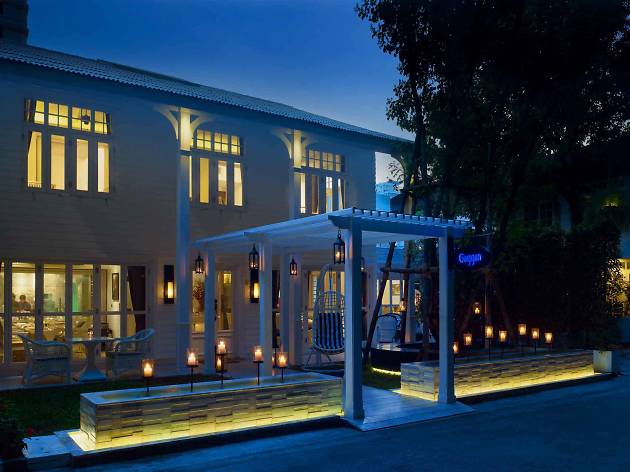 1/2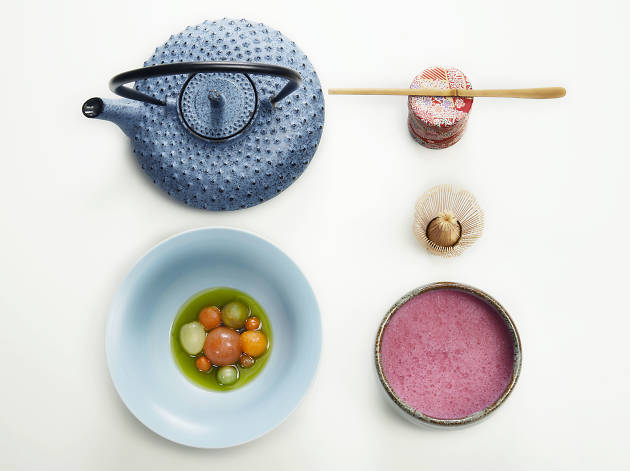 2/2
Time Out says
Number one on the list of Asia's Best 50 Restaurants for 2016, Gaggan offers one of the best and most enjoyable Indian dining experiences you could have. Chef Gaggan Anand honed his skills in molecular gastronomy at famous three Michelin-star restaurant El Bulli, and has developed what he calls "progressive Indian cuisine." Tucked within Langsuan, the white, two-story house is a pleasant contrast to Gaggan's innovative cooking style. The Chef Dining area (which is always reserved) sits right next to the kitchen's, offering diners a view of how the chefs prepare each molecular dish through a glass window. Sounds good, right? They recommend the Testing Menu, a true representation of Gaggan-ness. Yogurt Explosion, bite-sized homemade yogurt balls with the texture of caviar prepares you for other dishes. The following courses are all cutting-edge and fun: Mumbaiwalla, creative ball-shaped pav bhaji (thick vegetable curry); Viagra, fresh oysters served with Indian mustard ice cream; and air-light truffle soup. Go and see what the fuss is all about.
Details
Rating Breakdown
5 star:

0

4 star:

0

3 star:

0

2 star:

0

1 star:

1
DREADFUL RESERVATION SYSTEM AND VILE CUSTOMER SERVICE
I rang them up, on December 19th last year for a reservation on the 3rd January. The man on the other side of the phone, picked up the phone and seemingly took the reservation. Everything was according to standard restaurant procedure name and number was taken down for a table of six. I naturally assumed that the reservation had been made, since the man on the other line had not suggested otherwise.
Since I hadn't received any confirmation of he booking since that call. I then rang to confirm the booking today. To which I was greeted with probably the poorest customer service I had ever experienced. Firstly a rang them numerous times, totalling around 15 calls. Which quite frankly is absolutely poor form, considering the fact that it has received a star.
The lady on the line to me had simply no knack for customer service. She pleaded to recite Gaggan's protocol, which quite frankly as a customer I don't really care for. She preceded to say that they no longer take reservations through the phone. Furthermore she continued to explain that the reservation time had retired for the day, which surprises me as a restaurant you would assume that communication is key, something that they have clearly demonstrated that they clearly lack. Which when they took the call this is clearly not expressed to me when I initially made the call. Furthermore, she continued being rude and did not apologise for the troubles caused by the mix up. I then placed a second call shortly after, whereby I was passed onto the manager. Again, another disappointing encounter with the staff that work at Gaggan. He continued making irrelevant remarks about protocol, at this point the experience had been poor all around from the team at Gaggan. However, this was by no means the icing on top of the cake, as the manager then hung up on me. Frankly, this was just rude, not to mention this was the action of the restaurant manager, clearly the lack of leadership and understanding of the job has been passed onto their staff, appalling behavior.
Gaggan has proved that they clearly lack: a) communication b) an understanding for customer service c) manners. I appreciate that they are busy, and that they have certain protocols. But this needs to be clearly expressed to customers, customers should not be lead on as we aren't their friends whereby they merely string us along. The man who initially took the booking needed to told us about their protocol. This is plain and simple about management ad at the heart of it manners and organisation.
Overall, it was truly disappointing. They should really reconsider their understanding of customer service. I am merely writing to draw attention to the vile behaviour of the manager and that of the girl who picked up the phone. Being a world renowned restaurant comes with certain standards one which Gaggan has demonstrated that they clearly lack and are in dire need of guidance.