The best things to do in Bangkok this month
Your guide to the best happenings and events in Bangkok this month.
Top events in Bangkok this month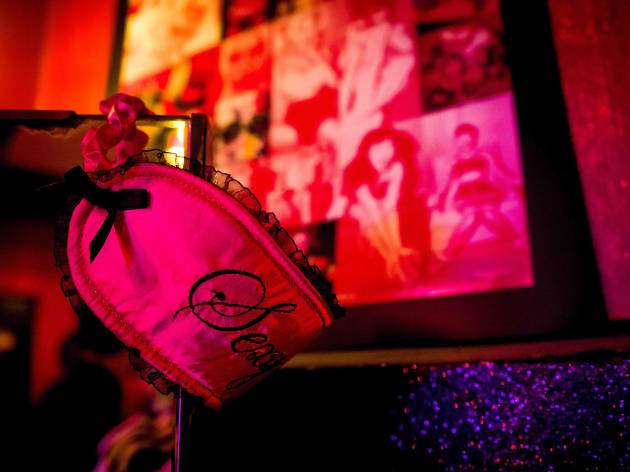 The only remarkable thing about the quiet alley of Soi Thonglor 6 is barber shop Black Amber (and its namesake bar opposite) where the city's hipsters come for preppy dos and to get their beards styled. But the discreet-looking barber shop actually houses Bangkok's first standalone sex shop, where all things kinky and erotic are up for grabs. Climb up the stairs to the second floor to access an emporium that reveals a fetish for risqué fashion and naughty things. An overspill of dazzlingly upmarket lingerie, latex rubber suits and sexy cosplay outfits make up most of the display, along with a selection of masks and hoods for "fun" role-playing. BDSM enthusiasts can also stock up for their playrooms with an array of equipment and restraints from celebrated adult-toy brands like Bettie Page and Fifty Shades of Grey (the line actually produces all the lust-fueling items featured in the movie), including bondage rope, "love rings," and furry butt plugs. You can ask to view more items other than what are on display. Have fun!
Chanintr Work is furniture retailer Chanintr Living's latest move to refresh the way you see and shop for work furnishings. It is is crafted around the concept of "living office," which means it's an actual Chanintr office with Chanintr staff members working and walking around—adding some life to a retail warehouse. You're welcome to grab a cup of coffee brewed from single-origin beans from Chiang Rai (priced from B70) and browse around the latest collections of Herman Miller work chairs and the new colors of Navy Chairs. During its soft-opening, designers with business cards or company tags will get a 40% discount on any purchase of coffee. Chanintr Work is located at Warehouse 26 in Soi Sukhumvit 26. It opens daily between 10am and 7pm.
First it was BEAM. Now there's Violett. The Thonglor dance scene has officially been revived. Party lovers from various backgrounds have gotten together to create this new nightclub in the heart of Bangkok's party district. Named after the last—and possibly most mysterious—shade in the color spectrum, Violett beguiles Thonglor club rats with neon-lit vibes inspired by the underground clubs in Europe—Berlin, to be precise. We're talking a discreet entrance, raw cement walls, and state-of-the-art lighting that's been manually improvised by a visual designer. The music at Violett revolves around techno (Wed and Fri) and hip-hop (Thu, Sat and Sun). The club is very selective about the DJs they bring in so expect to dance to beats from top names like techno queen Nakadia, Kolour's Coran, and the Soi Dogs duo. Drinks-wise, Violett has some Insta-worthy signature slingshots. Jelly Fish (B280) is a mix of triple sec, orange and blue curaçao, amaretto, Baileys Irish Cream and absinthe, while Suicide Bomber (B280) is a vodka-based cocktail with Malibu rum, amaretto, curaçao and Baileys Irish Cream. If you don't fancy shots, opt for a cocktail like Nebular 272 (B340), an absinthe-topped blend of vodka, triple sec, passion fruit juice and lime juice.
After finishing the two-week of a massive renovation, Thonglor's luxury nightclub Beam is ready to entertain you and your posse with its cutting-edge beats and mind-boggling visuals. For the revampe, Beam taps New York-based design studio Snarkitecture to recreate the space. You wil see lots of square shapes as soon as you step close to the club. The new Beam welcomes you with loads of breeze blocks, the same material they put in the main room. Just look up and you'll see it. Architectural meshes can be seen a lot in the club. Customized seats and tables are added to the main room. Beam is a two-story venue that features different music genres on each level, and they have changed the music themes between the main room and the dalmation room. From now on, The dalmation room will feature house/techno DJS, while the main room will be taken over by hip hop. A bar doles out a variety of booze on both levels with more than 20 new drinks added to the menu, including Beam's recipe drinks, shooters and buckets. The price range is lower too, so you can drink a lot more. Getting start with shots, they come with six shot glasses to share. Our favorite was the easy-to-drink YaKult Soju (B580) that is the perfect choice for those who don't like strong tastes drinks. Opting to cocktails, try Jalapeno margarita (B280) that is covered with dried chilly and sugar, and Kaffir G&T (B280) the classic drink with a Thai twist. Will be there with many friends? Buckets are the perfect option with ch
For more than 128 years, this Gothic-style church has been an iconic structure in the Talad Noi neighborhood and is, in fact, listed as a cultural artifact by the Fine Arts Department. It's Thai name, Wat Kalawar, is said to have been taken from the Portuguese word Calvario or Cavalry, the site where Jesus Christ was crucified. The Holy Rosary's interiors feature golden arches, massive stained glass windows, and statues of the Virgin Mary and Jesus offering a rosary to Saint Dominic and Saint Caterina.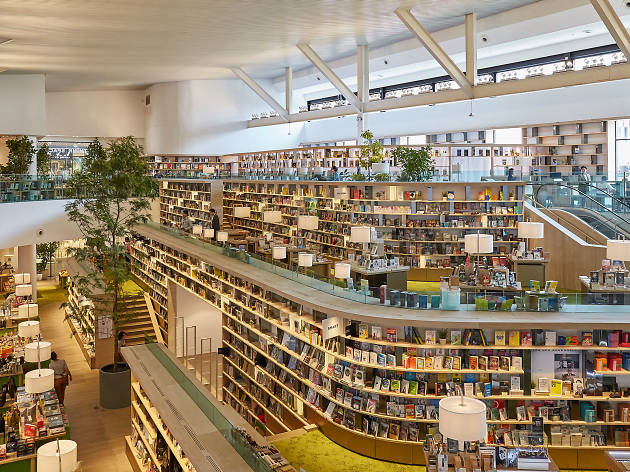 For months, we were lamenting the lack of a decent bookstore in CentralFestival EastVille. But then, the Ladprao shopping center finally unveiled its bookstore—and it's completely mind-blowing! Called Think Space B2S, the massive lifestyle store has us thinking, for the first time this year, that living in the suburbs may not be such a bad thing after all. The Central Pattana poured in B400 million into this awe-inspiring 3,000-square-meter shop that's filled to the brim with books, magazines, stationery items, travel accessories, art supplies, headphones, speakers, CDs, vinyl and even home accessories. Natural light filters in through skylights, brightening up a stylish, multi-level space dressed up with bleached wood floors and shelves, and small patches of greenery. There are plenty of spots to sit back, relax and peruse a book, and small workstations where you can work on your laptop. A Starbucks Reserve stands providing snacks and rare coffee brews.
The main shop of Jim Thompson Thai silk company Opened by Jim Thompson himself in 1967, it is one of the brand's longest-running boutiques. Jim Thompson Cafe 9, a restaurant serving up Thai food in an elegant setting, is nestled on the second floor. The fourth and fifth floors are home to a flagship showroom for its home-furnishing fabrics. But instead of displaying items on shelves, Jim Thompson's design team collaborated with PHTAA design studio to create mockup rooms in different styles—from Chinoiserie to Oriental-inspired—to showcase how its textiles can be applied. Pay a visit and you'll feel like redecorating your pad.
This grand, neo-classical building—its design was inspired by a factory in Birmingham, UK— is home to pieces by revered Thai artists, including a 1960s painting by the late King Bhumibol. Despite owning a vast collection of priceless paintings, the gallery is badly lit and the art pieces are unsuitably described. So a research on Thai art is advised prior to your visit.
Show more