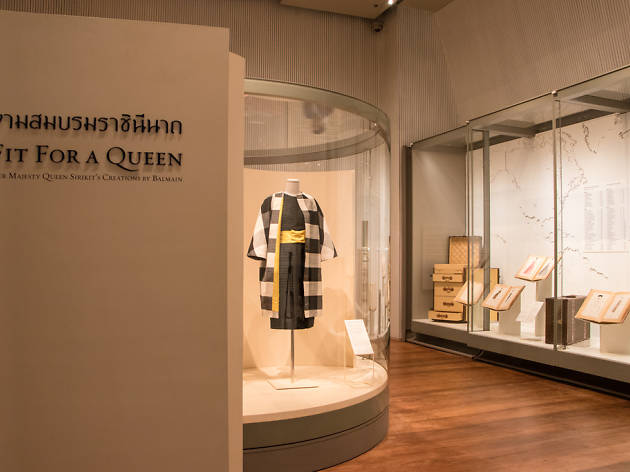 1/4
Sereechai Puttes/Time Out Bangkok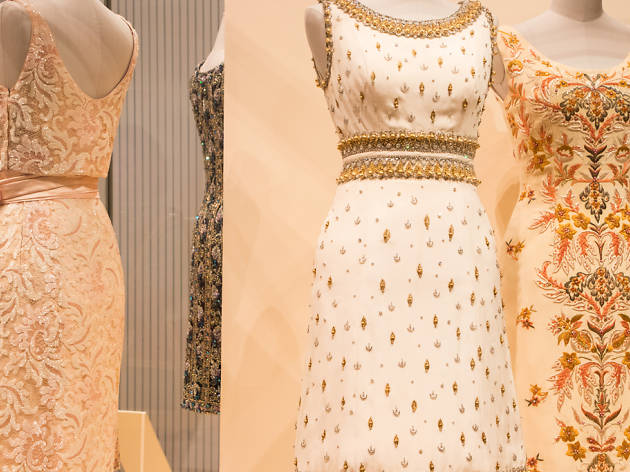 2/4
Sereechai Puttes/Time Out Bangkok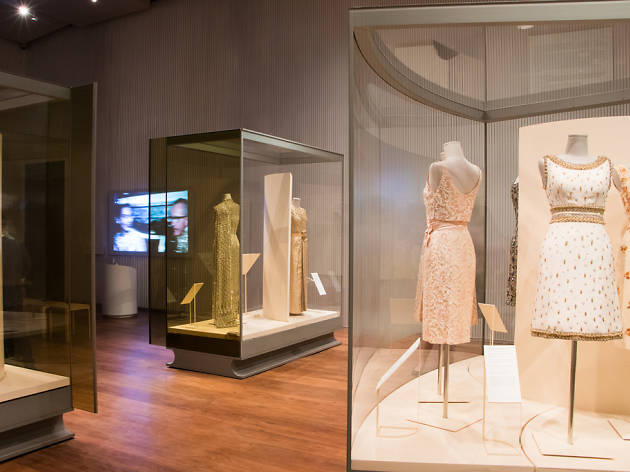 3/4
Sereechai Puttes/Time Out Bangkok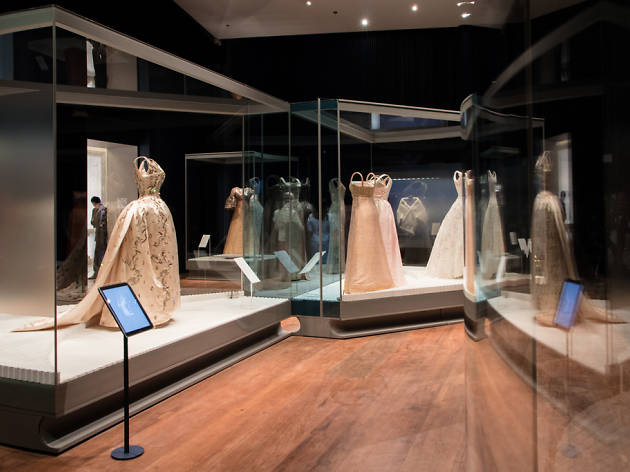 4/4
Sereechai Puttes/Time Out Bangkok
Probably the best fashion exhibition to shed even more light on Her Majesty Queen Sirikit's style
The Queen Sirikit Museum of Textiles celebrates Her Majesty's seventh cycle birthday by showcasing her exquisite taste in fashion. The exhibition Fit for a Queen: HM Queen Sirikit's Creations by Balmain focuses on her relationships with Pierre Balmain and François Lesage, two legendary French couturiers who created dresses for the monarch during her trips to Europe and America. Lovers of fashion history will be privy to how Her Majesty's impeccable style evolved and developed over the years through a series of luxurious gowns, suits, cocktail dresses, and traditional and modern Thai costumes. These pieces are displayed alongside pictures of the Queen wearing them at different occasions during her trips to Europe and America in the 1960s, as well as the rarely-seen Louis Vuitton trunks that were used to transport the dresses. Balmain's original sketchbook and a video interview with François Lesage, shot only a few months before he passed, are also on exhibit. See how Balmain cast his legendary magic on Thai silk, and take a closer look on Lesage's delicate embroidery.
Some nationalists may question why the Queen chose a foreign designer? According to museum consultant, Melissa Leventon, who co-curated the exhibition, no Thai fashion designer at that time was familiar with the complicated etiquette associated with royal dressing in the Western hemisphere. Her Majesty needed to attend several state events with the King, and no risk could be taken with her wardrobe. The decision to hire a European designer who was already acquainted with royal-fashion protocol was the best solution.
And why Balmain in particular? Ms Leventon further revealed that Christian Dior had just passed away at the time, leaving his fashion house under the direction of the 20-something designer, Yves-Saint Laurent, whose aesthetic were then associated more with street style. "That wasn't what the Queen of Thailand needed," said the curator. Coco Chanel had just gotten back into the industry, but her supposed involvement with the Nazis had made her unpopular among the Europeans. Balmain had the second largest couture house. The Queen must have heard about him as she was living in Europe at the time he started his fashion label. Balmain's style was subtle and elegant, plus he had hundreds of seamstresses that could complete each of the Queen's requirements on time. He was the perfect choice.
Her Majesty was unable to pay Balmain a personal visit prior to her trip. Her measurements were only sent to Paris along with the Thai silks needed to create her full wardrobe. If embroidery was needed, the dress was then sent to Maison Lesage, and later packed in a custom-made Louis Vuitton trunk embedded with the sign of King Rama IX, and then sent back to Thailand. Balmain's assistant, however, was present in Bangkok for some fittings.
This initial project was the beginning of an extended relationship between Queen Sirikit and Pierre Balmain, which only ended when he passed away in the early Eighties. This life-long friendship helped develop the style of the Queen of Thailand such that, together with her unique beauty, she was once praised as one of the world's best-dressed women.
His Majesty King Bhumibol paid for his wife's dresses with his own money so the clothes we see are considered Her Majesty's private property.