Things to do in Soi Nana Chinatown
Our guide to the best restaurants, bars, shops and galleries in the coolest road in Chinatown, perhaps the city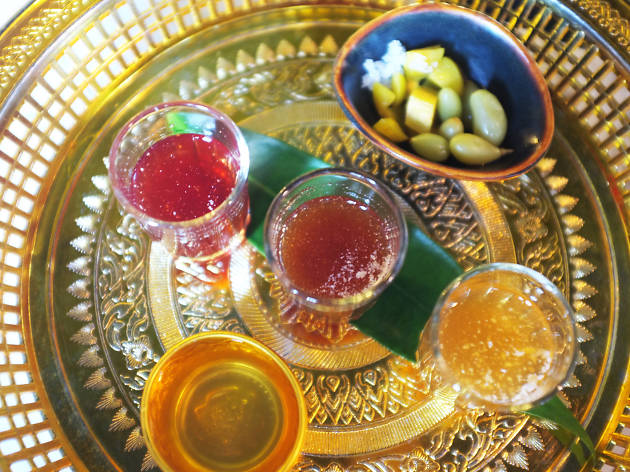 Known as one of the city's coolest streets at the moment, Soi Nana Chinatown offers a wide range of amazing cuisine, cool drinks, interesting art galleries and many more. Just a short distance from Charoen Krung Road, this charming street, once only known as home to a smattering of Chinese herbal shops, has been transformed into one of the most popular nightlife spots in Bangkok. From the adorably presented Nahim Café & Handcraft to cool hotspot Tep Bar, we dish out our favorite things to do in Soi Nana Chinatown.
Things to Do in Soi Nana Chinatown
Tep bar is a tapas bar and restaurant that screams Thai. Enjoy traditional Thai drinks and snacks along with the upbeat Thai classical music. Prawn cracker is one of the all time favourite served with sweet chilli paste. Yadong or the potent Thai Whiskey is also available in a set of 3. One is believed to be an aphrodisiac too!  
Read more
Located on Soi Nana in China Town, this gin bar – the first in Thailand – is hidden behind a big wooden door just waiting to be discovered. This place serves almost 80 gin-based drinks (the drinks list changes daily, mind you). Plus, its mixologist, Niks Anuman-Rajadhon, is always there to make sure you have a good time. Last time we went, he created Passoa CNX (passion fruit from Chiang Mai mixed with gin) for us to try, and it was awesome! If you love gin (and you should), Teens of Thailand will surely be your favorite new hangout.
Read more
Cute is one of this cafe's strongest points. An illustrated alpaca is imprinted on nearly everything in this cafe and handicraft shop, from the walls to the serving plates to fresh coconut shells. Even the bread served with soups and salad has an alpaca imprinted on it. Other cases of cute involve DIY hot chocolate where a cup of milk is served in a ceramic burner alongside pure chocolate buttons. Their handcrafted tea is another hit, especially cold brews in fun flavours such as Pa Pa Pa Pipo.
Read more
El Chiringuito serves traditional Spanish home-cooked tapas and drinks. Try the Tortilla de Patatas, or a spanish omelette made with caramelized onion or Salmorejo, a thick tomato soup with boiled egg and jamon ham on top. And Don't forget to have a sip of Gin Xoriguer or a couple of the original sangria before you leave.  
Read more
DJ and the drinks made this gallery a bit extra special. The two-stories hall are full of arts and exhibitions, and even in the toilet. Be careful though, their mojito is pretty strong, and the stairs are pretty steep.  
Read more
Film photographing is still a killer. Patani Studio offers to process your film by hand, and you can tell them exactly how you want your pictures to be. They also offer the delivery service, so you don't have to hustle back and forth.  
Read more