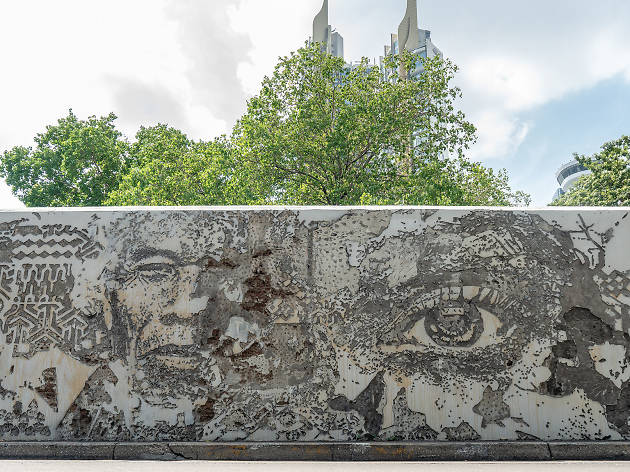 Top spots to see street art in Bangkok
Beyond the gallery
Street art may not be the first thing that comes to mind when thinking of Bangkok. But if you look closely, you'll notice that the city is plastered with urban graffiti, from professionally painted murals to bold and vibrant tags. Over the last few years, street art in Bangkok has become more popular, mainly due to social media and the Bukruk Urban Arts Festival in 2013 and 2016, a project that invited Thai and international artists to create urban masterpieces all over Bangkok.
We roamed the city, from Ratchathewi to Bangrak, and can truly say that Bangkok is one heck of a city for admiring street art. Here's a list of the best locations to get your street art fix.
Because of the Bukruk Urban Arts Festival, the under-appreciated walls of Soi Charoenkrung 32 are now decorated with murals by several Thai and international taggers. (The street was the main site for the 10-day festival.) Here you will see masterpieces like the three-eyed kid by Alex Face, a funky bear character by Bonus TMC, mysterious-looking portraits by Kult, and spray-painted art by Lolay. Come after 3 pm to get a better view of all the pieces because nearly the entire strip is covered with street vendors during the day.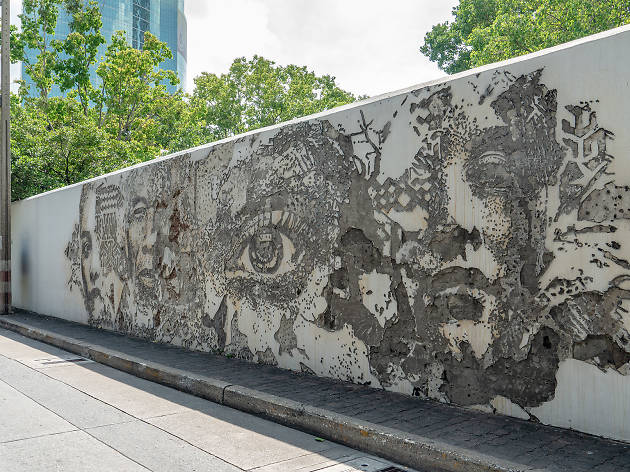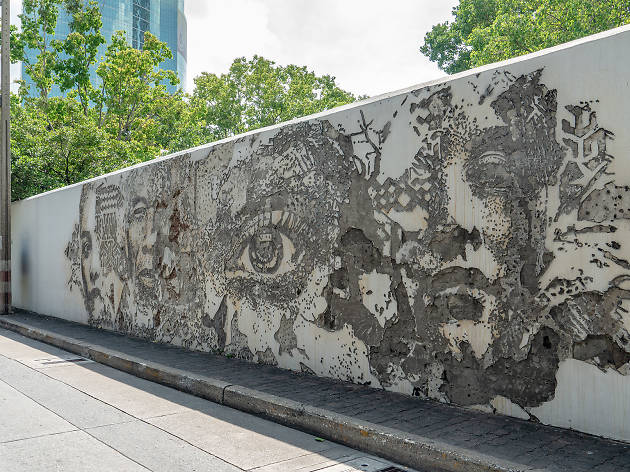 Tanisorn Vongsoontorn/Time Out Bangkok
This side street is home to two massive, eye-catching pieces— Scratching the Surface, an amazing wall carving by renowned Portuguese artist Alexandre Farto, aka Vhils, is featured on the front wall of the Embassy of Portugal, while stencil work by internationally acclaimed Italian artists Sten and Lex adorn the facade of an entire building. The pair is best known for their halftone stencil technique and unconventional graffiti work, all of which appear in major cities like London, Paris, Barcelona, New York and Rome.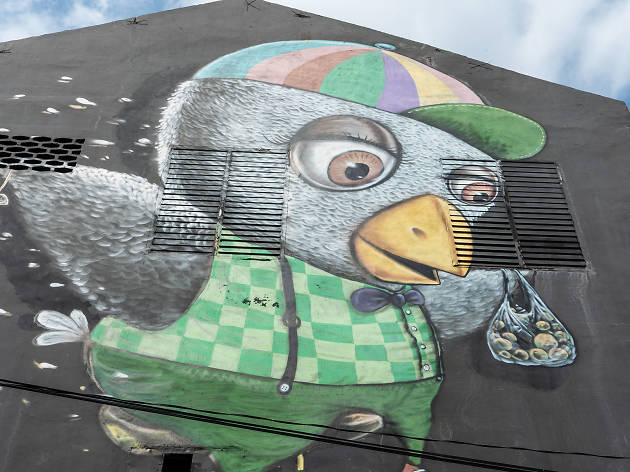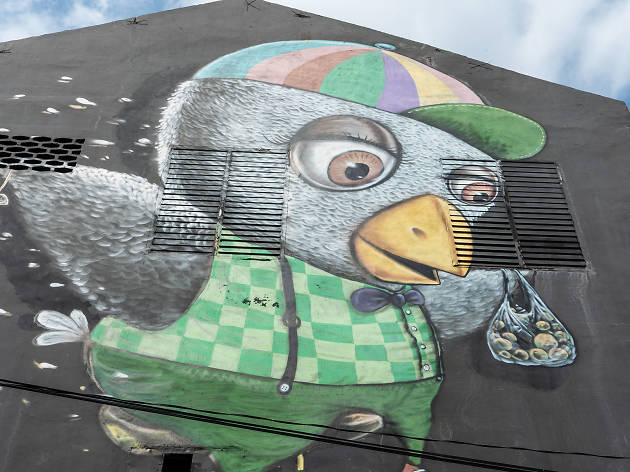 Tanisorn Vongsoontorn/Time Out Bangkok
Three urban masterpieces are worth checking out on this lane. Right at the beginning of the street, you will see the Pukruk by Meubon, a colorfully dressed bird riding a unicycle. Just below this huge painting is a black and white mural by Korean artist Daehyun Kim. On the building across the street, you'll find a multicolored piece by Romanian painter, illustrator and street artist Raul Oprea Sebastian, aka Saddo. The artist's works are often influenced by pop-surrealism, mythology and religious imagery.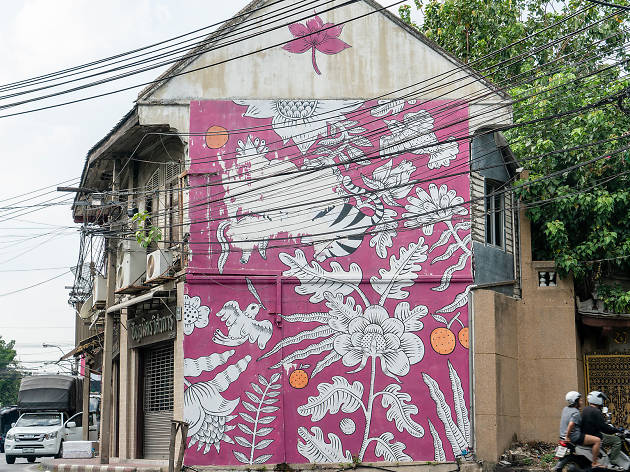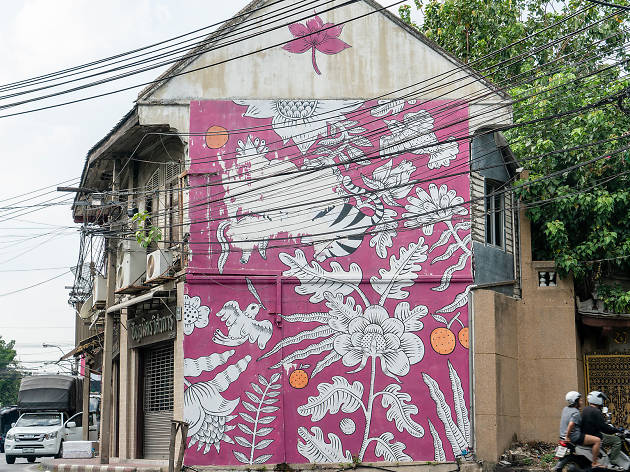 Tanisorn Vongsoontorn/Time Out Bangkok
This historic road boasts three largescale murals, all by international artists. The first art piece you will encounter as you enter the road from Wat Pathum Khongkah is a pink mural by Romanian artist and illustrator Aitch, who has displayed her work at numerous art shows across the globe. As you walk down the stretch, you will see two giant artworks facing one another at a parking lot overlooking the Chao Phraya River. On your left are two elephants by Roa, a Belgian graffiti artist who typically paints animals that are native to the location, and across from it are blue bicycles by Spanish street artist Aryz.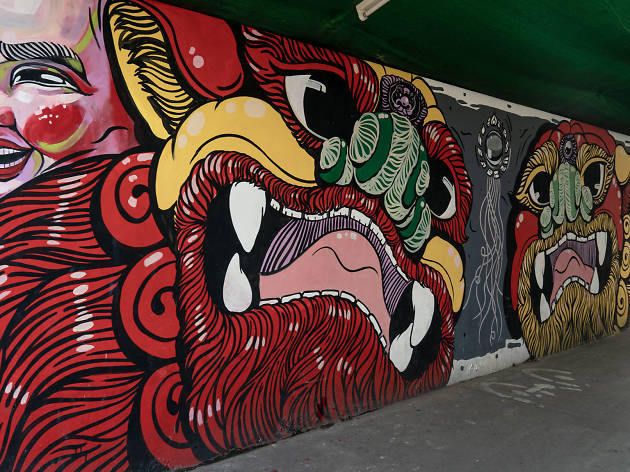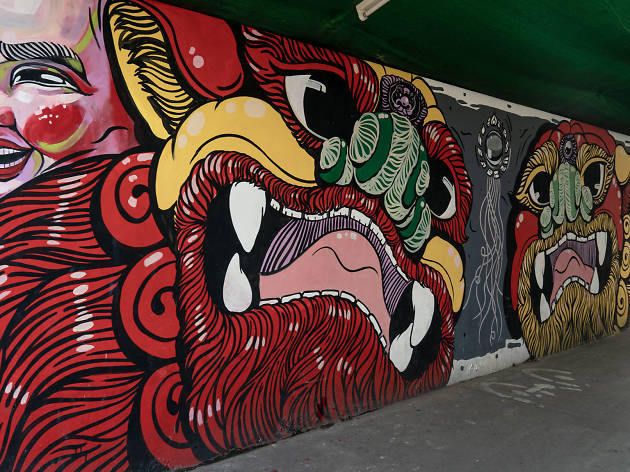 Tanisorn Vongsoontorn/Time Out Bangkok
San Chao Rong Kueak Alley
This small alley takes street art every seriously, seeing that each piece comes with its own description. The works include huge murals depicting realistic scenes and full-scale pieces that reflect the neighborhood's Chinese culture. There's The Lion Care by Bonus TMC, which was inspired by the lion dances that were once performed in the community, and a depiction of a sacred turtle by DR.CAS, inspired by the festival where people pay respect to the turtle and pray for a long life. Further down, you will spot murals that blend with the local scenery.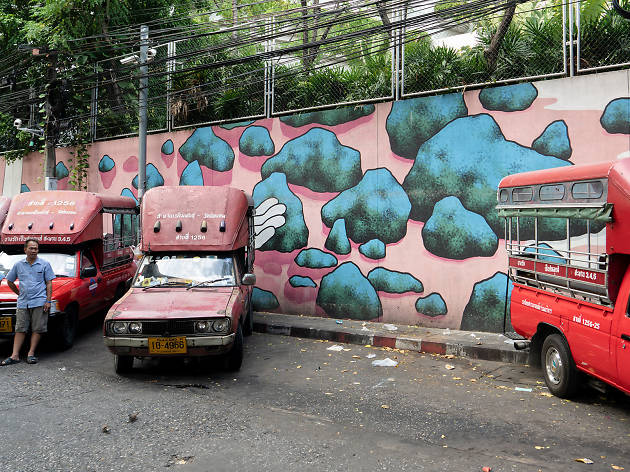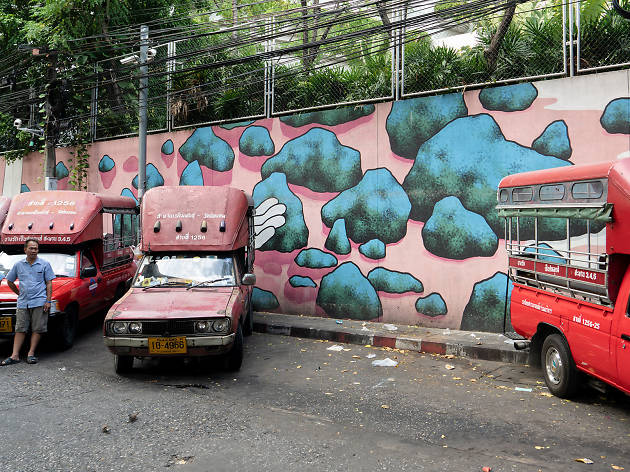 Tanisorn Vongsoontorn/Time Out Bangkok
Saphan Taksin BTS Station
Dutch artist Daan Botlek painted nearly the entire length of the wall at the foot of the Saphan Taksin BTS station for the Bukruk Festival in 2016. Titled Saphan Taksin, this piece presents scattered body parts against a bright pink background. But if each segment were vertically stacked, you'd see that the body parts are connected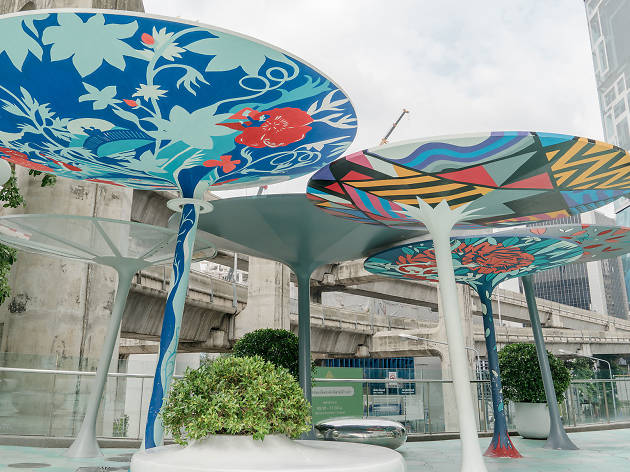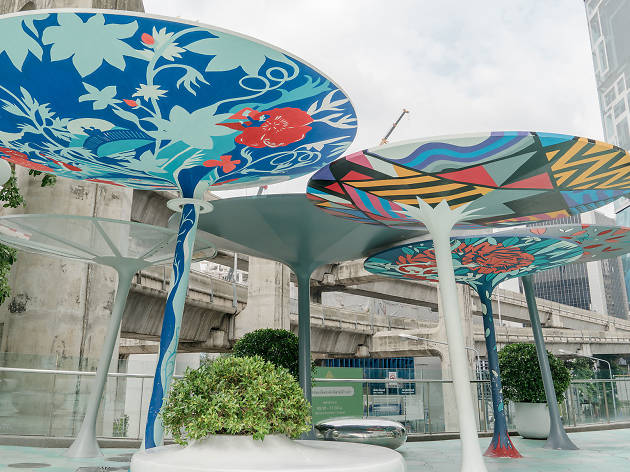 Tanisorn Vongsoontorn/Time Out Bangkok
If you need more proof that street art has gone beyond colorful vandalism in Bangkok, go take a stroll along the skywalk that connects the Bangkok Art and Cultural Centre (BACC), Siam Discovery and MBK. Here you have mushroom-like installations painted with works by renowned local artists such as Peerapong Limthamrong (aka P7), Yuree Kensaku, and JECK BKK.
Tanisorn Vongsoontorn/Time Out Bangkok
Take the express boat down this central canal waterway to view a bunch of eye-popping graffiti. (Hopefully, they're appealing enough to divert your attention from the sewer-like smell wafting from the water.) Most of the street art feature throw-ups (taglike drawings of bubble letters), blockbusters (large murals with sprayed letters), and wild style (elaborate, interlocking letters or symbols).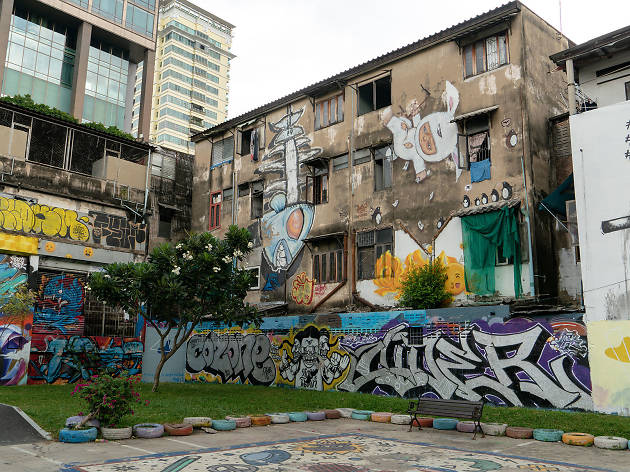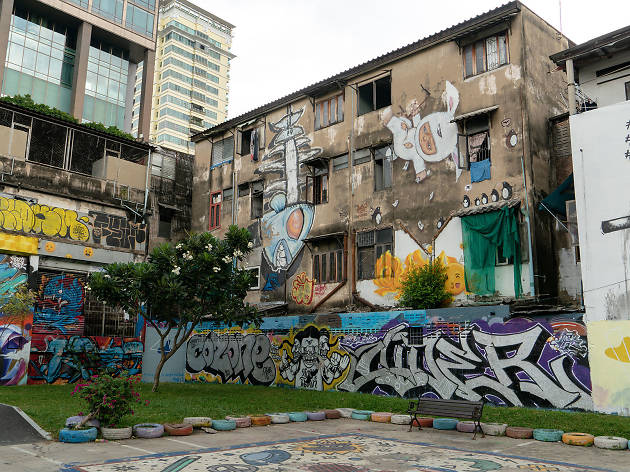 Tanisorn Vongsoontorn/Time Out Bangkok
The first edition of the Bukruk Festival transformed this overlooked public park into a creative outdoor space through graffiti and murals sprawled on every inch of its walls. You will see art from the likes of Thai artists Alex Face and An Officer Dies, along with several pieces from anonymous artists.
Ask the artists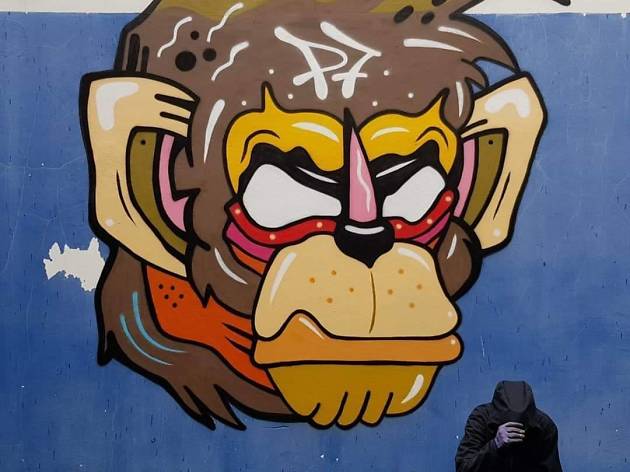 P7
What do you think of the street art scene in Bangkok now?
Street art, 10 years ago, was not as popular as it is now. Space was more limited. Now we have more events and activities putting street art as part of the act. Now we can see street art being placed as decoration in places like malls or shops, or even as part of collaborations with brands. All of these have made street art less limited to being just artsy murals on walls. Street art is like a way of decorating the streets. We're not so serious about vandalism because most artists create art on unprohibited spaces with no purpose of destroying anything. People in public see these works as art. And I think Thai culture has parts that lean heavily on it, too. Thai people like beautiful things so people don't see it as graffiti. Some people don't even understand what graffiti or street art is. They just see and consider them as beautiful art, admire them, and that's it.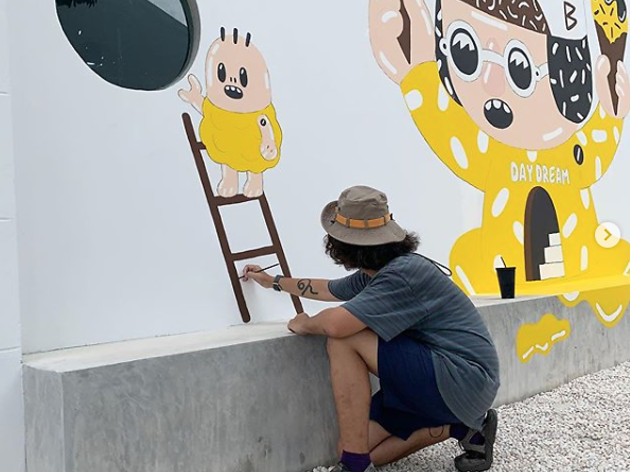 stupidnoobmacc
Where do you get your inspiration from?
From my own interest in extreme sports like skateboarding and biking. My works usually involve a cartoon character that I designed, mostly Baby Boy, a cartoon version of myself. I've been doing street art for about four to five years now. I used to be a portrait illustrator before I switched to doing characters. I was really into fashion and pastel colors but got bored so I changed my direction to doing cartoons instead. This allows me to really let my imagination roll. I used to do other characters, but I ended up not liking them as much as when I do my own character, Baby Boy. The word "baby" has always been stuck in my head since I was little so I decided to incorporate it as my alias. As for the word "boy," it represents me as a kid who likes to skateboard and do fun stuff.