Barcelona's best wine bars
Where to sit and sip some reds, whites, pinks and cavas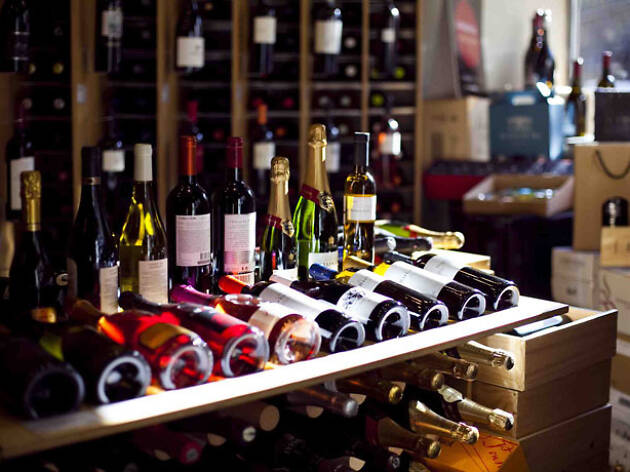 It's always the right time for a good glass of wine, and you don't have to be an expert to enjoy one. Just head to these top wine bars in town and they'll help you pick out a grape that suits your taste.
Lovers of good wine and tapas will be happy here: they offer a stunning selection of wines from around the world, with a good range of wines from Catalonia, all at shop prices and with a corkage charge of €4. They also have six different beers on tap. Propped against a barrel, you can enjoy a drink with selected cured meats and tinned products, and unusual tapas such as the quail egg omelette with black truffle oil.
Read more
At the Casa Mariol Wine Bar, which is part of the bodega of the same name, you'll have the chance to get to know Suau, which is an version of a drink (a blend of soda and coffee) that was popular in the Ribera de l'Ebre region decades ago. You can also taste cask wines from the Ebre, accompanied by a nice 'clotxa' (bread stuffed with herring, onions, tomatoes and garlic) and then top it all off with delicious cakes from Batea (a town also in the Ebre).
Read more
You'll find this bodega in the heart of the Born. It's got a great national and international selection and is one of the biggest wine distributors in Europe. They also have a food section.
Read more
In the pleasantly cool, shadowy interior of Can Cisa, you can appreciate the care that's gone into the restoration of a neighbourhood bar. Their reverence for the tradition of buying wine from the barrel, plus some local pressure, persuaded them to combine a classic bodega at the entrance, with a wine bar at the back. They stock 300 wines, all from organic or bio-dynamic producers around the world, 'without chemicals or additives, at accessible prices: the same wines at the same price as before. We want older people from the neighbourhood to socialize here the way they used to, so we don't lose that essential feeling – an old-style tavern that sells vermouth by the litre.'
Read more
After visiting wine bars and restaurants in Venice, a couple of friends decided to set up their own wine bar in Barcelona that runs on the same philosophy as our neighbouring country. Miguel Ángel, who's busy pouring glasses non-stop at Zona d'Ombra's bar, confesses that he was seduced by the abundance of mortadella set out on the bars in Italy along with the wine for everyone. Set to borrow from this joyous custom, the two friends wanted to bring the same generosity to their new spot. In fact, Zona d'Ombra is called an 'enoiteca' instead of the Catalan/Spanish 'enoteca' (wine bar/cellar) because it's the word in Italian for places where you can drink wine and have a nibble.The love of Italian culture is evident here, where, apart from selling wines from around Spain, they've also got a good selection of Italian wines they like, and they also serve up the popular Venetian aperitif, spritz.Zona d'Ombra started out on day one as a shop that sells bottles of wine, but if you want to stick around and have some goat's cheese croquettes or Iberian ham, you'll just have to pay a €4.50 corkage fee for your bottle, a point where this spot differs from its Italian counterparts, who happily pile more and more food on the bar or your table at no extra charge. Now that we've brought up food, you have got to try the exquisite bread at Zona d'Ombra that they get fresh daily from Baluard de la Barceloneta. Good wine, good bread... get some good friends and try for yourself.
Read more
Although located in the fashionable area around the Sant Antoni market, on Viladomat between Manso and Parlament, this bar does not mimic the Nordic aesthetic of most new establishments in the neighbourhood. They serve a good selection of wines, particularly from Catalonia, plus they have good beer on tap and an impressive list of gins, malt whiskies and special rums. Gin and tonics, spritz ... they make it all, including exquisite tapas to please even the most sybaritic palates.
Read more
This is one of the largest information centres for wine in Europe. The team includes some great sommeliers, while its documentation centre covers all areas of wine culture. A unique place where you can discover wines from all over the world, and which is also a wine bar and restaurant. The latter – which focuses on traditional cuisine with a creative touch – is excellent, by the way.
Read more
Marídame is a kind of dating agency where wines are paired up with good food. The different colours that tag the bottles indicate whether a wine is cheeky or fruity, dry or full-bodied, and from there, the games begin. If the labels leave you lost, sommelier Francisco Ortiz will step in with his expertise to help you combine any of the 200 varieties of wine and craft beers with their ideal partner from the Marídame pantry. They also organise pairing courses where you can propose as many couplings as you like.
Read more
The recipe at Vino y Otros Remedios ('Wine and Other Remedies') is clear: make the clientele happy with reliable recommendations and easy-to-swallow prices. 'Most wines coss less than 15 euros,' says Umberto, who's originally from the town of Salento, in southern Italy, where his father makes wine. 'Most of our customers are not experts, so we like to be able to give them good advice.' Umberto's eyes sparkle behind his specks when he talks about wine. You can buy bottles and take them home, but it's worth taking their counsel. A handful of tables flank the shelves bearing a mix of Catalan, Spanish and Italian wines.
Read more
A very good wine cellar specialising in wine from the Terra Alta area. They also sell books on winemaking, as well as accessories, boxes, decanters, cases ... all a wine aficionado needs, whether you're a novice or an expert.
Read more
This Gràcia wine cellar par excellence has earned its reputation with more than 25 years' bringing the exciting world of wine to connoisseurs and new fans. In addition to its extensive wine cellar, another strength is that they organise tastings and pairings.
Read more
This tiny winery in C/Joaquín Costa has a very specific concept of sexy wine: top-quality wines from Navarra available for no more than €15. They describe their selection as 'fleshy and full, with a balanced texture and an aroma that invites you to drink more'. They organise beginner and advanced tasting courses as events, and they also build tailor-made courses for groups.
Read more
This company promotes and distributes Italian wine and spirits, and specialising almost exclusively in small producers native Italian grapes. They work with small and medium-sized wine cellars.
Read more
A wine cellar with character and all the classics as well as a tempting food section with cold cuts, preserves, caviar and chocolates.
Read more