Barcelona's best brunches
Discover the best restaurants in town for brunch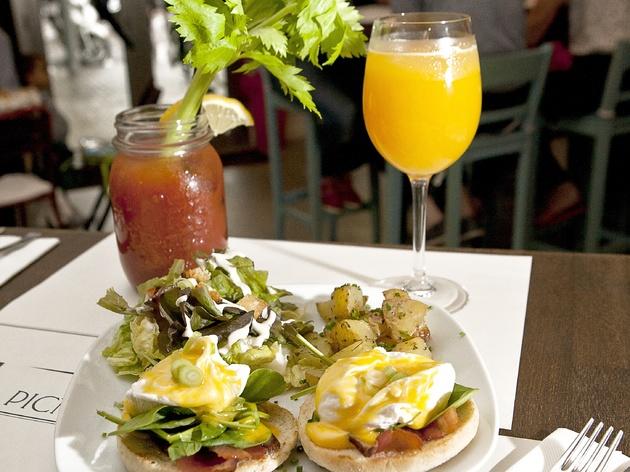 While the healthy living associated with the Mediterranean diet may be admirable, once in a while it's nice to just sink your teeth into a big juicy brunch. In comparison with a coffee-and-sandwich breakfast and the famously lengthy, languid lunches, brunch isn't a meal you'd immediately associate with the local culture. In fact, as a predominantly Anglo-Saxon tradition, it suffers from a less refined, more DIY – okay, let's just say it: greasy – image. However, in recent years this foreign weekend favourite has proved surprisingly popular in the Catalan capital too, albeit with less of an emphasis on the grease. At weekends you'll find many of Barcelona's restaurants and bars open for business well before midday, and enjoying a brisk brunchtime trade. So, from hangover restoratives to fancy breakfast feasts, dig in to Time Out's guide to the best brunches in town.
DosTrece has become a modern classic on the Ciutat Vella dining circuit. The restaurant is on a corner and has huge windows, ideal for people-watching as you have something to eat or drink: There are teas, beers, cocktails and international dishes, either as snacks or meals. For a while they have also been offering brunch classics such as eggs Benedict, American crepes and French toast. It's like being in a cafe in a trendy district in New York or Berlin.
Book now
Read more
This restaurant would not look out of place in the trendiest, most cosmopolitan of cities. Natural light, tasteful decor, good music, fast, friendly service and a menu specialising in breakfasts that can resuscitate you after a night of overdoing it: juices and shakes, eggs and sausage, fruit and sandwiches...
Read more
This quirky, original restaurant that bears a resemblance to a New York eatery combines American dishes like barbecue pork rib burgers with a touch of the Mediterranean, like the tuna with wasabi mayonnaise variety. Have a slice of cheesecake for breakfast á la 'Sex and the City', or drop in for lunch or dinner.
Book now
Read more
Brazilian Patricia Leona from São Paulo is the heart and soul of this small and charming bar/restaurant that serves up a superlative brunch. Leona, a professional chef with loads of experience, has opted to create her own place with simple food and everyday products with a twist. Specialists in brunch, they boast four different versions of eggs Benedict, sweet or savoury pancakes, and deli items for lunch that are simple yet exquisitely made, like pulled pork sandwiches with pork that's marinated for hours and grilled, and you'll also find a few Brazilian dishes.
Read more
Ugot is a lovely place where it's impossible to be cynical: it's like the tea room of the French aunt you never had. Israeli Adi Nachson has filled an old warehouse with soul, a collection of dishware she's gathered over the years, an exquisitely restored floor and a miscellany of antique furniture. Nachson calls it a bruncherie, so you can expect hearty and good breakfasts (eggs in all possible variations), curious and quality dishes of the day, and home-made pastries created by Nachson ('ugot' is 'cakes' in Hebrew). And you'll also find the occasional Israeli dish, such as 'shakshuka', a spicy egg dish.
Read more
A seafood eatery outside Barceloneta. It's great to have fishmongers in the family. The customer service is excellent here and this is reflected in sheer value for money, whether you want prawns, grilled squid, hake in breadcrumbs or a rice dish. Anyone not eating fresh fish, it's because they don't want to.
Read more
Three friends who graduated in philosophy, journalism and art history have turned a corner bar into delicious miniature restaurant, where they rework and update classic dishes from Basque and Galician cuisine, served on small plates. On Saturday mornings they offer brunch with toast and a home-made jam that has become an object of pilgrimage.
Read more
The chef, Eduardo González, from Mexio City, says that at first they wanted to make dishes from around the world, but in the end chose to make it 100 percent Mexican. The menu gathers together traditional Aztec dishes, such as the crispy-tortilla soup (a real hangover cure), alongside their own hits, such as Moctezuma tuna (a fish foreign to Mexico), breaded with spices and served with 'pico de gallo' salsa, avocado and mint sauce. That said, if you're craving enchiladas or tacos (they have tongue ones!) cooked at the level you want in a world heritage cuisine, you can get those here as well. The set lunch menu leands toward the 'Mexiterranean', but without pretense, and you get very good value for money. The desserts are spot-on, and you can get Mexican sandwiches for breakfast, which have until now been totally undiscovered in Barcelona.
Read more
Previously the Bodega Fortuny, this minimalist spot, run by an Australian and an Englishwoman is described as a gastropub. You can find delicious, original recipes, with British, Italian or Catalan influences, but always extremely original results. Good breakfasts, sweet and savoury items and imaginative dishes like the American-style rabbit fried in breadcrumbs. The home-made desserts are excellent.
Read more
Though customers do often go for brunch, the owner of Mama's Cafe prefers to refer to it as a diner. 'In the USA a diner is a very informal place where you can go anytime for breakfast, brunch, lunch or diner. And you can eat fast', she explains. During opening hours you'll find hearty breakfasts (yes, served all day!), daily specials and gourmet sandwiches, with mainly organic incredients. Delicious cakes and a tasty interior terrace.
Read more