Big festivals and major events in Barcelona: Spring
All the festivals and big events you need to know to celebrate spring in Barcelona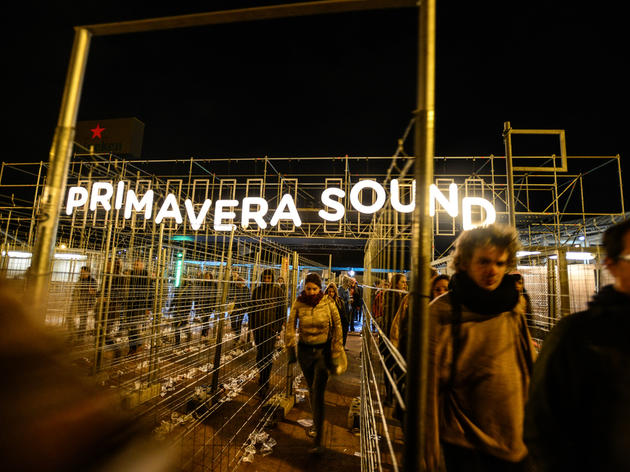 There are so many things to do in Barcelona in the spring, from the city's biggest marathon to the Guitar BCN Festival, as well as the massive Primavera Sound music festival. There's also the Sant Jordi celebration that fills the city with books and roses, the Earth Day Fair, a couple of film festivals, Easter week and more.
Barcelona: Spring Festivals and Events
Where: various venues
When: 2019 dates TBA
Tel & website: 93 481 70 40/www.theproject.es
This prestigious guitar-based music festival has the ability to attract world-class players. Styles span everything from flamenco to Latin sounds, classical guitar and gypsy jazz.
Festes de Sant Medir de Gràcia
Where: Gràcia to Sant Cugat & back
When: 2019 dates TBA
Website: www.santmedir.org
On or around the feast day of St Emeterius (Sant Medir in Catalan), for almost 200 years colourfully decorated horse-drawn carts have gathered around the Plaça Trilla to ride up to his hermitage in the Collserola hills. The most popular element are the carts that circle the streets of Gràcia and shower the crowd with 100 tons of blessed boiled sweets.
Where: Convent de Sant Agustí, Sala Apolo, Moog
When: 2019 dates TBA
Website: www.mutek.org
The International Festival for Digital Creativity and Electronic Music, which got its start in Montreal back in 1999, has been making sound waves in Barcelona. There's a Digi_Section daytime conference programme (Q&A sessions, workshops, demos) and of course electronic music every night.
Zurich Marató de Barcelona
Where: Plaça Espanya
When: Mar 10, 2019; 8.30am-2.30pm
Website: www.zurichmaratobarcelona.com
The Barcelona Marathon has been a Barcelona staple for over 40 years. The marathon course runs throughout the city streets, so you might want to check the website whether you're participating, watching, or just want to know where traffic will be diverted on the day.

Where: La Farga
When: Mar 15-17, 2019
Website: www.barcelonabeerfestival.com
Some 300 different types of craft beer served in rotation from the bar's 50 taps, with 70 of the 300 from foreign brewers, and the rest, Catalan and Spanish, many of them being tasted for the first time in the country. The organisers have said the festival is akin to a living thing: beers that are served on Friday will be changed each day following. Most brands run between just €2 and €3. To accompany your drinks, there are also tapas, dishes, pasties, crepes, and cheeses. The beers are served at three different temperatures, with careful attention paid to the ideal service for each beer, and pulled by staff who are well trained in pouring a glass on tap.
Setmana Santa (Holy Week)
Where: various venues
When: Apr 14-21, 2019
Easter for Catalans is a relatively sober affair, with none of the pageantry embraced by their southern cousins. The main event is the blessing of the palms on 'diumenge de rams' (Palm Sunday). Crowds surge into the cathedral clutching bleached palm fronds bought from stalls around the city; these are then used to bring luck to households. On Good Friday, a series of small processions and blessings takes place in front of the cathedral. On Easter Sunday, godparents dole out the 'mones': chocolate confections, more elaborate than humble Easter eggs.
Saló Internacional del Còmic
Where: Fira de Barcelona
When: 2019 dates TBA
Website: ficomic.com
This is the weekend that comic and graphic novel aficionados have circled on their calendars every year. The International Comic Fair features four days of compressed activities, new releases and exhibitions in a 19,000m2 venue.
Where: Mercat de les Flors
When: April-May (2019 dates TBA)
Website: http://mercatflors.cat/en/
The shows that the Mercat de les Flors has programmed for this 'Circus Today' cycle reflect modern trends and artistry in today's circus world that have little to do with what 'circus' meant in the past.

Where: Various venues
When: Apr 6 & 7, 2019
Website: monllibre.bcn.cat
This two-day 'World of Books' festival dedicated to the youngest readers, celebrates its 15th anniversary in 2019 with fun activities and readings to introduce children to the wonderful world of books.
Where: La Rambla & all over Barcelona
When: Apr 23
Website: www.bcn.cat/stjordi
On the feast day of Sant Jordi (St George), the patron saint of Catalonia, nearly every building bears the red and gold Catalan flag, while bakeries sell Sant Jordi bread streaked with red 'sobrassada' sausage pâté. Red roses decorate the Palau de la Generalitat and the city's many statues and paintings of George in all his dragon-slaying glory. It's said that as the drops of the dragon's blood fell, they turned into red flowers – and for more than five centuries, this has been the Catalan version of St Valentine's Day. Men traditionally gave women a rose tied to an ear of wheat, and women reciprocated with a book; this is also 'the Day of the Book'. It accounts for an amazing 10 percent of Catalonia's annual book sales, and street stalls and bookshops give good discounts.
Show more