Barcelona festivals and events: the best of summer
All the big Barcelona festivals and events you need to know about to celebrate summer in the city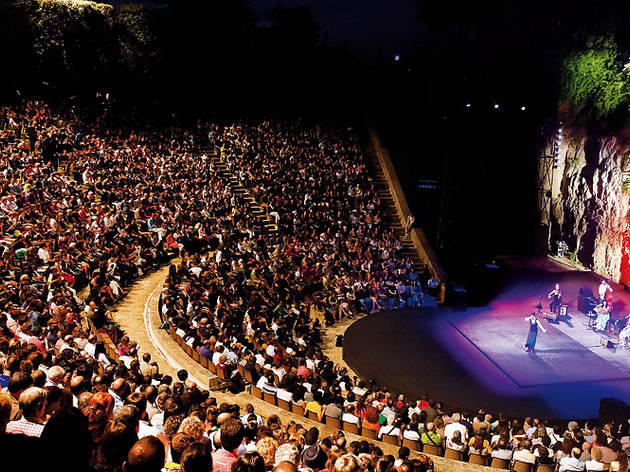 There are so many things to do in Barcelona during the summer! Sure you've always got fun in the sun at Barcelona's best beaches, but you can also revel in huge music festivals such as Sónar and Cruïlla, outdoor film festivals, big local festivals including St John's feast day and the Gràcia neighbourhood's big party. There's also Gay Pride, the CaixaForum Summer Nights series of concerts, the city's huge performance arts Grec festival, and more.

RECOMMENDED: Barcelona festivals and events: the best of the year
Barcelona: Summer Festivals and Events
Where: Fira de Barcelona, Montjuïc & Gran Via
When: June 18-20, 2020
Website: sonar.es
The three-day International Festival of Advanced Music and Multimedia Art (or Sónar, as it's more snappily known) remains a must for anyone into electronic music, contemporary urban art and media technologies. The event is divided into two distinct parts. Sónar by Day comprises multimedia art, record fairs, conferences, exhibitions and sound labs, while DJs play. Later, Sónar by Night means a scramble for the desperately overcrowded shuttle bus out to the vast hangars of the site in L'Hospitalet (tip: share a cab between four – it'll cost you the same), where concerts and DJs are spread over SónarClub, SónarPark and SónarPub. There's also SónarKids, with music, workshops and puppet shows on the Sunday at the Sónar by Day site.
Where: all over Barcelona
When: night of Jun 23
In the weeks leading up to the feast of St John, the streets become a terrifying war zone of firecrackers and cowering dogs. This is a mere warm-up for the main event – on the night of June 23 there are bonfires and firework displays all over the city, but especially the beach, running until dawn. Cava is the traditional tipple, and piles of coca – flat, crispy bread topped with candied fruit – are consumed. Special metro and FGC trains run all night, and the 24th is a much-needed holiday.
Where: various venues
When: Jun 20-27, 2020
Website: www.pridebarcelona.org
Barcelona shows its gay pride over the course of a week in venues all over the city, including talks, demonstrations, parties, concerts, activities for kids and families, and the big parade.
Where: Passeig Joan de Borbó, Barceloneta
When: last Saturday in June
Tel: 93 316 10 00
The barnacled legacy of Catalonia's old trade links with Cuba,
'havaneres' are melancholy 19th-century shanties accompanied by accordion and guitar. The main event is at the port town of Calella de Palafrugells, but the Barcelona satellite is no less fun. Performances by groups dressed in stripy shirts, with salty sea-dog names such as Peix Fregit (fried fish) and Xarxa (fishing net), are followed by 'cremat' (flaming spiced rum) and fireworks.
Where: various venues
When: Jun-Aug
Tel & website: 93 413 24 00/www.barcelona.cat
This series of free, al fresco concerts runs throughout the summer months in some of Barcelona's loveliest parks. It comprises two cycles; there's jazz from June to August on Wednesdays and Fridays at 10pm in Ciutadella Park in front of the fountain and, in July, young musicians perform a varied classical concert programme from Thursday to Saturday in various parks. There are also performances by the municipal band, who boost the programme on occasional Thursdays with crowd-pleasers from Gershwin, 'West Side Story' and the like.
Where: various venues
When: all of July
Tel & website: 93 316 10 00/www.barcelona.cat/grecNamed after the Greek amphitheatre (Teatre Grec) that forms such an integral part of its programming, this is the major cultural festival of the year. It brings together dozens of shows from around the world, encompassing dance, music, theatre and circus. Increasingly there are performances in English, with Catalan surtitles.
Sala Montjuïc outdoor film festival
Where: Castell de Montjuïc
When: June 28 – Aug 2, 2019 (2020 dates TBA)
Website: www.salamontjuic.org
A blend of classics and recent independent cinema shown three times a week throughout July and into August transforms the grassy moat of the Montjuïc Castle into an outdoor cinema. Bring a picnic and and turn up early for the jazz band. A free bus service runs from Espanya metro from 8.30pm to 9.30pm and after the film.
Festival Cruïlla Barcelona
Where: Parc del Fòrum
When: Jul 2-4, 2020
Website: www.cruillabarcelona.com
The Cruïlla music festival got its feet wet in nearby Mataró as a world music festival, but since moving to Barcelona in 2008, it has grown into the blend of styles and cultures that it is today, an eclectic festival that books pop and rock bands alongside electronica acts, along with a broad spectrum of R&B, and Jamaican and African music. Past headliners include David Byrne, Kylie Minogue,Jack White, Black Eyed Peas, Ben Howard, Jamiroquai, Pet Shop Boys, Two Door Cinema Club, Ani DiFranco, Ryan Adams, The Prodigy, Little Steven, The Lumineers, and more.
Where: Rambla del Raval
When: Jul 11-14, 2019 (2020 dates TBA)
Website: www.barcelona.cat
Over three days, entertainment includes giants, a flea market, children's workshops and free concerts on the Rambla del Raval. This particular festa major prides itself on multiculturalism, with music from around the world and ethnic food stalls.
Where: CaixaForum
When: every Wed in July & Aug
Tel & website: 93 476 86 00/https://caixaforum.es
Many museums hold Nits d'Estiu (Summer Nights) programmes in July and August, but CaixaForum has one of the best. All its exhibitions are open until midnight, and there are concerts of varying stripes (€6; €3 La Caixa clients), films and other activities.
San Miguel Mas i Mas Festival
Where: various venues
When: Jul 30 – Aug 31, 2019 (2020 dates TBA)
Tel & website: 93 319 17 89/www.masimas.com
This tasteful summer music festival has gone from concentrating on Latin sounds to providing a little bit of everything. In previous years the festival has spanned most of the summer, with concerts taking place at various venues, including the Palau de la Música Catalana. In 2019, the tightened calendar featured concerts at Jamboree, Moog and Tarantos.
Gandules outdoor film festival
Where: CCCB
When: Aug 6-22, 2019 (2020 dates TBA)
Tel & website: 93 306 41 00/www.cccb.org
A series of films are screened in the deckchair-strewn patio of the CCCB. It gets extremely crowded, so arrive early for any chance of a seat.
Where: various venues
When: Aug 6-16, 2020
Website: www.circuitfestival.net
The biggest international gay and lesbian event, along with its sister act, Girlie Circuit (Aug 7-11, 2020), is nearly two weeks of parties and music, plus so much more: literary readings, talks, debates, workshops, documentary film festivals and lots of good sporty fun with football tournaments, beach volleyball, fitness courses, longboard outings and even yoga sessions, and lots and lots of people.
Where: various venues around Plaça Nova, Barri Gòtic
When: Mid-August (2020 dates TBA)
Tel & website: www.bcn.cat
The Festa de Sant Roc, celebrated every year since 1589, is the Barri Gòtic's street party. It's hard to beat for lovers of Catalan traditions: there are parades with the giants and bigheads, 'sardana' dancing and 19th-century street games. The festivities, which centre around the Plaça Nova in front of the Cathedral, conclude with a 'correfoc' (fire run) and fireworks.
Where: all over Gràcia
When: Aug 15-21, 2020
Tel & website: 93 459 30 80/www.festamajordegracia.cat
The main event at Gràcia's extravagant festa major is its street competition, where residents transform some 25 streets into pirate ships, rainforests and Jurassic landscapes. The festival opens with giants and castles in Plaça de la Vila de Gràcia, and climaxes with a 'correfoc' and a 'castell de focs' (castle of fireworks). In between, there are some 600 activities, from concerts to 'sardanes' and bouncy castles.
Where: all over Sants
When: Aug 24 – Sep 1, 2019 (2020 dates TBA)
Tel & website: 93 490 62 14/www.festamajordesants.net
One of the lesser-known neighbourhood festivals, but growing in popularity each year, the Festa Major de Sants has a traditional flavour, with floral offerings to images of St Bartholomew at the local church and the market. Major events, such as the 'correfoc' on closing night, can be found in the Parc de l'Espanya Industrial; others are held at Plaça de la Farga, C/Finlàndia, C/Vallespir de Baix, C/Galileu and all around the neighbourhood.
More festivals and events in Barcelona