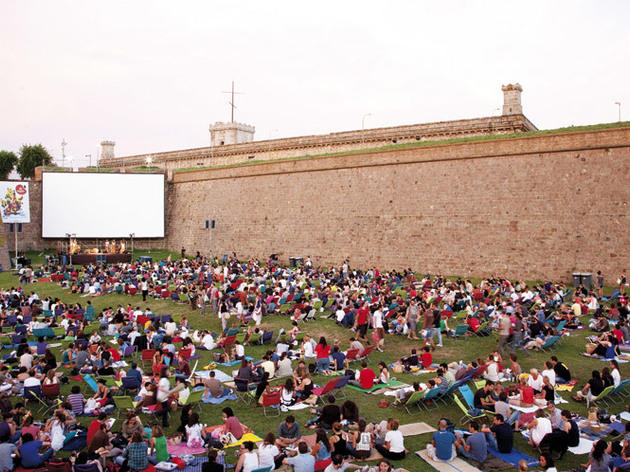 Sala Montjuïc open-air film festival
From July 3 to August 7 the grounds at Montjuïc Castle turn into the city's favourite outdoor cinema, showing a selection of top feature films, accompanied by short films, concerts and a picnic area
Every year Barcelona anxiously awaits the start of this summer classic in the city, the open-air film festival at Sala Montjuïc. If it sounds idyllic, well, it's because it is: a great selection of films (classics and current) showing in one of the most beautiful and historic places in town, with live music before the screening, as well as short films, and if you want you can bring your own dinner and snacks or grab something from the picnic service offered on-site. And if your Spanish is a bit rusty, don't worry – all but two of the 16 films in the programme are in English with Spanish subtitles, or in Spanish with English subtitles.

Tickets are €6 for each showing (€9 for 'The Kid' film-concert on July 17), or €19 if you want to add in a guided tour of the castle, or €10 to take part in one of the master classes given (in Spanish) by Desirée De Fez and Quim Casas on Wes Anderson (July 9), the Coen brothers (July 23) and Quentin Tarantino (July 28).

Bring a blanket or portable chairs to make the night as comfortable as possible, and if you don't have chairs or forget to bring them, you can rent lounges for €3 each. There's also a free shuttle bus service from Plaça Espanya, in front of the Tourist Information Point. The shuttles head for the Castle at 8.25pm and 9.30pm and back to Plaça Espanya once the film is over. (Please note that pets are not allowed.)

This year's edition kicks of with the award-winning Spanish film (with English subtitles, mind) 10,000 km and an exclusive concert by the trio of Joan Colomo, Joan Pon and Mau Boada. The festival also brings titles such as Cinema Paradiso, Reservoir Dogs, Her and The Big Lebowski, among others. Read on for the full line-up.