The top gay bars in Barcelona
Here's where you'll find the best gay ambience in town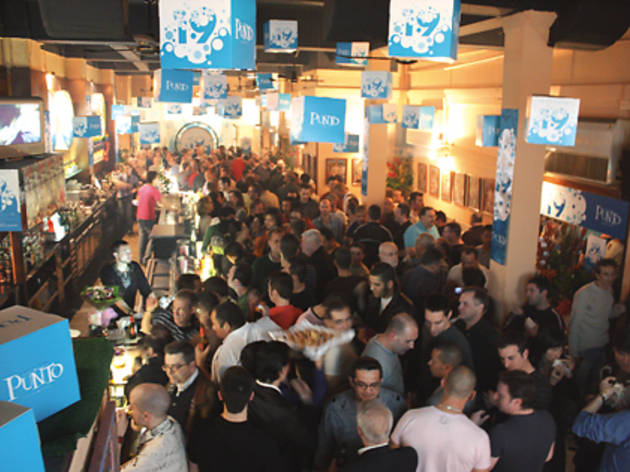 Despite its name, this isn't a place aimed specifically at the bear community (os in Catalan and oso in Spanish mean 'bear' in English). This particular Os refers to the owner, Óscar Verde. Opened in November 2012, it has generous opening hours that make it worth a look almost any time of the day. Daily from 8am you can enjoy breakfast there, or a mid-morning coffee, lunch or afternoon snack. During the week, it's open until 11pm, Thursdays until midnight, and Friday and Saturday until 3am; Sunday is a much-deserved day of rest. As well as a place for food and drink, they host art exhibitions by up-and-coming creatives, and you might also catch an afternoon session of board games in English.
They play Mónica Naranjo, Raphael and then, suddenly, Madonna. This is how it works in this bar, where the afternoons are relaxed, but the nights explode with the campiest music of all time. Uncommon in Barcelona, there's a happy hour on Tuesdays, Thursdays and Sundays from 7pm to 10pm, and a show at midnight every night.
This club has been a lot of things before now. First, it was a lesbian bar called Museum Girls. Then, it went for the music of the '80s and '90s when it was reincarnated as Museum Retro. Since March 2013, it's been Boys Bar, the new location for a bar that already existed in C/Muntaner. The usual crowd are fans of Matinée and parties like Bitch.
El Cangrejo (the crab) is known for '80s nights and drag shows, and if you remember the '80s and have ever seen a drag show, you'll know it can be quite hard to tell the difference. Either way, if you're looking for an alternative to the ultra-straight or too-techno, El Cangrejo is sure to please.
If you can ignore first impressions based on the decor (which looks as if Gaudí sneezed violently), you'll find a lively and friendly bar. It tends to attract a younger crowd, similar to that of the original Cangrejo in the Raval.
Casa de la Pradera is a friendly local gay bar with a varied clientele and a fun, relaxed atmosphere. They serve good beer and a free tapa with every drink. On Friday and Saturday nights they have a DJ, while in the evening there's always a fun, lively atmosphere at the bar.
Small and narrow, this bar stands out because of its religious-themed decor. To get to the back, you get to squeeze past all the other punters who've gathered around the the bar to try to order a drink, some of the most economically-priced in the area.
This slightly kitsch former bodega, where ancient barrels of wine contrast with glass-fronted displays of Barbie dolls, makes a comforting change from the muscle-bound posing bars of the Gaixample. A mixed and friendly establishment, it's one of the few places populated before midnight.
This bar is one of the few in town that boasts a dark room where you can always find some action. They occasionally host German-inspired parties that are quite literally sausage fests.
Show more