Barcelona's best cheap eats
Time Out's top places to eat on a budget in the Catalan capital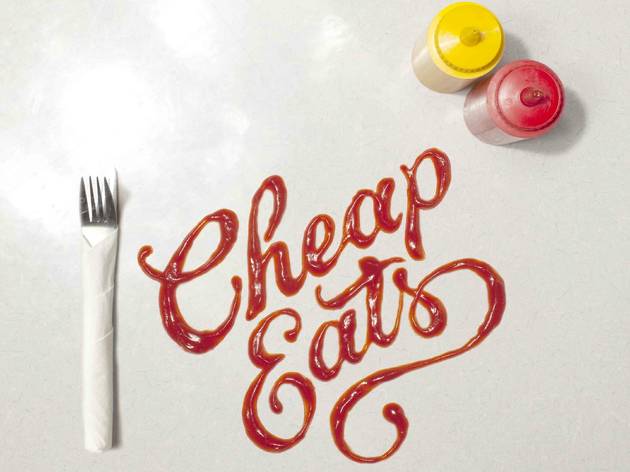 In Barcelona, more than most other European cities, eating out on a budget can mean dining in style – as long as you know where to go. Here are Time Out's recommended places to find great food with minimal outlay.
Ofis is the daytime version of the cocktail bar next door, Sifón, where Srta. Monium used to be. Choose your midday meal at your leisure: six dishes, of which you can pick two, with no restrictions on which comes first or second, with a lovely glass of wine and fantastic desserts. Enjoy the Italian-Argentinean ambience with a creative meal that comes at the incredibly low price of €10. The wilder ones may go for pizza and vacío (a mouth-wateringly tender meat), but you can also try the sautéed vegetables with soy sauce or the classic vitello tonnato, roast veal with tartar sauce.
Read more
This family establishment was modernised when the children inherited it from their parents, resulting in one of the best lunchtime menus in the Marina area. For less than €10 per person, you can choose between four starters and four main dishes, made from simple ingredients but created with great expertise and originality. Like upside-down macaroni stuffed with chicken and bechamel. It's become a real magnet in the area.
Read more
In Barcelona's Chinatown, next to the Arc de Triomf, there's a Chinese restaurant that's considered the most authentic in the city. Chen Ji forgoes artificial decorations for exquisitely prepared dishes following the original traditions of the rich cuisine, which have been disappearing thanks to the increasing popularity of Japanese cuisine and the multitude of Chinese restaurants that have more in common with a laundry than a place that makes for great dining. Once inside, close your eyes and go on a five-star journey without leaving the table and without paying through the nose. At Chen Ji, you won't find fried-rice inventions or any other kind of fake Chinese food. Instead you get handmade noodles that are nicely flavoured with vegetables or beef with cashews, and the 'guo tie' is delicious. If you want to try anything out of the ordinary like jellyfish or duck tongue, just ask your server.
Read more
Juan Antonio Miró is an omelette guru. He opened this restaurant in 1985, and from the outset he focused on these 'truites' ('tortillas' in Spanish). You can try simple culinary works of art here such as caviar, crab or smoked salmon omelettes. There are even omelettes for dessert: try the cherry and banana creation.
Read more
A comic metaphor for modern-day Barcelona, Himali moved into what was a local boozer, but has retained the silhouettes of famous Catalans – Dalí and Montserrat Caballé among them – on the windows; inside, meanwhile, there are Nepalese prayer flags and tourist posters of the Himalayas. The alien and impenetrable menu looks a bit daunting, but the waiters are useful with recommendations. Alternatively, you could start with momo dumplings or Nepalese soup, followed by 'mugliaco kukhura' (barbecued butter chicken in creamy tomato sauce) or 'khasi masala tarkari' (baked spicy lamb). All dishes include rice and naan bread.
Read more
Senyor Vermut is a local spot in the Eixample Esquerre whose menu of tapas and small plates may not be so different from other restaurants of its ilk, but here in the Miralles family business, everything has the Miralles touch. A peach gazpacho, lovely croquettes – the wild mushroom ones are phenomenal – a 'capipota' just like Grandma Josefina used to make, good but not stellar patatas bravas, and a tasty shish kabob marinated with oil and spices. Whatever you choose, you'll get excellent options that cost less than €4.
Read more
The Mexican owners say they make 'Mexican street food'. And they do it well: their tacos are phenomenal and their quesadillas are made with care and without industrial cheddar. The repertoire is informal Mexican food, and weekends are reserved for more-traditional fare such as aguachiles and chicken with mole sauce. The ambience is also a cut above the norm, with modern Mexican and colourful decor.
Read more
One of those bar-restaurants that are few and far between nowadays, ideal for tight budgets and good eaters. The fork breakfast is a memorable experience. And at lunchtime, get ready for a communal meal with some delicious starters and main dishes. The capipota, shoulder and cod are excellent. Wash it all down with a fine wine from Gelida.
Read more
Escairón is particularly remarkable for its Galician entrecot (sirloin steak) and 'caldo gallego' (Galician broth). Jorge and Pilar make you feel at home, while the clientele are mostly regulars. Aside from the entrecot, main dishes include barbecue, stews, and especially the eponymous dessert, Escairón (crème caramel with a kind of nougat ice cream). Unforgettable fried potatoes accompany the meat dishes. This is the perfect place to delight your palate with the very best of Galician cuisine and fresh, quality market fare at reasonable prices and with excellent service.
Book now
Read more
Show more