The most romantic restaurants
These 13 romantic restaurants are a sure way to that special someone's heart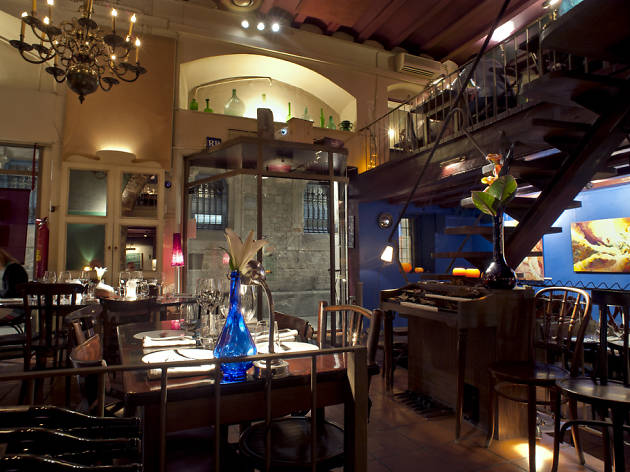 When you're looking for a restaurant in Barcelona where you can do some serious wooing, look no further. Let us show you that the way to your special someone's heart is through his or her stomach, and a bit of mood lighting can't hurt either.
There's a saying in Spanish that translates roughly to 'Small house, big heart', and the owners of Casa Xica (which means Small House in Catalan), Marc and Raquel must have very big hearts indeed Following an intense period living in China and some delicious and difficult life experiences together, the couple got married and set up this little jewel of an eatery with a bit of help from a third party, Esteve Puertas, a childhood friend and a professional in the world of good service.Marc and Raquel's long trips in search of flavours and palate pleasers you see on the menu in Casa Xica serve as a passport for your taste buds that you can use to explore without leaving your chair in Poble-sec. The easiest way to describe what they do is to call it fusion cooking. But that term has become so overused, and in their case it's more of a compilation of tastes they've learned in faraway lands with their own touch added to tempt even the fussiest of diners.
Read more
It's great for lunch, sure, but dinner at Le Cucine Mandarosso with a friend or family member could be strange
Read more
Mediterranean fish cuisine with modern touches, and in a chic setting: the cable car tower that looks down over the port
Book now
Read more
A decade back, an old neighbourhood pork shop transformed into this eatery with a modernist aesthetic, old photos on the walls and small, softly lit spaces. After a good dinner of select cured meats, cheeses, fondue, salad, and plenty of wine, you'll only be able to think of one way to burn off all those calories. They've got dishes that can raise the dead, so you know Recasens will spark more than one flame.
Read more
When we think of why Bohèmic has become a top restaurant, it's got to be because of their intention to revive the bistro of yesteryear and bring back dishes that seemed destined to fall by the culinary wayside. There's an art nouveau air about the place, dishes are presented in their own hot casserole dish, and they show off a mouth-watering cheese trolley. It's a neighbourhood restaurant that's intimate yet still professional, and that first-timers are sure to enjoy as much as veteran regulars.
Read more
This is one of the few Barcelona Noucentisme (early-20th-century Catalan movement that started as a reaction against Modernisme) buildings where you're welcome all day. Fragments Cafè owes its good taste, perfectionism, and knowledge to Ricardo Feriche and Juliet Pomés, who spend a lot of time searching for spaces where people can relax and enjoy themselves. In this spirit they set up this delightful place, perfect for bon vivants, where their lighting work stands out – with the warmth of the natural light by day and the just-the-right tone at night.
Read more
Gut is a very attractive restaurant, with its pristine white furnishings and venerable wooden chairs. It's a small, elongated space, but thanks to the lighting they have made the most of it. They serve breakfast, lunch (a special menu at a very good price), dinner and drinks. Their modest menu offers a fusion of Mediterranean and Asian cuisine, with dishes such as prawn and mango curry and the delectable mushroom and foie brick. The place is always packed, which, in these days of counting one's pennies, is really saying something.
Read more
A frenzy of Asia-inspired tapas, in which Ly Leap shows off his expertise with spices, citrus and aromatic herbs. This place is crazy: a thousand square metres of jungle, where the tables are tiny islands suspended above water, with fish and everything.
Read more
Imagine a cross between a Woody Allen movie about a dinner and Cuban cuisine. The Gurqui is one of those mezzanines so typical of the Eixample, and is imaginatively decorated as if it were a house dotted with antique furniture. A cosy, unusual venue that only opens at night and is perfect for relaxed conversation over delicious food – whch is among the finest you'll come across so late at night in Barcelona. The kitchen officially closes at midnight, but if you book ahead they'll stay open longer.
Read more