Beacon Hill neighborhood guide
Discover the best restaurants and bars, arts and entertainment and things to do in the Beacon Hill neighborhood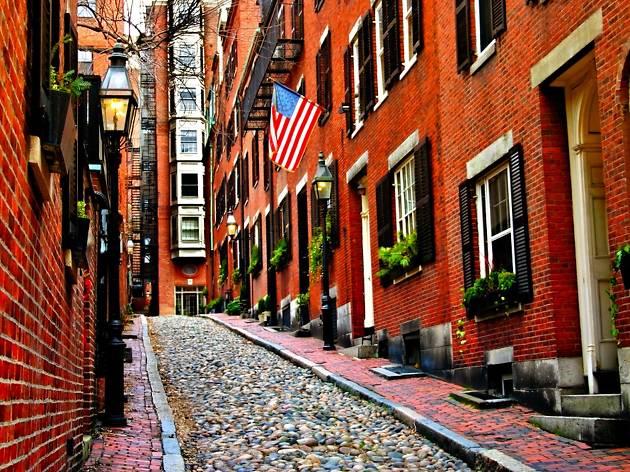 Boston's most exclusive niche, Beacon Hill is synonymous with wealth, lineage, the FFBs (First Families of Boston) of old Brahmin money. The area is almost unfeasibly picturesque, with its red-brick row houses and mansions, gas lanterns and steep, narrow streets—some still cobbled. A short stroll here unveils centuries-old architectural treasures that require a pirate's ransom to afford. You can, however, tour a couple of historic houses—and the sumptuous private library of the Boston Athenæum—to get a sense of how the other half lived during the 18th and 19th centuries.
Restaurants and bars in Beacon Hill
Museums and galleries in Beacon Hill
Founded in 1807 as a literary society, the Boston Athenæum published America's first literary magazine and acquired an extensive library of books and works of art. It moved to its current home, an imposing purpose-built structure, in 1847. The two upper floors, including the beautiful fifth floor reading room that featured in the Merchant Ivory film adaptation of Henry James's The Bostonians, were added in 1913-14, followed by further expansion and renovation at the turn of the century. Among its collections are books from George Washington's library and those given to the King's Chapel by William III in the 17th century.The Athenæum helped to establish Boston's Museum of Fine Arts in the early 1870s in two of its four galleries, and much of its art collection moved with the museum. However, there are still some notable works on site, including busts of Washington, Franklin and Lafayette by Jean Antoine Houdon, and portraits by John Singer Sargent, Mather Brown and Thomas Sully. Although much of the library is accessible only to members or scholars, the ground floor gallery is open to the public, and free guided tours are conducted twice a week (call in advance to reserve a place).
Read more
Hotels in Beacon Hill
The location for this charming hotel couldn't be lovelier: on Beacon Hill's pretty main drag, steps away from the Common and Public Garden, and a short stroll to Back Bay. Rooms are airy, decorated in an unfussy, updated New England style to maximise space, and equipped with flatscreen TVs and free wireless internet. The busy ground floor French bistro and tiny, popular corner bar are open to the general public, but only guests can relax in the simple but comfy second-floor lounge or out on the private roof deck.
Check prices
Read more
Located a 9-minute walk from Boston Common, this charming Beacon Hill property provides easy access to a variety of local boutiques and restaurants. All guest rooms feature free Wi-Fi.The spacious rooms at the Beacon Hill Bed and Breakfast include cable TV. Featuring a unique blend of comfortable furnishings and antique accents, the bright rooms provide a sofa bed and work desk.Built in 1869, the Victoria townhouse serves homemade breakfast in a room featuring a chandelier preserved from a French chateau and views of the Charles River. The Massachusetts Beacon Hill Bed and Breakfast features a luggage elevator for added convenience.Freedom Trail is a 15-minute walk from this property. The Public Garden is a 7-minute walk away. Charles/MGH underground station is 10 minutes' walk away.
Check prices
Read more
Shopping in Beacon Hill
Looking for the perfect little retro-styled dress? This jam-packed boutique is a good bet, with an almost overwhelming array of frocks in various prints and cuts by Milly, Nanette Lepore, Rebecca Taylor and Tibi, as well as separates, jeans and T-shirts from Vince, Velvet and Splendid. The house style is somewhere between well-groomed preppy and urban sophisticate.
Read more