The best Boston coffee shops and cafés
Need your caffeine fix? Step right up to one of these superior Boston cafes and coffee shops.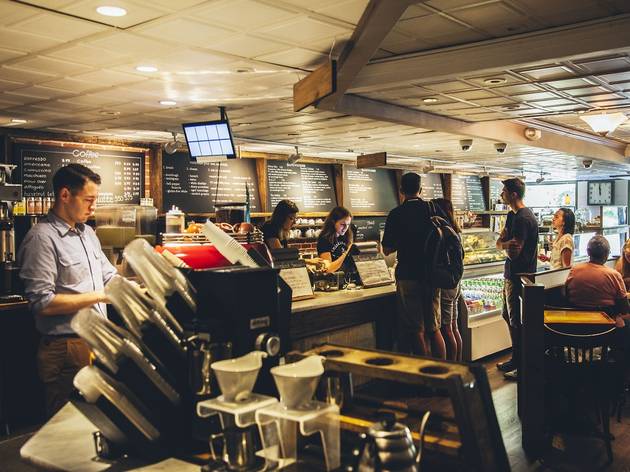 It may have been christened "Beantown" on account of the baked variety, but Boston can't get enough coffee beans. Like any other major city with a fair share of wind-chilled, under-slept professionals, the Hub boasts a plethora of cafés that have high-quality espresso, extensive tea selections, cozy atmospheres and (on occasion) pool tables. The best Boston coffee shops and cafés don't just offer java. You'll find obscure magazines, weekly trivia nights and a humble cup of joe at cult favorite Trident in the Back Bay. Get a fair-trade cup with local baked goods at Equal Exchange Café in the North End. And then there's the seatless, coffee-snob haven barismo in Arlington, and iced bucketfuls of hyper-flavored coffee-like concoctions at Dorchester's PS Gourmet. Latte lovers who also like art galleries should stop by cool hybrid Voltage Coffee & Art in Kendall Square.

RECOMMENDED: The best restaurants in Boston
Best coffee shops and cafes in Boston
Andala is a Central Square gem along River Street, just off from well-trod establishments like 1369 and Atomic Bean. Homey and shockingly deserted, this Middle Eastern spot is what Café Algiers might look like if it wasn't in the middle of overcrowded Harvard Square.
Read more
You're not a true aficionado until you've visited barismo. It's a stand-up place, quite literally: no seats, no tables—just fresh coffee, brewed one cup at a time. This type of European-style coffee bar is all the rage in New York, but this is one of the only seat-less spots in our neck of the woods.
Read more
Screw "venti" and "tall." PS Gourmet has two sizes: small, and "the bucket." This charmingly unpretentious South Boston haunt has tasty iced coffee selections, featuring such flavor infusions as Snickerdoodle and Chocolate Caramel Kiss. The popular PS Special is a cinnamon-dusted hazelnut mocha.
Read more
Blame it on the alcohol: owner Lucy Valena started a mobile espresso bar back in 2008 thanks to a loan from the Sam Adams Brewery. Her venture has since morphed into a brick-and-mortar shop that doubles as an art gallery. (Exhibitions generally run for six weeks at a time.).
Read more
You can't get more crunchy-granola conscientious than this organic, fair-trade North End café. Expect a label denoting the place of origin for almost every menu item, including the coffee beans, which come from as far afield as Nicaragua and Uganda. The food is entirely local, with sandwiches from the Biscuit.
Read more
In a sea of chains, Trident remains a tried-and-true standby for the more indie-minded of Boston's over-caffeinated literary nerds. The magazine selection is peerless—art zines, obscure trade publications… and is that a Spanish edition of Foreign Affairs? The city has plenty of spots that brew a better cup of joe.
Read more
Any Somerville sipper worth their salt has stopped by this Davis Square destination at some point. What other café can lay claim to a pool table, a black-and-white photo booth and a highly entertaining people-watching scene of Tuftsies and twentysomethings? The spot is aggressively green.
Read more
Somerville seems to have a thing for repurposing stodgy old buildings and turning them into hip social spaces. (Exhibit A: the castle-turned-cultural center known as the Armory.) This Union Square café may not seem all that distinct when you first walk in the door: we're talking sustainably-sourced coffee.
Read more
Show more
See the best coffee shops in America
These coffee shops take the humble cup to new heights with select beans and new brewing methods, appealing to coffee nerds and casual caffeine seekers alike
Read more