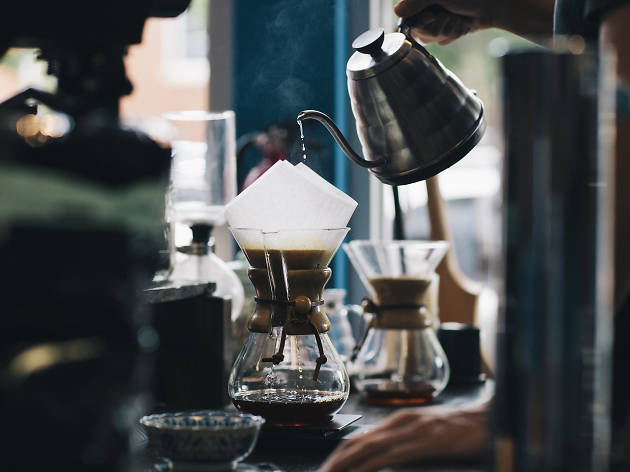 The best coffee shops in Boston to try right now
The best coffee shops in Boston serve up delicious options for a quick caffeine jolt or a quiet linger
As the weather gets warmer, Bostonians continue to consume copious amounts of fine coffee; many simply switch from hot to iced. Fortunately, however you like it, a good cup of coffee is never far away in The Hub. Whether you're a student in need of a caffeine jolt, an aficionado looking for the latest in latte concoctions, or just someone who enjoys a sit-down at a nice cafe, there's a coffee shop for you. The best coffee purveyors in Boston feature top-notch beans and the kind of welcoming atmospheres (and free Wifi) that make you want to pull up a chair and spend the afternoon. Give yourself a jolt before heading to one of the best places for pie, best donut shops, best breakfast spots or brunch spots in Boston.
RECOMMENDED: Full guide to the best restaurants in Boston
A coffee legend we love so much that we welcomed him into Time Out Market
Between the expansive seating, subway tiles, and overall sophistication of the space, you're forgiven for thinking you've walked into a bistro. Industry veteran George Howell has quite the resume, and his outlet inside the Godfrey Hotel provides an excellent spot for focusing on the beans of his labor. There's a massive marble bar, two espresso machines, coffee education classes, a retail corner for purchasing brewing equipment and beans, and a menu of upscale treats. But the coffee drinks still reign supreme, including specialty drinks like The Original (a frozen blend of coffee, milk and sugar).
George Howell has revolutionized the specialty coffee industry since the 1970s with his artisan small-batch roasted coffee. This award-winning, Boston-based coffee expert—founder of The Coffee Connection, inventor of the Frappuccino—celebrates the craftsmanship of his farm partners in his quest for the ultimate cup. Market guests get to choose from George Howell Coffee's signature menu of batch brewed single-farm coffees as well as a selection of micro-lot coffees on a single-cup pour over bar. In addition to a full range of espresso-based drinks, enjoy seasonal coffee-based mocktails and a full line of pastries and desserts from bakeries Seven Stars and Praline.
Best coffee shops in Boston