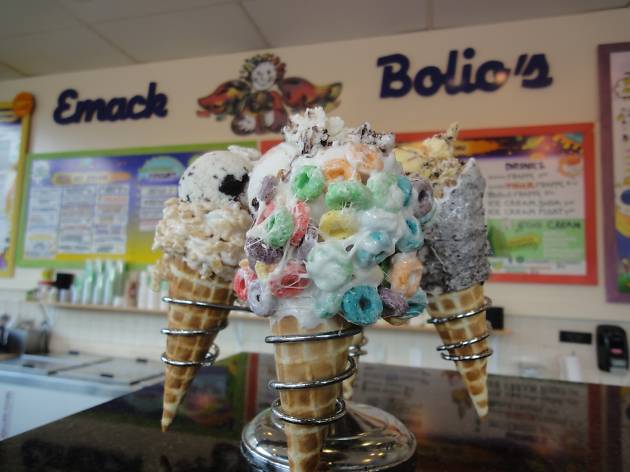 The best ice cream shops in Boston
Here's the scoop on the city's superior ice cream shops, where the flavors go far beyond chocolate and vanilla
Boston loves ice cream so much that it's still a popular treat in the middle of winter. The city has been a hotbed of ice cream innovation since the '70s, when Steve Herrell began mixing Oreo shards into freshly churned batches in his (now-defunct) Somerville shop, Steve's Ice Cream. Today, the best ice cream shops in Boston churn out classic flavors as well as innovative ones with unique ingredients like bay leaf, pumpkin, or whiskey. Take a night off from your diet by pairing one of the best burgers in Boston or best pizzas in Boston with a sweet treat from these exceptional ice cream shops.
RECOMMENDED: Full list of the best restaurants in Boston
A gelato maker we love so much that we welcomed him into Time Out Market
When someone's an artisanal gelato master, or gelatiere, you know your sweet tooth is in good hands. At Gelato & Chill, Vincent Turco uses traditional Italian recipes to create small-batch, handmade gelato made from local, organic and additive-free ingredients. At Time Out Market Boston, must-try items include ricotta fig, stracciatella made with 70 percent Valrhona Guanaja chocolate bits, and creamy Sicilian pistachio. For those seeking dairy-free treats, a range of refreshing, water-based fruit sorbets are also available.
Best ice cream shops in Boston