The best St. Patrick's Day events in Boston
Celebrate by drinking at an Irish pub, at a parade or throw on some green at the best St. Patrick's Day events in Boston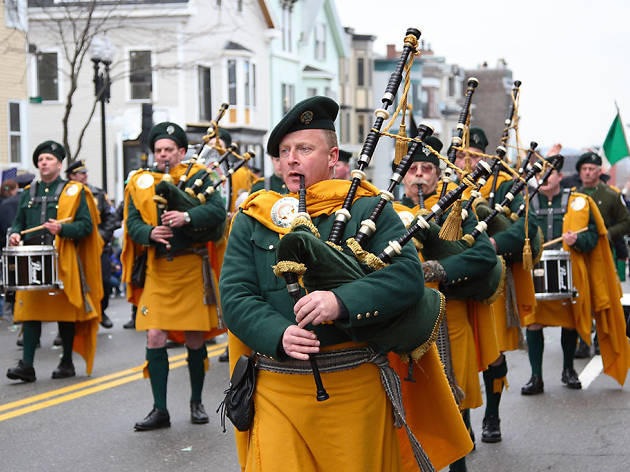 When you think St. Patrick's Day, you probably think Boston. Not only is our city the most Irish of all (just take a look at the best Irish pubs in Boston to get an idea), but it happens to be a preferred beer drinking destination across the country—hence our Boston craft beer guide. In other words: toasting the orange, white and green is our bread and butter. From parades and festivals to drinking tours and dining specials, here are the absolute best St. Patrick's Day events in Boston (March 17)—and you'll want to bookmark our list of best brunch in Boston as a must-do next-day activity.
Best St. Patrick's Day events in Boston
Photograph: Courtesy St. Patrick's Day Parade
It's as iconic as a Red Sox game or a lobster bake. The annual parade, now a brawny 116 years old, offers the full spectrum of the Irish Boston experience. The crowds are massive, the day drinking is robust and the city's Irish-American history is on full display in the floats and performances that make up the procession. The hills of Medal of Honor Park provide an ideal vantage point to witness the full spectacle, although some folks like to stand at the Broadway Station starting point to get a first glimpse at the day's proceedings. Afterwards, assume you'll be bar-hopping along Broadway, and also assume you'll be fighting unyielding crowds to do so. It's all part of the tradition, after all. March 19, 1pm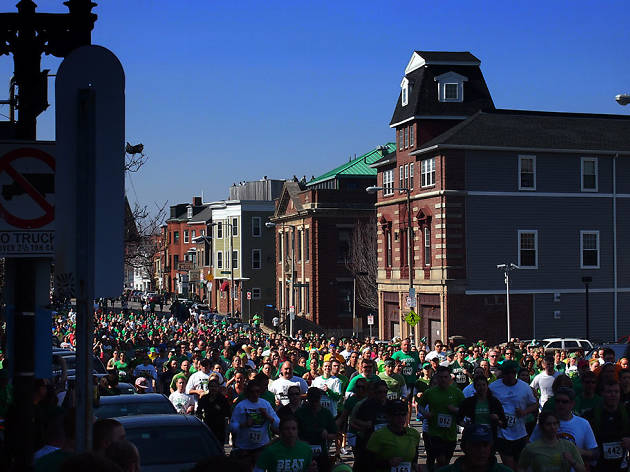 Photograph: Courtesy CC/Flickr/Colin Steele
St. Patrick's Day Road Race
Puff your way through a 5k and earn your Guinness. The morning sprint, held two hours before the start of the parade, attracts weekend warriors and couch potatoes alike; for every wiry marathon type, there's a stocky middle-aged man loping along in a green tutu. Live music precedes the South Boston race, which happens rain, shine or hurricane (seriously: a Nor'easter back in 2010 made things... interesting). The race has an altruistic streak, too, benefiting the Boys and Girls Club of Boston, so rest assured that your pain is worth someone else's pleasure. March 19, 11am.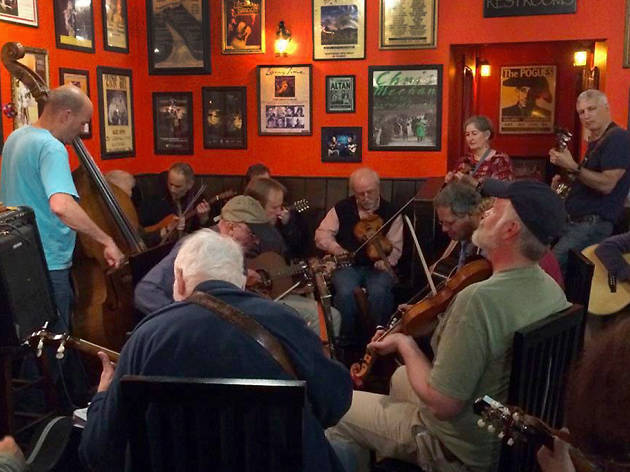 Photograph: Courtesy The Burren
Irish Seisuns at The Burren
The Burren is the place to get your Irish music fix on a year-round basis—bluegrass sessions in the afternoon morph into backroom root rock at night, with plenty of Irish sessions in between. But on St. Patrick's Day, the Davis Square bar ups its game: live Irish music all day, followed by multiple dinner shows in the afternoon and evening. Corned beef and cabbage will certainly make an appearance, although menu regulars like shepherd's pie and bangers and mash will also satisfy your Emerald Isle cravings.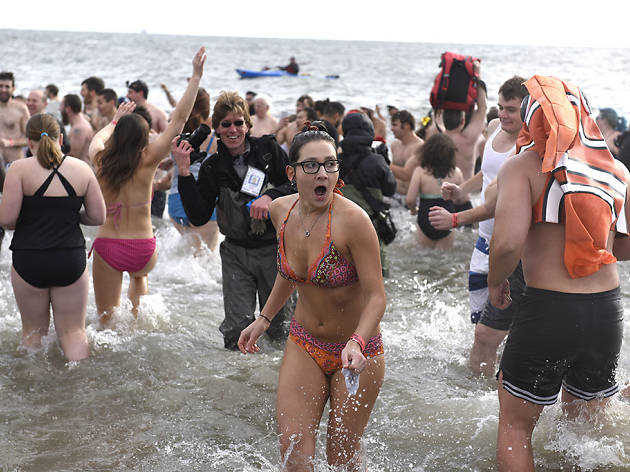 Photograph: Shutterstock
Harpoon St. Patrick's Festival
How to pregame on the big day? Drinking beer two weeks beforehand is a good start. Our celebrated local brewer gets the party started way early with a two-day suds fest in early March. Under heated tents, revelers can sample Harpoon's latest brews, including a spring seasonal and a new UFO, while taking in a full evening of live Irish music. No advance tickets are required, but get there before the crowds become impenetrable. If you count yourself among the cold-blooded, come back on Sunday morning for the annual Harpoon Shamrock Splash at the M Street Beach, which benefits Save the Harbor/Save the Bay (yes, more beer follows). March 4–5, 5:30–11pm
Photograph: Courtesy Boston Irish Film Festival
Boston Irish Film Festival
Sure, you sport a "Kiss Me, I'm Irish" pin every year, but what do you really know about your heritage? Once you've recovered from the weekend, make it your mission to immerse yourself in the country's culture during this four-day fest. The participating films, which include documentaries, shorts and features, focus on the contemporary Irish experience and are otherwise unlikely to screen in the U.S. Bonus: The host, Somerville Theater, serves beer and wine as well as real melted butter atop its popcorn. March 23–26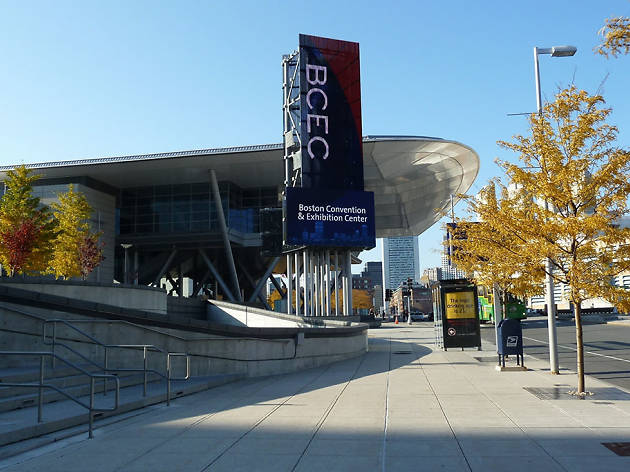 Photograph: Courtesy CC/Flickr/Massachusetts Office of Travel & Tourism
St. Patrick's Day Breakfast
You're invited to watch, and cringe at, the spectacle of our local politicians showing off their "comedic" chops. What began as an informal gathering more than a century ago has morphed into must-see local TV. The lineup includes our most prominent elected officials, including the governor and mayor, as they awkwardly attempt to roast one another over coffee and eggs. The press coverage afterwards is usually far funnier than the event itself. March 19, 10am
Photograph: Courtesy CC/Flickr/Massachusetts Office of Travel & Tourism
Photograph: Courtesy Peace Parade
The backstory alone is one for the area's history books. Back in 2011, a local chapter of Veterans for Peace was denied inclusion in the annual parade (which is technically a privately run event). In response, the chapter launched an alternate procession that trailed the bigger pageant by about a mile. Since then, the Peace Parade has become an annual, growing affair, joined by LGBTQ, environmental and social justice groups, and abetted by live bands and even a float or two. Consider it the St. Patrick's Day parade for progressives, and proof that Boston's politics are far more diverse than outsiders assume. March 19, 3pm
Photograph: Courtesy Planet Takeout
Drinks at Brendan Behan Pub
In search of the most authentic Irish pub in town? Let's just put it this way: Irish expats have been known to head here straight from the airport. This Jamaica Plain pub—named after the famous Irish writer—is all dark wood paneling and overheard brogues, and arguably the city's most perfectly poured Guinness. On St. Patrick's Day, you'll feel transported to Dublin as you nurse your beer, take in a traditional Irish seisiún and then participate in a dart game.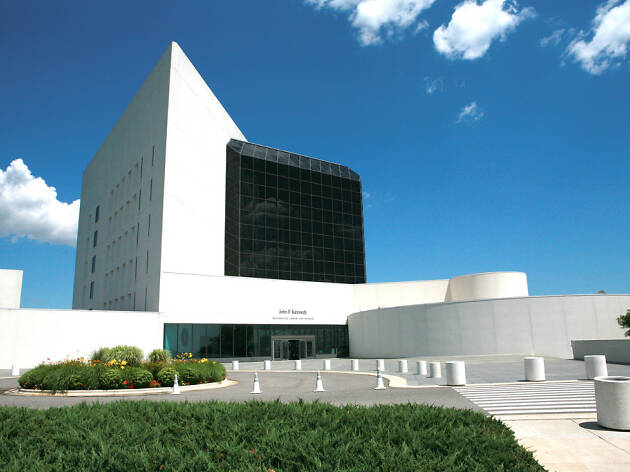 Photograph: Courtesy Massachusetts Office of Travel and Tourism
Seeking a quieter way to honor the day? This self-guided, three-mile walk takes you to 20 historically significant sites around town, highlighting the contributions of local Irish-Americans both famous (JFK) and infamous (James Curley, Boston's longtime mayor and the inspiration for The Last Hurrah). If you're feeling ambitious, consider visiting some or all of the 50 additional landmarks scattered throughout the state; simply pick up a map at one of the city's local visitor centers to find your way around.
Photograph: Courtesy Dropkick Murphys
Dropkick Murphys St. Pats Tour
You either love them or you don't, but if you do, you really, really do. The cacophonous Celtic punk band has become synonymous with all things Beantown—and their music appears in almost every Boston-set movie filmed in the last 15 years. This year, they've booked three shows at the House of Blues and added a fourth performance at the Agganis Arena, with an after-party that we're pretty sure will be the weekend's most sought-after ticket. March 15–18
Show more