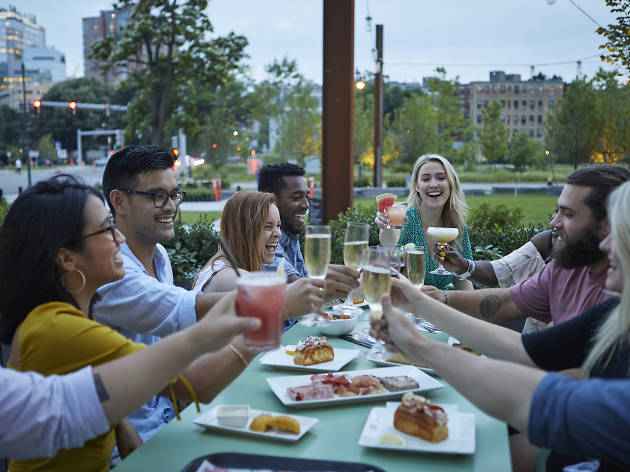 Your guide to the food and drink at Time Out Market Boston
Peruse the eateries inside Time Out Market Boston and even place your order through the buttons below
Time Out Market Boston spreads out across more than 29,000 square feet of prime Fenway real estate. Inside the expansive space you'll find a best-in-the-city roster, including some of Boston's best restaurants and chefs. Cold stations are on one side, serving everything from donuts and smoothies to gourmet sandwiches. On the other side, you'll find hot kitchens where pizzas are baked, pastas are prepped, and some of Boston's most lauded chefs do their thing.
RECOMMENDED: How to order at Time Out Market Boston
Familiar with Time Out Market Boston? Several things have likely changed since you last visited. We've added a few things to keep you and our staff safe, like cleaning stations at all of the market entrances — lather up as many times as you'd like! — and funky partitions with city pride quotes you'll want to capture for the 'Gram. Plus, we've introduced a new app that lets you order your food and drinks digitally. You'll receive a notification when everything is ready to be picked up; it's easy and contactless. (You can also order tasty morsels brought straight to your home—here's everything you need to know about ordering delivery.)
It's a lot to digest, so we've outlined it here for you. Click on the eateries to learn more about each chef and restaurant and to learn about the menu available at the market. Specials change often so you'll want to make your way to the Fenway for the most up-to-date information—and a taste, of course.
Eateries at Time Out Market Boston