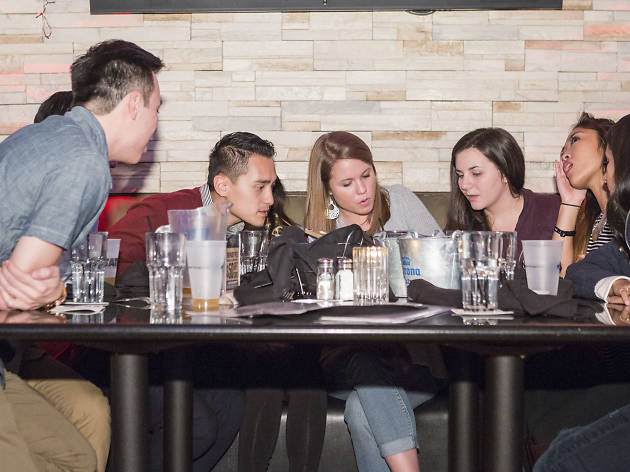 Chicago's best trivia and game nights
We put Chicago's best trivia and game nights at area bars to the test. Now it's your turn.
There will be plenty of rowdy competition to see in Chicago's best sports bars this season (hello, Bulls and Blackhawks). But you don't just have to be a spectator when you go out. Get in on the competitive action and play for the win at a local bar quiz night. Not all competitions are created equal, so we got down and nerdy to scope out the city's best tests of knowledge. Up for the challenge?
This Pabst-fueled event is a great date night: Cheer each other on, grab some pizza and bag some serious PBR swag and beers. First Mon of the month 9pm; free.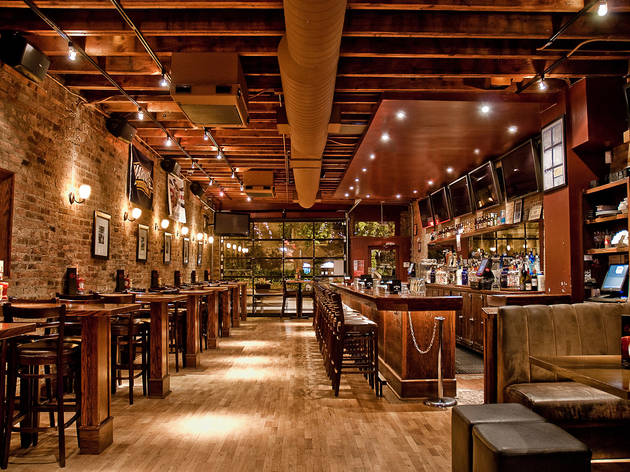 Cortland's has not one but two trivia nights. The first is on Mondays, where you can build your own burger. The burgers are only $5, all beers have a $1 off special and Smirnoff vodka drinks ring up at $5. The trivia is timed with Monday Night Football commercial breaks and halftime, so you can get your game on while you get your game on. On Wednesdays, Cortland's hosts the nationwide game Geeks Who Drink, where you can see how you or your team measure up against the rest of the nation. Players can win beers and gift certificates. Mon at 7:30pm; free. Wed from 8–10pm; free.
Get toasted and roasted (seriously, the host holds nothing back) at this fun, foul-mouthed game. As words get tougher, spellers get sloshed on $2 dice shots or cocktails (a.k.a. lifelines). Winner gets a $50 tab. Mon 9pm; free.
Rivaled only by UChicago's private pub quiz nights, the Globe's trivia is as hard as it gets, without the pretension. Last place gets to spite-pick a theme for next week. Tue 8pm; $5 donation.
For a trivia night ripe with craft beer (or $3 domestics if that's more your style), head over to the Green Lady and astound your friends with useless knowledge. Grab a bite beforehand—while abounding in beer, the Irish bar will not be able to help you satiate your hunger. Thurs 8pm; free.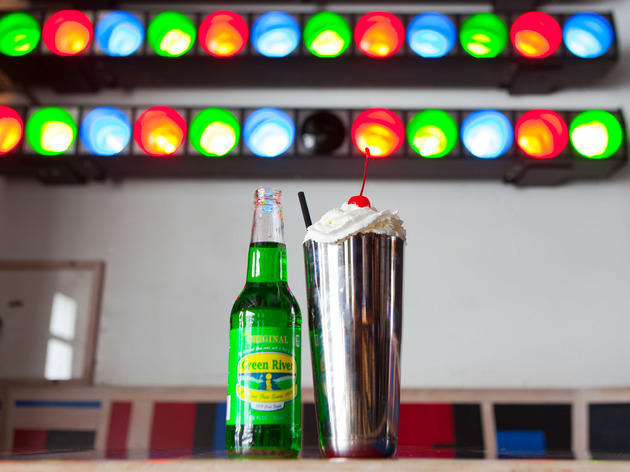 In the mood for a side of burger and fries with your trivia and beer? Bring a few of your friends for team trivia. Prizes vary depending on the night, but what's guaranteed is that you'll probably grab a Green River Float with more than one shot added to it. Mon 9pm; free.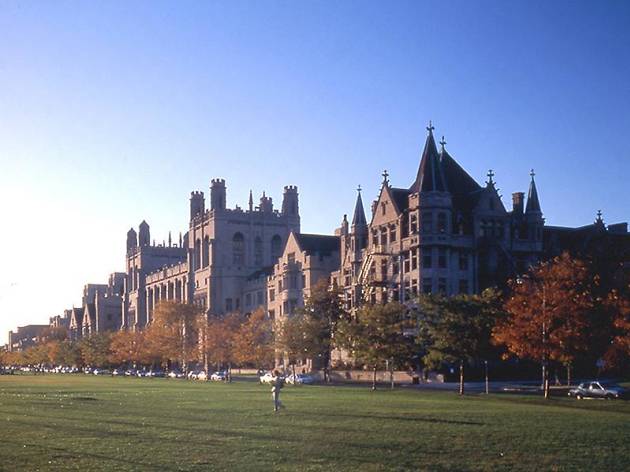 Photograph: Wikimedia Commons
Team Trivia at the Pub at University of Chicago
Lauded as being the hardest (and most exclusive) trivia in the city, try your luck at winning a prize with a team if you've got the smarts. You need a University of Chicago friend with a membership to get in—but we all have at least one friend at UChicago, right? Tue 8pm; $3/person entry fee.
When movie connoisseurs want a real challenge, this is where they play. To stand a chance, you'll need to have seen the good, the bad and the trashy, with themed rounds as niche as The Films of Kelly Preston. It might be tough, but that makes winning so much sweeter. Tue 8pm; free.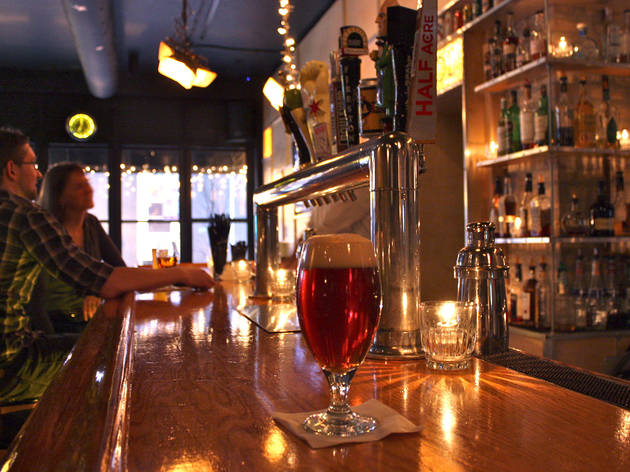 Tuesday nights at Matilda, hang out in the dimly lit bar and count yourself in for a game of trivia. The specials, prizes for each round and categories change week to week (except for current events, that stays), so you're guaranteed for a different night, regardless of how often you come. Teams of up to six are welcome, as are individuals. Tue 7:30pm; free.
The theme changes week to week, and with topics like Friends, Harry Potter, and The Office, you can't go wrong. Drink specials include half-off bottles of wine, $4 Goose Island Green Line brews and Founders IPA, and $5 shots of Jameson. Thurs 8pm; free.
More than 40 teams battle it out each week in this test of general knowledge where $800 cash is at stake. The odds are against you, but no matter what, everyone has a chance to win blenders, TVs or even a neon Bears sign in the postgame prize raffle. Arrive early or forget scoring a seat. Tue 8pm; free.
Like a caring lover, this sexy trivia night is relaxed, inviting and nonjudgmental. The all-sex Q&A stays fun and frisky, so no one leaves feeling embarrassed or inadequate. Locals and regs test their sexpertise, take a shot out of the inflatable Lambgina and learn a thing or two about testicles, not-so-vanilla sex acts and Utah's porn consumption. Tue 8:30pm; free.
Perform classic movie moments onstage. Talent is not a prerequisite, but if you know Pulp Fiction by heart, you'll have a blast. First Wed of the month 9pm; free.
Best selling Time Out Offers