Chicago's bartenders explain why we should all be drinking draft cocktails
Draft cocktails are all over the city. Chicago's cocktail experts advise you to tap into the delicious trend.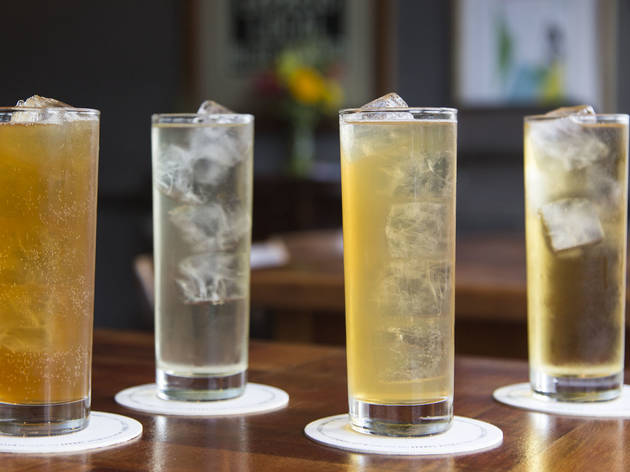 It's easy to write off a cocktail when you don't see it being made in front of you. That's part of the magic, right? Ice in the shaker; spirits measured and poured, shake, shake, shake—like it's made just for you. But if you take a look around the next time you're out, you'll see more and more menus boasting draft cocktails—premixed drinks batched and poured into kegs that can quickly fill your glass without all the flair and fuss. Blasphemy? Not quite. In fact, we found standout examples of draft cocktails all over the city, from a boozy negroni to a pineapple-packed tequila drink—and we learned what it takes to make a kegged cocktail worth drinking.
When you think "draft," you think beer—ales with foamy heads and crisp carbonation. Billy Sunday, best known for its back bar stocked with amari and crafted cocktails, uses the carbonation tactic in its lineup of draft cocktails—all fizzy. "It's about using a forced carbonation system, making something light, making something we wouldn't make behind the bar," says Lee Zaremba, head bartender at Billy Sunday. Take the gin and tonic, for example. "You're able to make the gin itself carbonated—it makes it lighter and more refreshing."
But they're also fun. At Beef & Barley, owner and beverage director Mike Hartman says the crew comes together to make new creations—like with the Koval House Negroni. The crew started with a traditional negroni and tweaked the original recipe until it was just what they wanted. The same goes for Berkshire Room and barrel-finished cocktails. They aren't on draft, but are kept in bottles from the barrel and poured as needed—the Continual Negroni is always kept filled to the brim with vermouth and gin, letting it oxidize and change over time.
Some of the motivation behind having cocktails on draft is speed. Jean Tomaro and Tim Ryll are using them at SteakBar and Federales to get drinks to their customers quicker. And we all know we want more time at our favorite late-night spots enjoying drinks. The cocktails don't sit for long—Tomaro and Ryll said they batch cocktails several times a day, so you aren't losing out on quality or freshness.
Revel Room also uses draft cocktails for forced carbonation, but also to allow customers to taste a few cocktails before taking the plunge—just like with beer. Head bartender Anthony Mitchell likes to keep a fleet of approachable cocktails and a few weird or trendy cocktails on the menu for drinkers to try. Whether you want to try something experimental or throw back a classic gin and tonic, there's a draft cocktail for that. "It's about being able to keep it approachable and fun," Mitchell says. "I think that's why we're all in this business, the fun."
The best draft cocktails in Chicago
Find more of the best cocktails in Chicago
Whether you're looking for your next stop for a drink or want to try to make one yourself, we've got you covered with our guide to cocktails in Chicago.