Know your bartender: Josh Fossitt at Bad Hunter
Bartender Josh Fossitt talks about his favorite thing to order at the bar and what they're serving at Bad Hunter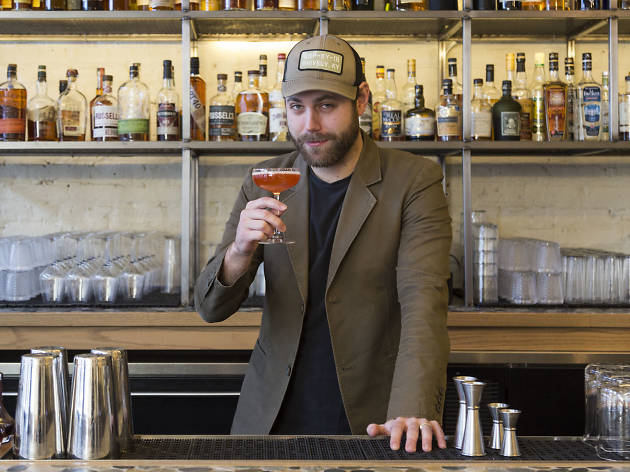 Whether you can't get enough of the Mermaid Water or you've just seen photos, chances are, you've heard about Heisler's new restaurant dishing up all the best things from the earth. We caught up with Josh Fossitt, bartender at the new West Loop veggie-centric darling, Bad Hunter, to see how he's stirring up the drinks we're washing down our vegetables with.
How did you get involved with Bad Hunter? I just moved to Chicago a year and a half ago from the NoMad Bar in New York. When I got here, I got in touch with Sportsman's Club, and they gave me a job once a week on the patio. I got with Heisler Hospitality [owners of Bad Hunter] from there. I opened Queen Mary, then they offered me this gig.
How do you come up with your cocktail recipes? I'm a big name guy; I love cocktail names. I'll come up with a name and fit something into that mold.
Is there a philosophy behind the Bad Hunter drinks program? It's a sustainable sort of drinking program, one that encourages you to drink your cocktail for a while. We're doing really fun light cocktails that can be enjoyed by everyone, like the Mermaid Water, with Dolin blanc, Jack Rudy Cocktail Co. tonic syrup, Tanqueray 10, rhubarb and Nardini Acqua di Cedro. We want to focus on drinks that everyone can enjoy, whether they're a young industry professional or someone who isn't as interested in the food-and-drink scene.
What do you order at the bar? I've been drinking a lot of mescal and soda. It's just enough of something in there. If you're wanting something and you're a little full, it'll do you right.
Learn more about Chicago's bartenders
Chicago's best bartenders know their way around a cocktail, whether it's crafting tiki drinks, mixing up margaritas or stirring the perfect old fashioned. When you're heading out to a cocktail bar, these are the people who will help you let loose.