Know your bartender: Julia Momose at GreenRiver and Annex
GreenRiver and Annex's bartender, Julia Momose, tells us about her favorite night off hangs and a bit about her menus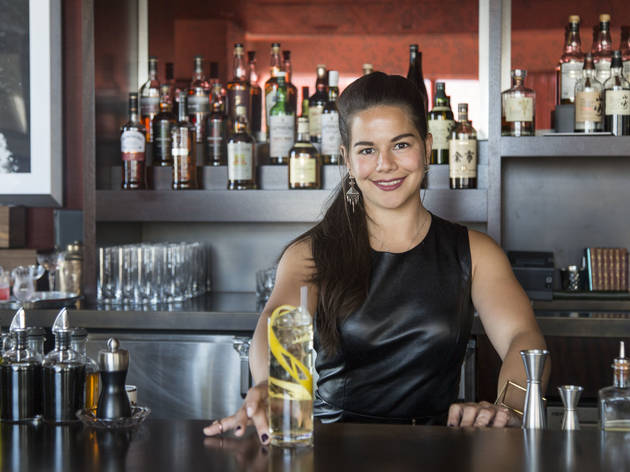 It started as a simple fascination for the intricacies of classic cocktails and then turned into full-time bartending for GreenRiver and Annex's bartender, Julia Momose. While she spends plenty of her time collaborating with her coworkers and coming up with inventive new ideas for drinks at Annex with seasonal menus and a long cocktail menu at GreenRiver, we caught up with the young bartender to see where she comes up with her drinks and what she likes to do on her nights off.
How did you get into bartending? I started off kind of in the back of house, working at a college bar to help pay for school. Then I worked for a catering company making drinks for people who had gotten into old-fashioneds and Manhattans and were really particular, so that's how I got into cocktails.
How do you come up with your cocktail recipes? Inspiration comes from everywhere. Honestly, it could be a dish, a component of a dish, a flower or a sunset, a conversation. For my cocktails, I enjoy using ingredients that make people say, "Wow, what is that?" Something that'll make them think.
What's your favorite drink to order from the bar? It depends on my mood and where I am. It ranges from something bitter on the rocks, like Campari, to a gin and tonic to an old-fashioned to a negroni. Those are comforting for me. If I'm looking for something softer I'll pick a fortified wine like a sherry.
Where do you head on your night off? Tuesdays are my day off, which is also date night. We love Boeufhaus (1012 N Western Ave)—they have a great wine list and ridiculous food. Billy Sunday (3143 W Logan Blvd) has been my favorite bar since I came to Chicago and it's still one of my favorite bars, so I like to go there Sunday nights (my boyfriend works there Sunday nights).
See where other Chicago bartenders head on their night off
Chicago's best bartenders know their way around a cocktail, whether it's crafting tiki drinks, mixing up margaritas or stirring the perfect old fashioned. When you're heading out to a cocktail bar, these are the people who will help you let loose.