The best Chicago beer festivals
Try out new brews and meet the people who made 'em at our favorite Chicago beer festivals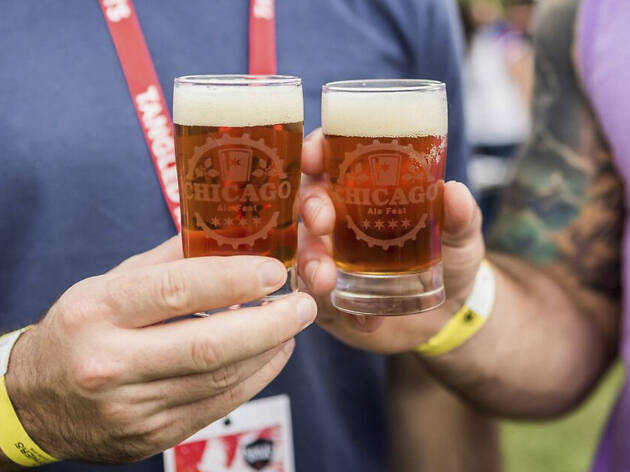 Trying new things is good for you, especially when it comes to boozy beverages. There's no better way to find your new favorite beer than at the best Chicago beer festivals, where Chicago breweries and national suds purveyors sample their latest creations, hand out swag and field your tipsy questions. After an afternoon spent sampling stours, lagers, sours and ales, you'll know exactly what to ask for when you sit down at a neighborhood dive bar or a Chicago beer garden. Sip a barrel-aged stout or a funky cider—and meet the folks that made 'em—at some of the best Chicago beer festivals.
RECOMMENDED: Discover more of the best Chicago summer festivals
The best Chicago beer festivals
Things to do, Festivals
Riverwalk | Chicago, IL, Loop
The Illinois Craft Brewers Guild and Choose Chicago team up to curate another lineup of mini-beer fests this summer, taking place in neighborhoods throughout the city. Each end-of-the-week event welcomes a lineup of local breweries to sample their creations, accompanied by food and live music. Admission to all Friday Night Flights festivals is free, but you can buy a tasting pass (good for 10 three-ounce pours) in advance for $20, or for $25 at the gate.
Things to do, Festivals
Douglas Park, North Lawndale
The Chicago outpost of Lagunitas Brewing Company throws a Beer Cicus in Douglas Park (the same place where Riot Fest is held), with more than 100 performers, two stages of live music, food trucks, games and more diversions. In addition to a menu that includes one-of-a-kind Lagunitas brews, you'll be able to take in burlesque, sideshow acts and aerialists.
The best brewery tours in Chicago
Chicago loves beer, whether it's spending a night at a great beer bar or picking up a six-pack of a local brew to take to a party. There are dozens of breweries in the area, and many offer tours, which range from a booze-fueled, hours-long lesson on beermaking to quick and dirty 20-minute overviews. We tagged along on local brewery tours, where we learned a few things about brewing and drank more than a few pints of great local beer.