The best Chicago beer festivals
Try out new brews and meet the people who made 'em at our favorite Chicago beer festivals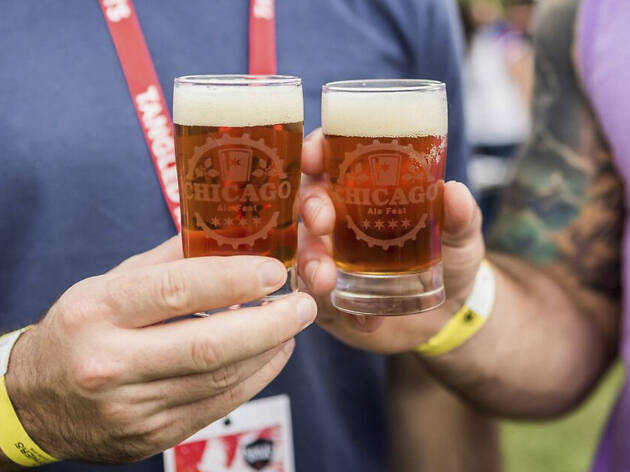 Trying new things is good for you, especially when it comes to boozy beverages. There's no better way to find your new favorite beer than at the best Chicago beer festivals, where Chicago breweries and national purveyors sample their latest creations, hand out swag and field your tipsy questions. After an afternoon at a Chicago beer festival spent sampling lagers, sours and ales, you'll know exactly what to ask for when you sit down at a neighborhood dive bar or a Chicago beer garden. Sip a barrel-aged stout or a funky cider (and meet the folks that made 'em) at some of the best Chicago beer festivals.
RECOMMENDED: Discover more of the best Chicago summer festivals
The best Chicago beer festivals
Things to do, Festivals
UIC Forum, Little Italy, UIC
More commonly known as FoBAB, the Festival of Wood and Barrel-Aged Beers offers a stacked lineup of wood- and barrel-aged concoctions that are sought after by beer nerds. More than 200 craft brewers come to Chicago for the annual event, where attendees can sample stouts, sours, ciders and mead during three tasting sessions. Throughout the weekend, judges evaluate all of the beers being poured and award medals in various categories—it's like the Olympics of high-ABV brews. Make sure to take a look at the beer lineup and plan your drinking accordingly, because the most popular beers tend to disappear fairly quickly.
Things to do
Lincoln Park Zoo | Chicago, IL, Lincoln Park
The only thing better than basking in the glow of Lincoln Park Zoo's annual Christmas light display is spending an evening among the twinkling bulbs with a beer in your gloved hands. The ticketed BrewLights event allows attendees to sample beer from Begyle, Maplewood, Ravinia, Delirium, Breckenridge and other great breweries. Admission includes access to the zoo and free rides on the Endangered Species Carousel.
The best brewery tours in Chicago
Chicago loves beer, whether it's spending a night at a great beer bar or picking up a six-pack of a local brew to take to a party. There are dozens of breweries in the area, and many offer tours, which range from a booze-fueled, hours-long lesson on beermaking to quick and dirty 20-minute overviews. We tagged along on local brewery tours, where we learned a few things about brewing and drank more than a few pints of great local beer.