Where to watch the Chicago Bears game
Didn't score tickets to the Bears game? Don't worry—these spots serve up lots of beer, bar snacks and TVs to catch every play.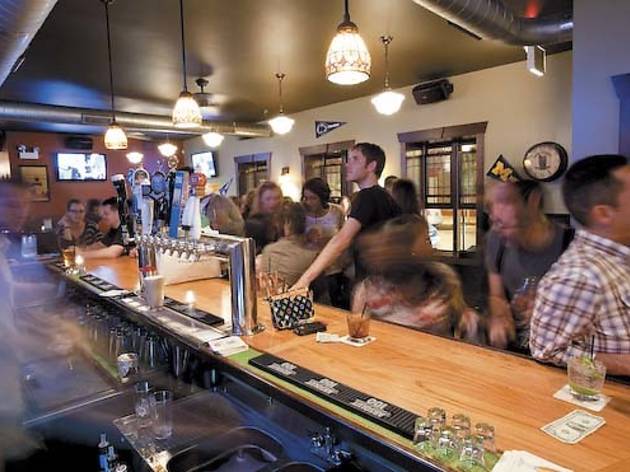 Sure, there are plenty of sports bars in Chicago to catch the Bears game, but for die-hard fans, you don't want to share space with supporters of other teams. These spots are all focused on the Bears and offer everything from giant Bloody Mary bars to 50-plus TV screens, making them a much better option than watching on your couch.
RECOMMENDED: Chicago Bears: A guide for the football fan
There's something ironic about a posh stock market–themed bar opening in the midst of an economic crisis, complete with bottles of Dom and Cristal listed under Liquid Assets. The specialty cocktails and upscale bar food like truffle fries with lemon aioli are well executed if you have the cash to burn, and make sure your credit card is ready for one of the booths with tableside beer taps—you might get carried away if you're the one doing the pouring.
This enormous drinkery brings a taste of the prototypical Lincoln Park sports bar to Division Street. The generic tan interior means that your attention will undoubtedly fall to one of three things: the busty bartenders and servers, the football game on the flat-screens or—and this would be our choice—the 70-bottle-strong beer list.
A quiet corner of Edgewater got a little noisier with the opening of this two-room sports bar. Perhaps drawn in by the food menu (which includes a few huge salads and many variations on a burger), groups and couples drop in over the course of the night, but most of the action is on the TVs, where the game plays at full volume as friendly bartenders keep the beer flowing.
Yes, there's a garage door at this neighborhood watering hole, but don't go expecting mechanic-types and their rockabilly ladies. The local crowd filling the long wooden bar and small tables lined along brick walls doesn't carve out an obvious identity for the place, but that might be why newbies feel comfortable joining the party. Daily specials like build-your-own burgers and trivia on Mondays and a Bloody Mary bar on Saturdays on Sundays bring in the regulars.
An LED screen announcing specials to a dark stretch of Irving Park Road ensures you can't miss this sports bar, named for the liquor store that previously inhabited this corner. Leader (from the owner of Uberstein) has a handle on the qualities of a neighborhood bar and grill: plenty of beer options, chirpy service and a family-friendly menu for the weeknights, all bathing in the glow of laser-bright TVs.
Hold on to your Bud Light as tight as you can, because it doesn't matter what day of the week it is in this enormous, quintessential Lincoln Park sports bar, there will always be lots of drunken screaming, drunken tumbles, drunken hugs and drunken tongues in your drunken mouth.
The corner where this North Center tap sits has been a neighborhood hot spot since Prohibition: The former Schulien's featured a basement speakeasy and a house magician. The 'hood has changed—today's O'Donovan's operates as a laid-back hangout for younger couples and small groups—but the tableside magic shows (and the occasional balloon sculptor) remain on weekends. Escape the crowds in the tucked-away beer garden, heated and enclosed in the winter.
The glitzy sports bar from the Bull & Bear folks is a hit—and why not? The food—pretzel with cheese fondue, burgers with crispy fries, desserts by corporate pastry chef Amy Arnold—is as good as you could eat while Sugar Ray is blasting. The awesome beer list makes the extensive offerings accessible via icons that even denote what kind of glass each brew is served in. As for the much buzzed-about table-taps and wall-taps (yes, that's beer taps built into the walls), our server was so on top of her game, we'll gladly leave those to the high rollers.
There are other sports bars in Chicago. There are even other sports bars in the South Loop. There is, however, no use in telling either of those things to the crowd of Bears fans waiting up to an hour to secure a table (and with it, a 14-inch grilled-cheese sandwich and a prime view of a TV or 30) at the Scout: They'll just think you're trying to cut in line.
Show more