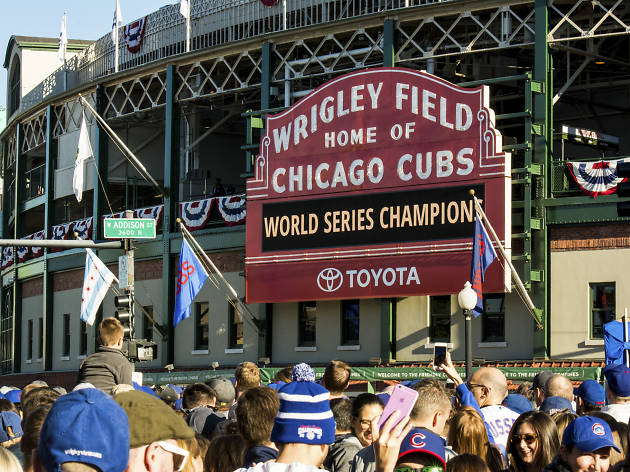 Cubs will start World Series Trophy tour on Friday
Posted: Thursday December 8 2016, 4:14pm
Don't stop celebrating yet Cubs fans; the trophy tour is here at last. The Chicago Cubs said that the World Series Trophy will begin its Midwest tour Friday at the new official Cubs Team Store, located at 663 N Michigan Avenue. The trophy will be on display from noon to 3pm, during which time fans can take a photo with the historic hardware or simply stand in awe of baseball's top prize.
"We're excited to share our cherished trophy with fans this offseason as we celebrate such a historic World Series Championship," Cubs Executive Chairman Tom Ricketts said in a news release announcing the Cubs Trophy Tour. "This year's World Championship team is unparalleled, and so are our fans. We can't wait for them to experience the joy of seeing this piece of history in person."
On December 15, the trophy will be displayed at Chicago City Hall from 9am to 4pm. It will then make several additional stops throughout the city, before hitting the road. According to the team, the World Series Trophy will travel to Bloomington, Champaign, Freeport, Peoria, the Quad Cities, Rockford and Springfield in Illinois, as well as other cities throughout the Midwest. This leg of the tour has planned stops in Indianapolis and South Bend, Des Moines, and other cities in Indiana and Iowa.
The team said specific updates on the Cubs Trophy Tour will be posted to Twitter and Instagram using the hashtag #CubsTrophyTour. Eventually, the trophy will make its way back to the North Side for the Cubs' 2017 home opener on April 10.
Want more? Sign up here to stay in the know.
Share the story