While cloudy skies threatened to rain on Riot Fest's parade of music on Sunday, Douglas Park was miraculously spared from a single drop of precipitation. If anyone can figure out a way to bottle up this weekend's weather and import it to next year's Lollapalooza, please let us know. The final day of the fest featured another visit from an unconventional pet, a band covered in body paint and a climatic reunion more than two decades in the making. Relive the excitement by reading about the five best things we saw on Sunday at Riot Fest.
RECOMMENDED: Even more coverage from all three days of Riot Fest
1. A Jawbreaker reunion for the fans
Cheers erupted as soon as the members of Jawbreaker walked onto the stage and only intensified as they launched into the taut power chords of "Boxcar." Reuniting a band that broke up more than two decades ago (and whose influence has only become more pronounced in that time) has that kind of immediate and visceral effect. "Dance and be nice," frontman Blake Schwarzenbach politely commanded the crowd. Even in an era of pop culture that's fueled by nostalgia, Jawbreaker's persistent following seems unlikely, especially for a band that never had a hit single and ended its career as a major label failure at odds with its audience. The people who have found Jawbreaker's music in the ensuing years have had to search it out, perhaps at the suggestion of a friend, someone who witnessed the group's career or another musician. They're the same people who know Christopher Walken's Annie Hall monologue word for word, not because they're obsessed with the film, but because the sampled dialogue fills out the intro and outro of "Jet Black." Jawbreaker could have easily remained dormant, as it has for more than 20 years, quietly letting its legend continue to grow. The throngs of fans who showed up sporting shirts emblazoned with the Morton Salt girl, the ones who cherished a physical copy of 24 Hour Revenge Therapy at some point in their lives, the people who continued to care about this music—they're arguably the real impetus for the band's return. It's still strange to write these words, but Jawbreaker came out of retirement at Riot Fest and no matter what happens next for the group, Sunday evening was something special.—Zach Long
---
2. Dancing the night away with M.I.A.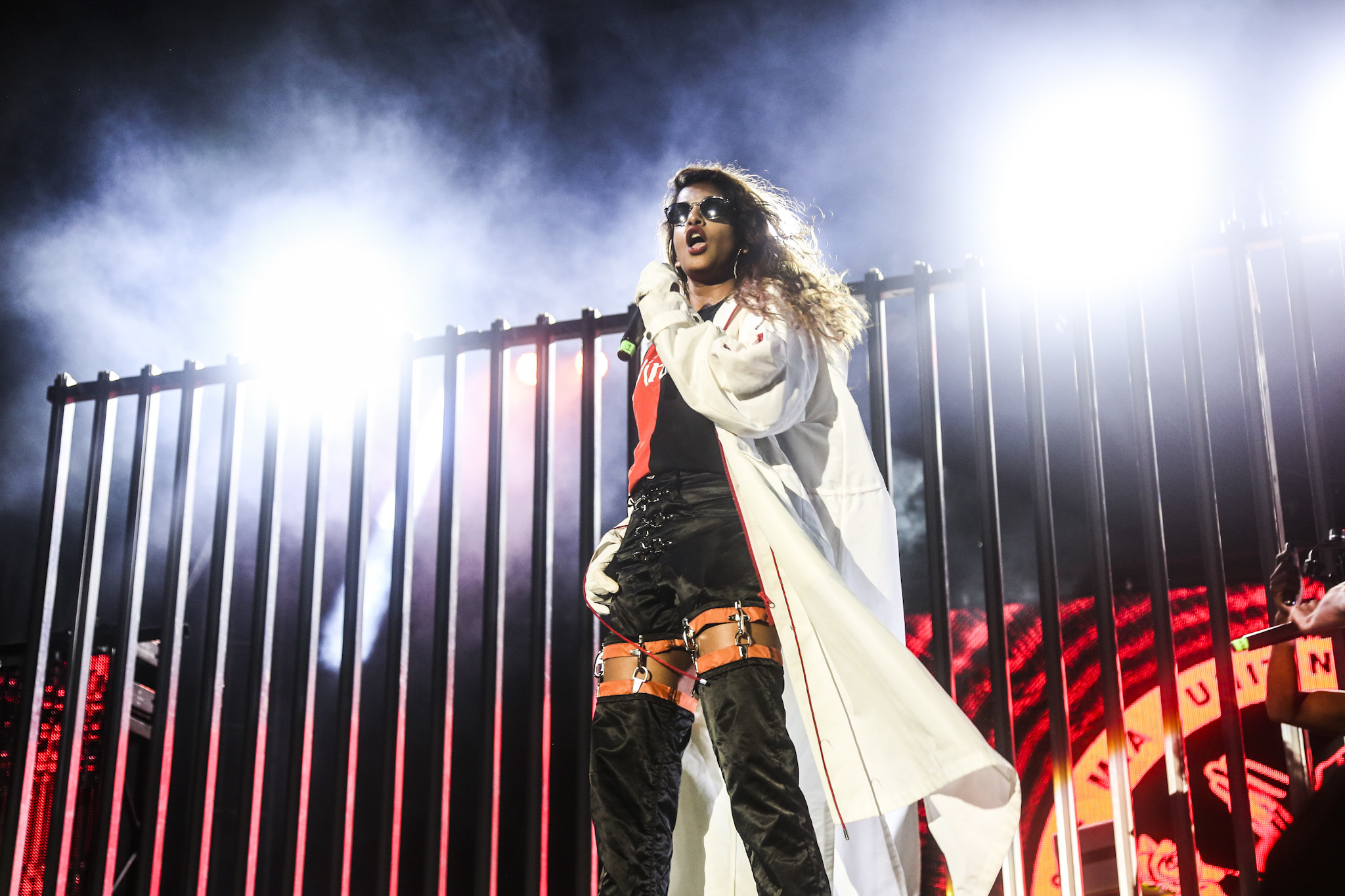 Born in London of Sri Lankan Tamil descent, M.I.A. has always stood apart from other hip-hop artists, incorporating eastern sounds into her beats and retaining a social consciousness in her work. It's no surprise that she stood out at rock-dominated Riot Fest, too. M.I.A. opened her set with her politically blunt single "Borders," but the rapper didn't shy away from her catalog, playing cuts off her 2007 album Kala and 2010's Maya (including "Bad Girls"). The performance felt more like a dancehall rave or art show, complete with bright colors and backup dancers in Salt-N-Pepa '90s garb. Closing with "Paper Planes," the smash hit that launched her out of the London art scene and onto the radio, M.I.A. brought her whole squad on stage to dance, closing out a weekend of Rise Stage sets on a high note. —Grace Perry
---
3. The surreal banter of Cap'n Jazz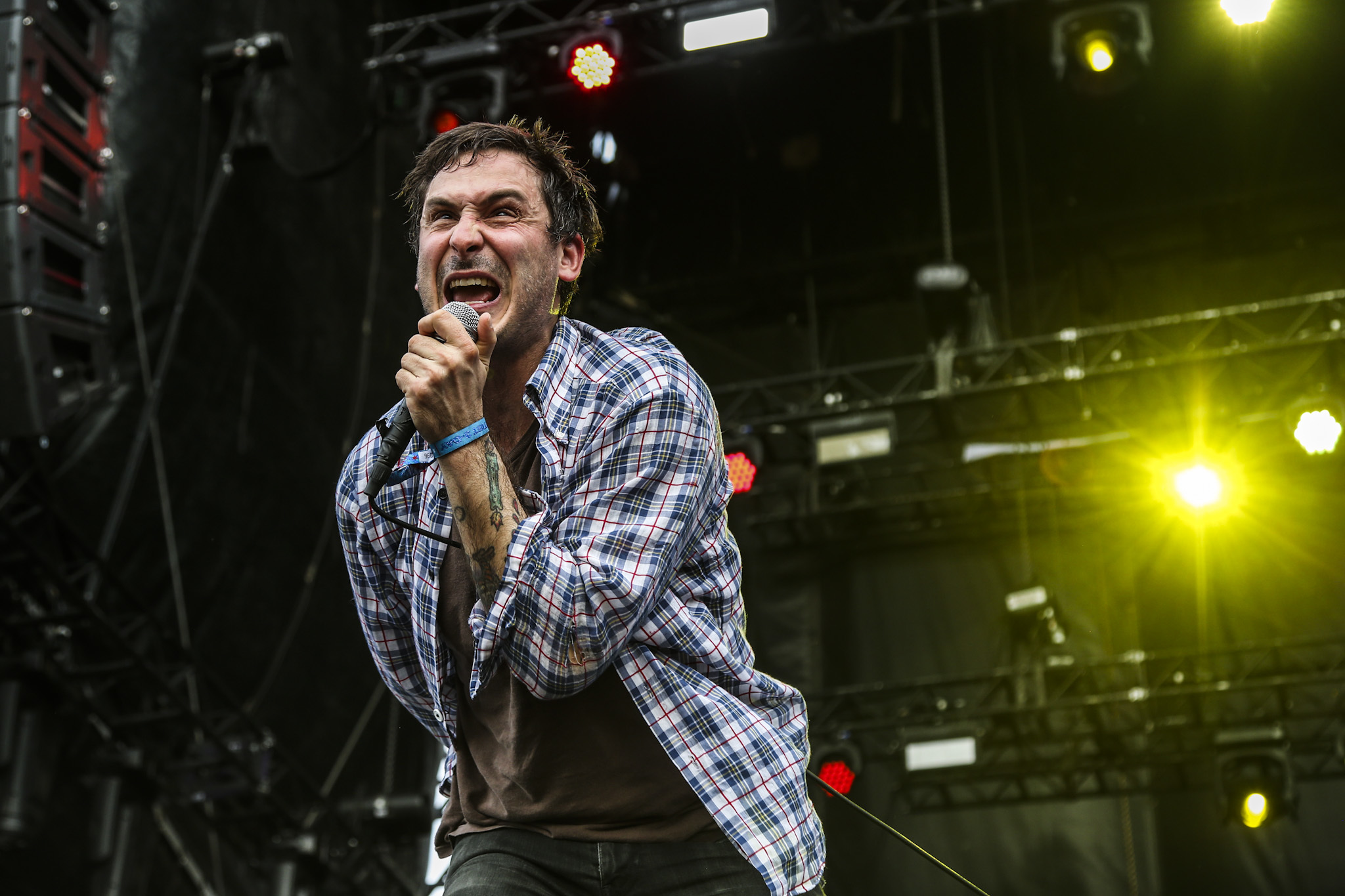 Between the stream-of-consciousness cover of A-ha's "Take On Me," a tambourine that was repeatedly thrown into the crowd and a finale that involved frontman Tim Kinsella stuffing a microphone down both legs of his pants, it's difficult to encapsulate how strange Cap'n Jazz's mid-afternoon set was. Rather than attempting to describe it, please enjoy this by-no-means-comprehensive list of things that Kinsella actually said onstage:
"We're Queens of the Stone Age, thanks for coming out."
"I'm gonna think of myself as Al Jourgensen singing for Jawbreaker, because honestly that's how I feel."
"Hey man, let's have a picnic."
"We are the band you are watching."
"On a few administrative notes, thank you to your parents for fucking each other, even if they only did it once."
"Thank you to just, like, everything. I have the best life so I have an intense bias."
Yep, that was weird (but also pretty wonderful).—ZL
---
4. The return of Punk Pig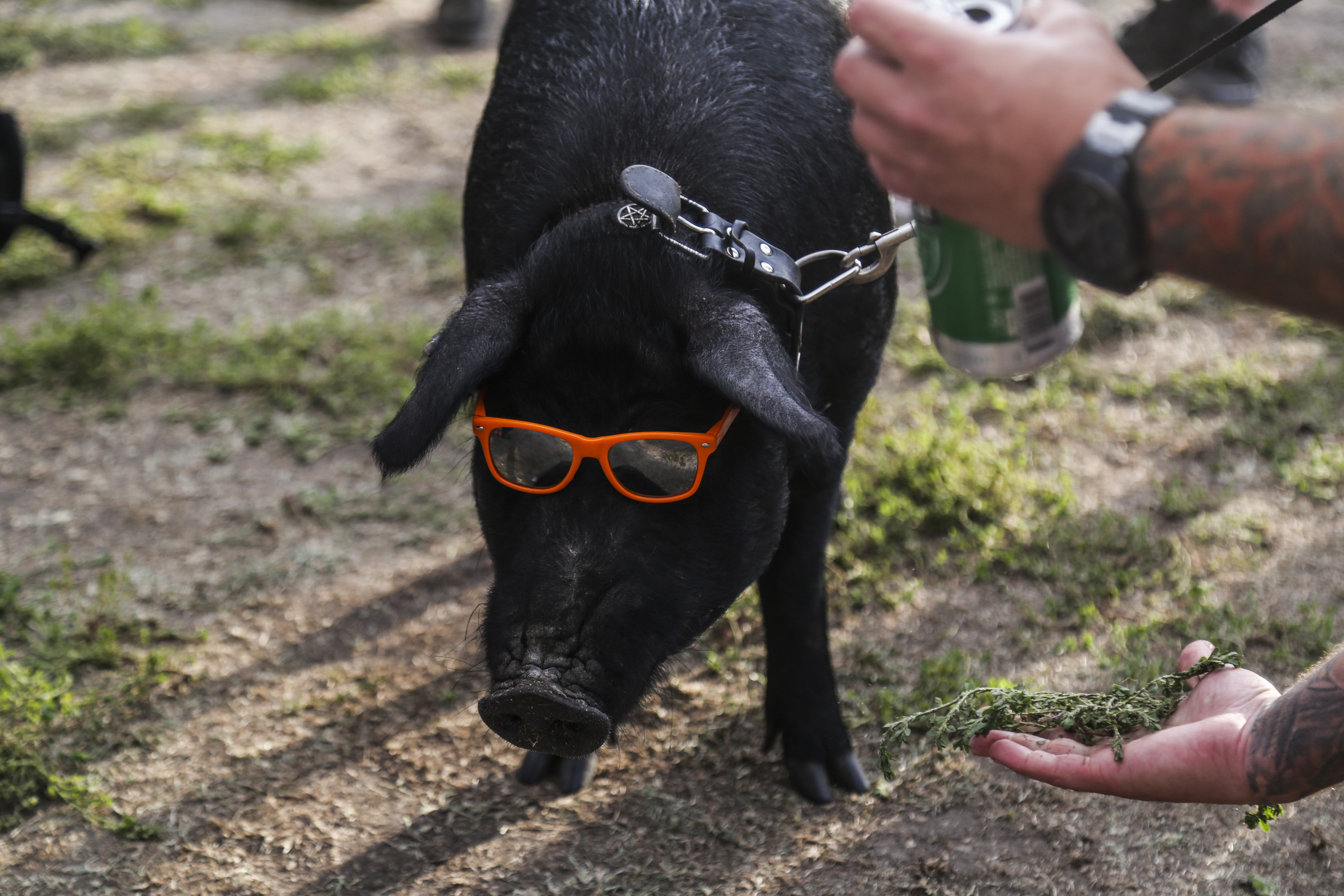 Last year, we kind of lost it when we spotted a black pig with a pentagram collar trotting through the fields Douglas Park. This year, the pet swine and his owner were back at the fest, though we're still not sure how this porker manages to get past security (he must be a Very Important Pig). We weren't able to confirm who Punk Pig came to see this year, but we're nearly certain that the long-awaited Jawbreaker reunion made him squeal with joy.—ZL
---
5. The unbridled energy of the Voluptuous Horror of Karen Black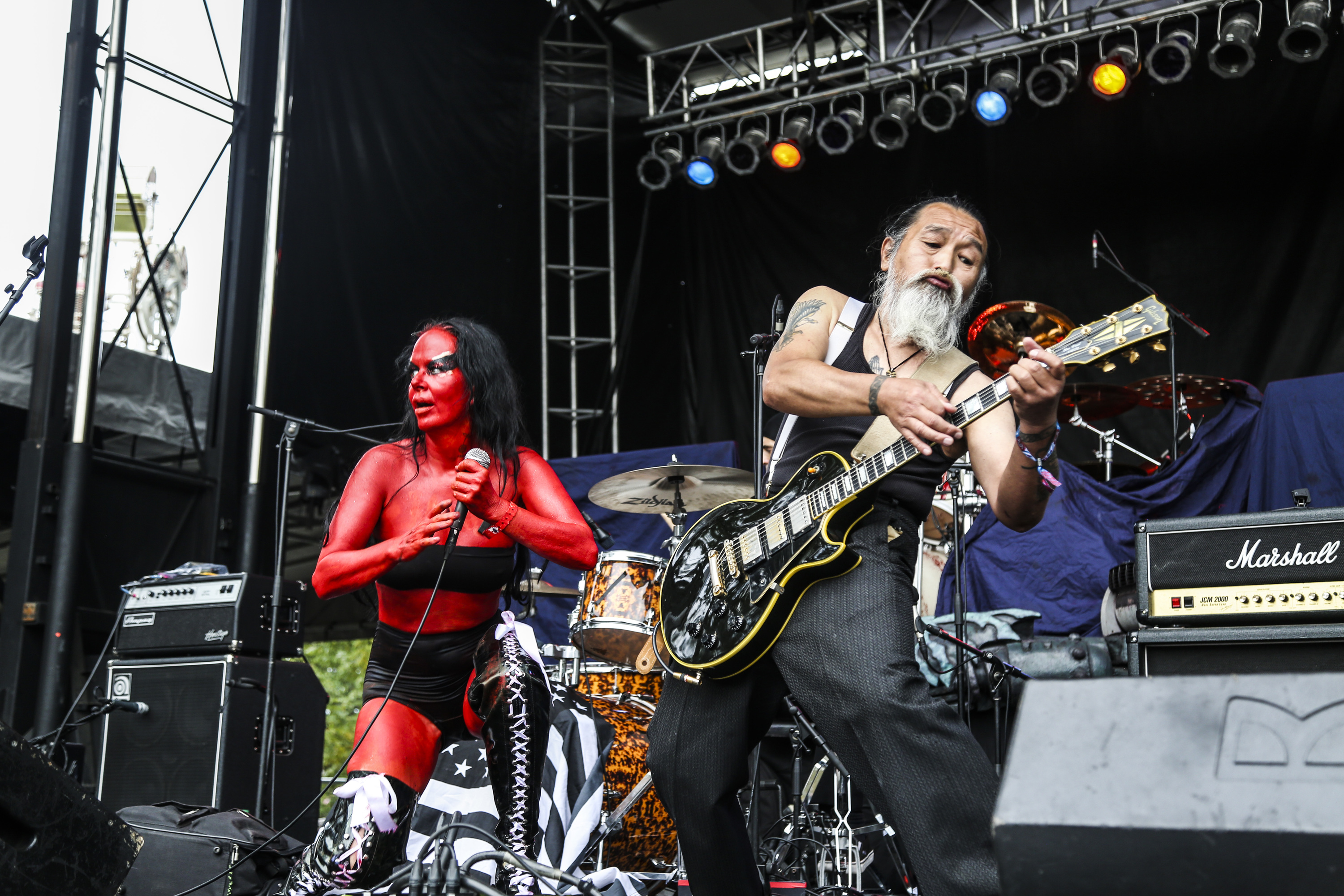 One of the best parts of music festivals is stumbling across groups you'd otherwise never encounter—like the Voluptuous Horror of Karen Black, which performed on Riot Fest's tucked-away Heather Owen Stage. The theatrical glam-punk group has a cult following of which I am not a member, but its 30-minute set was the most surprising joy of my weekend. Covered in red body paint, frontwoman Kembra Pfahler led the light-hearted (bordering on silly) band in chant-screams to songs with titles like "Fuck Island," occasionally suggesting dance moves to the crowd. Armed with the kind of unabashed energy typically reserved for dive bars and gross basements, the whole thing had a D.I.Y. sensibility that is so easily lost at gigantic festivals like this.—GP