When the weather warms up, Chicago turns into a veritable outdoor art gallery, stocked with murals, sculptures and other public installations. There have been some notable additions to the city's public art offerings since last summer, including a permanent installation designed by Yoko Ono and a couple of giant figures with their heads raised toward the sky. We rounded up a few of our favorite large-scale outdoor art installations that you'll be able to visit (and, of course, take a photo in front of) this summer. You don't have to wait for a free museum day to see these masterpieces, just get outside.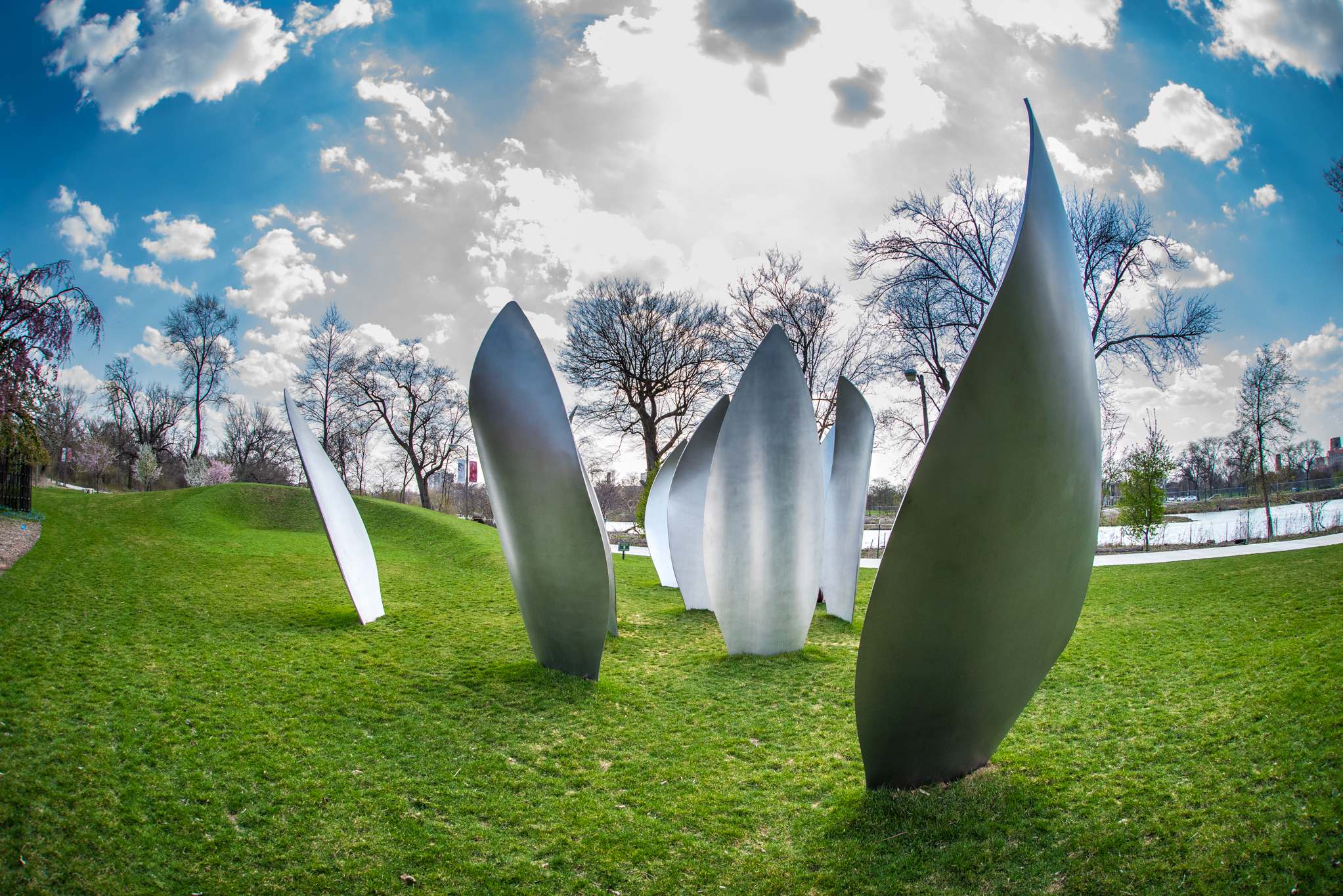 Photograph: Neal O'Bryan
Skylanding
The skinny: Designed by activist and artist Yoko Ono, Skylanding is composed of 12 large steel lotus petals jutting from the ground of the Garden of the Phoenix in Jackson Park.
Fun fact: Skylanding is located on the site where a pavilion built by the Japanese government for the 1893 World's Columbian Exposition once stood; a fire destroyed the structure in 1946.
Do this after: Watch some cute pups or bring your own four-legged friend to the nearby dog park Jackson Bark (6000 S Lake Shore Dr).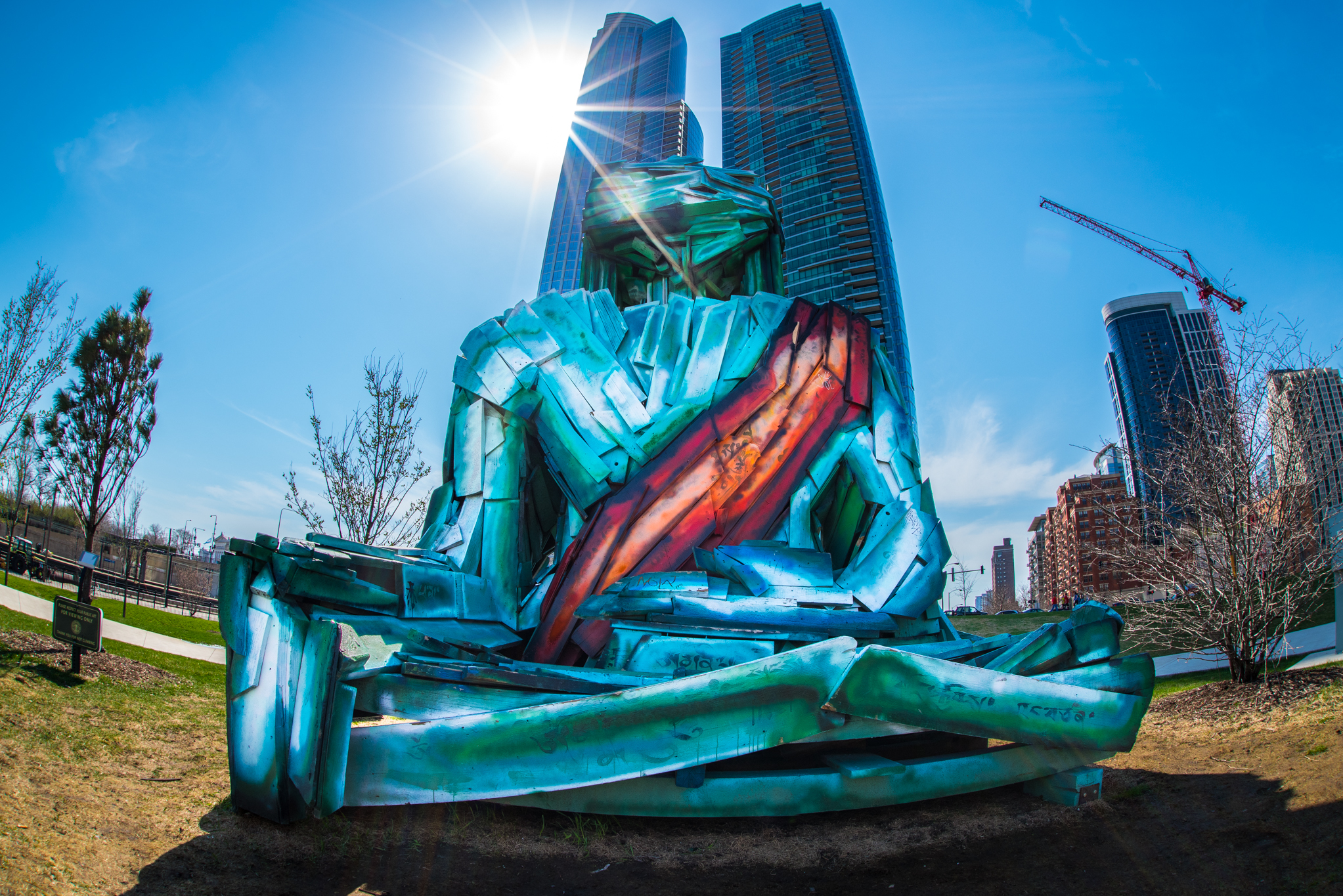 Photograph: Neal O'Bryan
Urban Buddah
The skinny: Sitting cross-legged near the Grant Park Skate Park (1135 S Michigan Ave), this 15-foot wooden sculpture by Tashi Norbu finds Zen under the shadow of South Loop skyscrapers.
Fun fact: One of the Buddhist mantras inscribed on the sculpture translates to "Be the flower, not the bee."
Do this after: After you've worked up an appetite from meditating, refuel at Flo & Santos with pierogi, kielbasa, pizza and more.
Photograph: Neal O'Bryan
Conagra Mural (Urbs in Horto)
The skinny: On the wall of a building facing Park No. 567, Jeff Zimmermann's mural depicts hands full of dirt, a man dressed in a corn suit, dandelions and floating heads.
Fun fact: The mural is named for its underwriter, locally headquartered packaged-foods company Conagra Brands, which paid $70,000 for the piece.
Do this after: Grab a cup of coffee and a mini-doughnut at Ipsento Coffee 606, which is located inside the building that hosts the mural.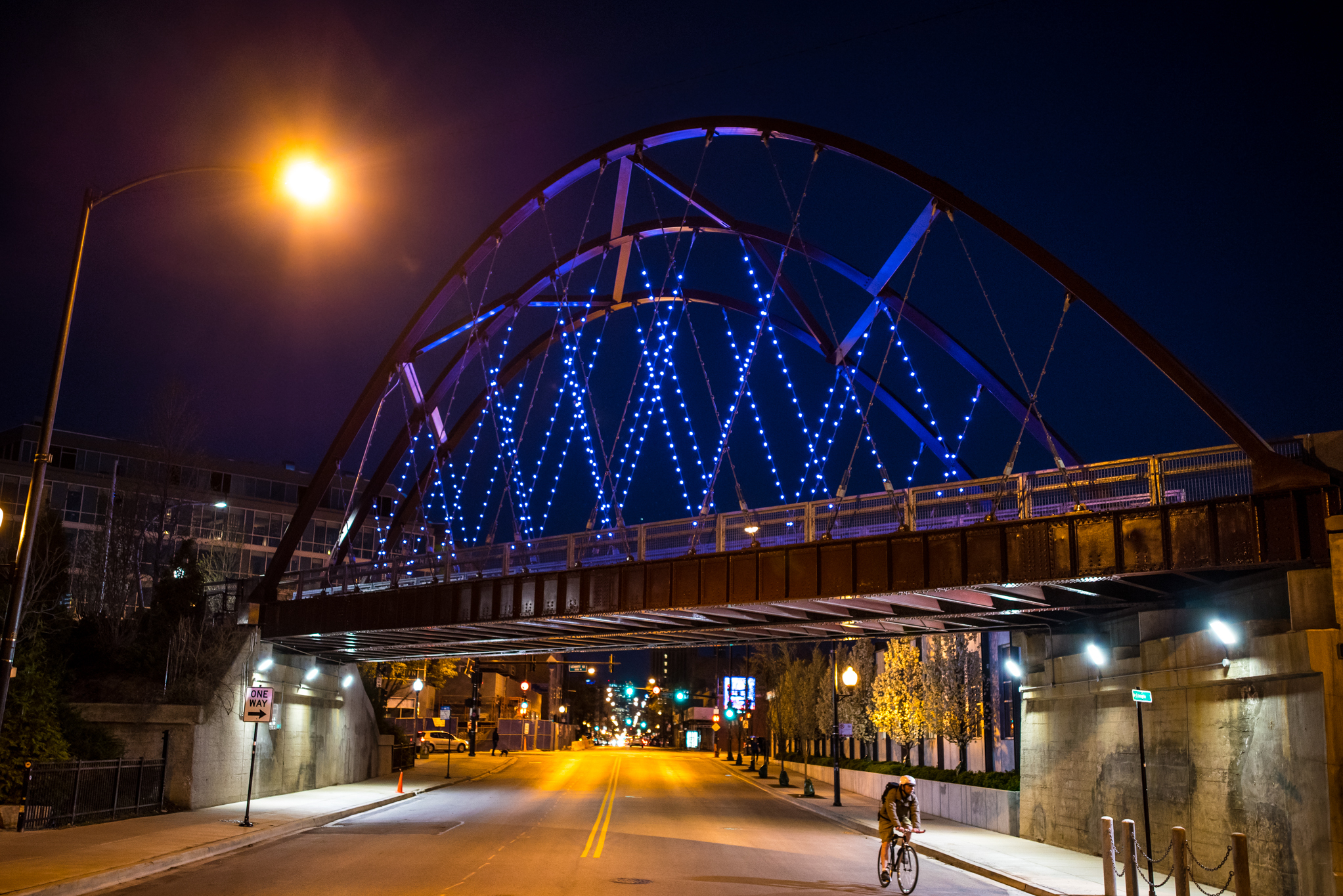 Photograph: Neal O'Bryan
Turning Sky
The skinny: LED lights strung from the cables of the Milwaukee Avenue bridge on The 606 flash and change colors in response to changing weather conditions in an installation by local art studio Luftwerk.
Fun fact: The environmental data that dictates Turning Sky's shifting lights is collected by a network of sensors throughout Chicago neighborhoods called the Array of Things.
Do this after: Rent a vintage flick at Odd Obsession Movies, which stocks DVDs and VHS tapes of films that you probably can't stream on Netflix or Hulu.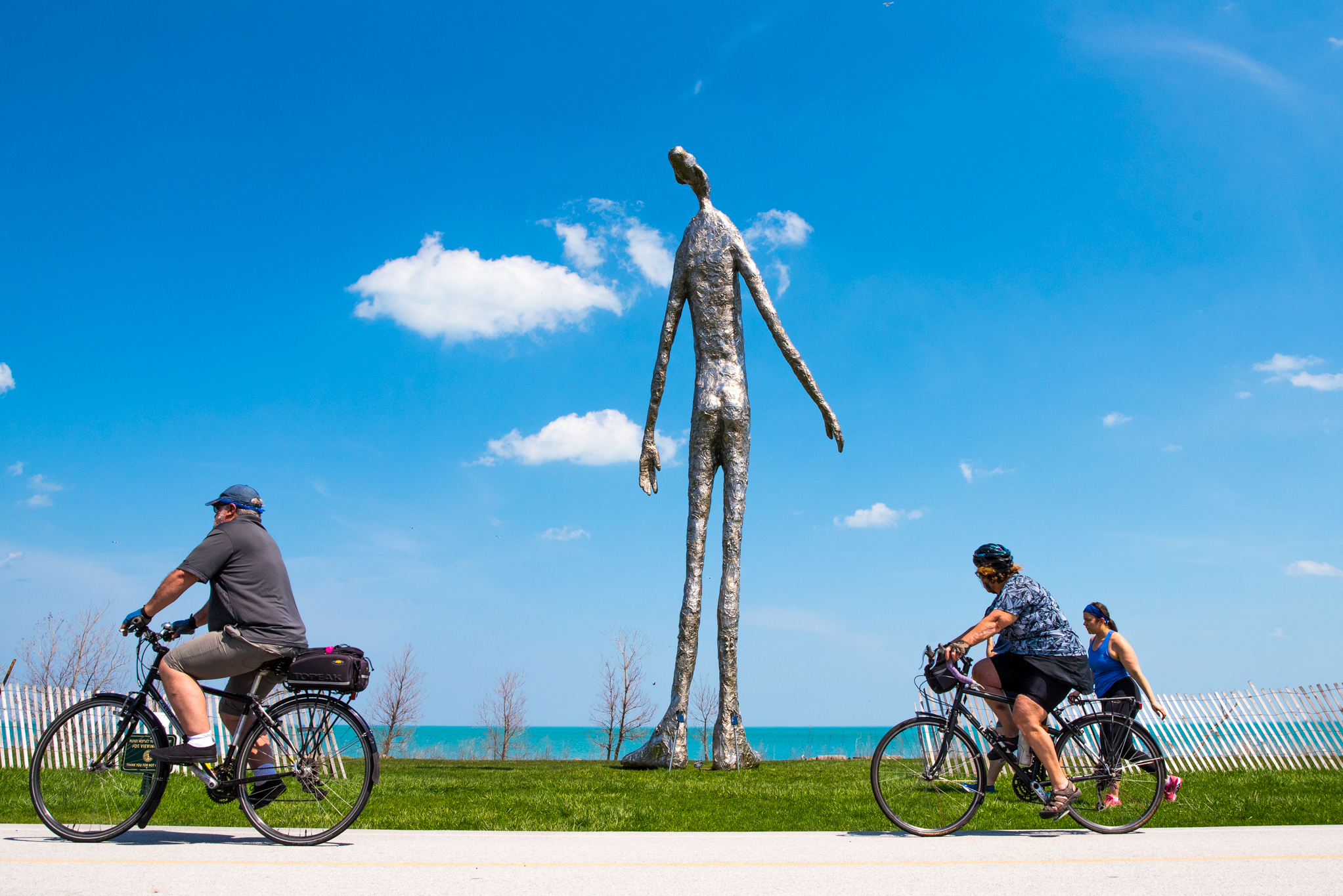 Photograph: Neal O'Bryan
Looking Up
The skinny: Situated near the Lakefront Trail (4800 S Lake Shore Dr) just north of Hyde Park, you'll find Tom Friedman's 33-foot-tall stainless steel man Looking Up at the sky.
Fun fact: Friedman created the mold for the sculpture with crushed aluminum foil, roasting pans and baking tins.
Do this after: Find even more creative works at Hyde Park Art Center, a nonprofit organization that offers art classes and exhibitions.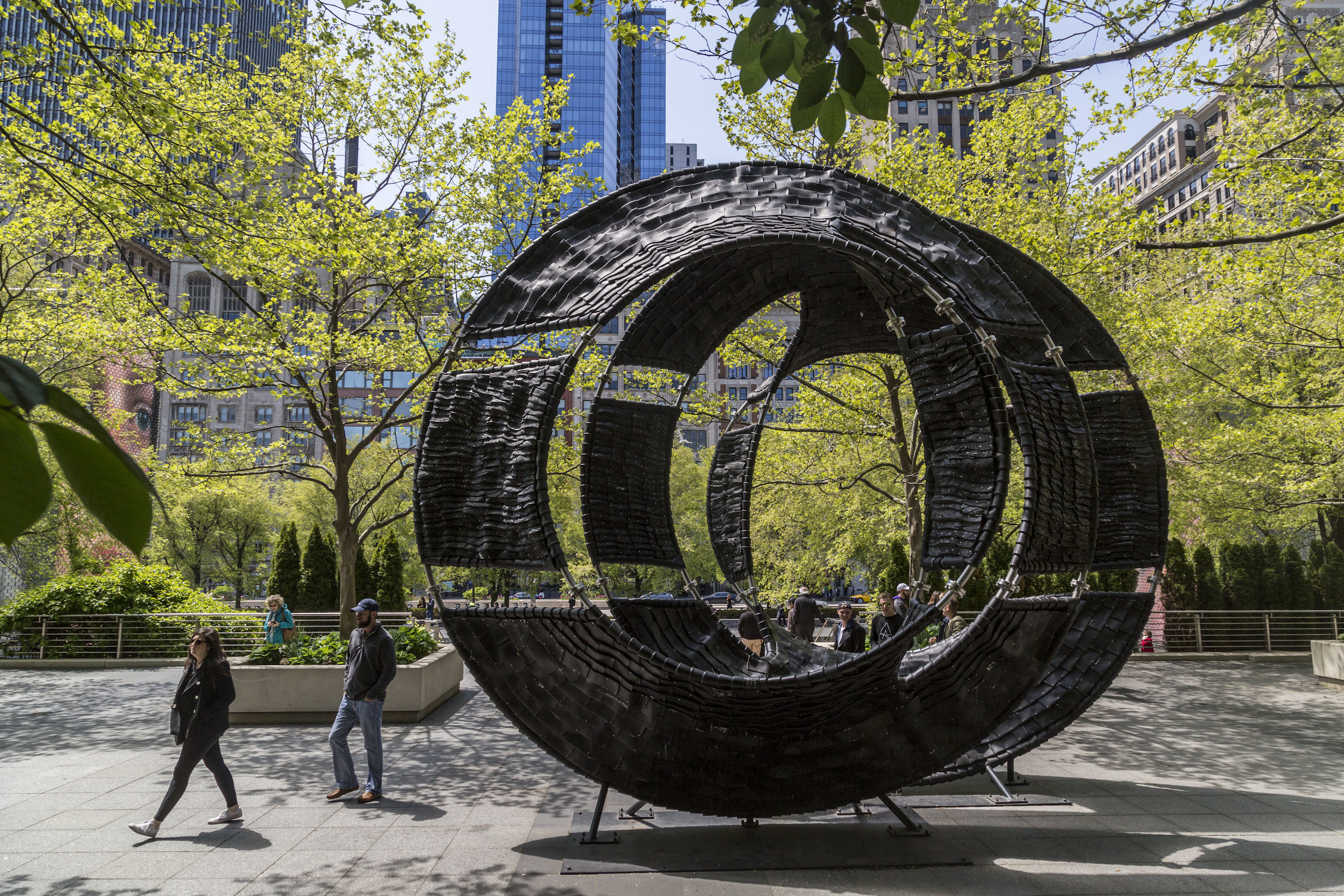 Photograph: Jaclyn Rivas
Chakaia Booker sculptures
The skinny: Old tires become captivating art in the hands of New York artist Chakaia Booker, who recycles the discarded rubber into geometric sculptures, six of which are on display at the outdoor Boeing Galleries in Millennium Park.
Fun fact: Booker learned how to cut and stitch materials when she began making her own clothes as a teenager.
Do this after: Get a bird's-eye view of Millennium Park while enjoying a drink at Cindy's rooftop in the Chicago Athletic Association. If you're luck you can score a seat (and a spiked popsicle) at the new outdoor terrace bar.
Want more? Sign up here to stay in the know.