Chicago Improv Festival 2017 guide
The 20th annual fest celebrates improvisation in all its forms, with more than 100 groups from Chicago and beyond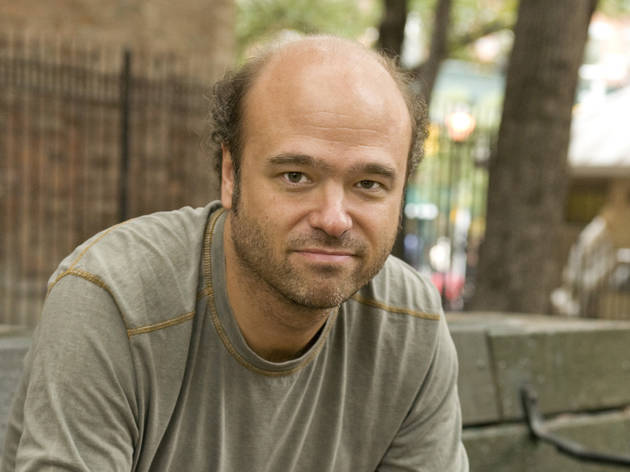 Now in its 20th year, the Chicago Improv Festival celebrates the unscripted performance medium that can trace its roots back to Chicago, with nearly 250 shows by more than 100 groups over the course of a single week. The fest is a fine education for those who think improv is all Whose Line–style comedy quick hits. The lineup includes entries in short-form, long-form, dramatic improv, musical improv and "genre" improv.
Highlights this year include a live taping of Dan Harmon's podcast Harmontown, April 1 at the Athenaeum Theatre, and headlining appearances by Second City alums Rachel Dratch and Scott Adsit, who perform together in a two-person show (April 1 at Stage 773) and with other groups: Dratch with Joe Bill and Mark Sutton in longtime favorite BASSPROV (April 2 at Stage 773); Adsit with Dave Pasquesi and Mick Napier (March 30 at Stage 773), with Susan Messing in Messing with a Friend (March 30 at the Annoyance Theatre) and with Nancy Hayden and Jaime Moyer in Mama's Boy (March 31 at Stage 773).
When is the Chicago Improv Festival?
The 20th annual Chicago Improv Festival takes place March 27–April 2, 2017.
Where is the Chicago Improv Festival?
Most performances are held at Lakeview's Stage 773 and Athenaeum Theatre, with a handful of shows at the Annoyance Theatre and the Second City's e.t.c. stage.
Chicago Improv Festival 2017 schedule
MONDAY, MARCH 27
Stage 773 (Box Theater)
7pm: Cat Booty, The League of Improv Heroes
8pm: Stir Friday Night, Improv Bangalore
9pm: The Boys
Stage 773 (Pro Theater)
7pm: Jackson Soup, Early Bird Special
8pm: Slotnick, Katz & Lehr
9pm: 3Peat

TUESDAY, MARCH 28
Stage 773 (Box Theater)
7pm: Out da Box, Joke Zero
8pm: Whine Night, Tentacle Cop, Nixon's Neverland
9pm: Red Light School District, Droppin' $cience
Stage 773 (Cab Theater)
7pm: ASM All-Star Alumni, Glittoris, Latchkey Kid
8pm: Take Out, Whip Country, The Unprofessionals
9pm: Passionate Mom Society, AC Unit, 45 Kings
Stage 773 (Pro Theater)
7pm: LOL Chicago, #flip_squad
8pm: Love Stories, Real Housewives of Improv
9pm: Tricky Mickey, Women on Top
Second City e.t.c. Theater
8pm: SIRENS, Frangela
WEDNESDAY, MARCH 29
Stage 773 (Box Theater)
7pm: Aspertypicals, Puff Mommy
8pm: Seven, Jenner
9pm: Velvet Stallion, Crank
10pm: A Brief Intermission, SHAT on You
Stage 773 (Cab Theater)
7pm: The Lady Dudes, Galaxy
8pm: Kaiser Presidente, Gummy Bearz
9pm: Queen Daddy, The Potato Farmers
Stage 773 (Pro Theater)
7pm: Jill Bernard, Andy Eninger
8pm: Improv Bangalore, Justin Trudeau Will Save Us All
9pm: Jendan, SCRAM
10pm: PLAY
Second City's e.t.c. Theater
8pm: Virgin Daiquris, Katie Rich & Holly Laurent

THURSDAY, MARCH 30

Stage 773 (Box Theater)
7pm: 98.6, Improv Bangalore
8pm: Mascot, Matt Damon Improv
9pm: Graffiti on the 4th Wall, Feline Fighter Pilots
10pm: Bastards of the Underground Featuring Jamprov
Stage 773 (Cab Theater)
7pm: Interrobang, Super Palindrome
8pm: Atomic Barbie, Part Dog
9pm: Fencing Queenz, Pale Gale
10pm: Smeared Inc., Oedipus Lex Luther
Stage 773 (Pro Theater)
7pm: Improv Nerd with Jaime Moyer
8pm: Pasquesi, Napier and Adsit
9pm: Bob Fisher's Imporv Show, Mullaney Chain
10pm: Stacks, Improvised Sondheim
The Annoyance Theatre
10:30pm: Messing with a Friend with Kevin Dorff & Scott Adsit
FRIDAY, MARCH 31

Stage 773 (Box Theater)
7pm: 2h Club, Prettier Than You
8pm: Grim Diesel, Valid Hysteria
9pm: Fisticuffs, I'm a Turtle
10pm: Burnside, All Girl Revue
11pm: Moonsharks, Ben Jones
Stage 773 (Cab Theater)
7pm: Listen Stupid, Jack and The Wolf
8pm: Twinz, Lady Mars
9pm: B&B, Chairs
10pm: B.E.T.H., Mommy
11pm: Uncle Bri Bri & Pops, Gnar Gnar, Shredtown
Stage 773 (Pro Theater)
7pm: Jimmy & Johnnie & Dee, Liss N' Sams
8pm: SHELDON
9pm: Mama's Boy with Scott Adsit
10pm: McRau, Dual Exhaust
11pm: Pumps, FackBUDDIES
Athenaeum Theatre 1
7pm: Silent J, RejecTED Talks
8pm: Improvised Marvel, Improvised Jane Austen
9pm: Improvised Sketch Show, Big Fire
10pm: Zip Up Monster Suits, Laser Comedy Show
11pm: Back Home, Preach
Athenaeum Theatre 3
7pm: Rhyme and Punishment, FST Improv
8pm: The 88s, Improv Boston
9pm: Shrieking Harpies, Liz & Lou
10pm: Los Improviachis, Cat Lady
11pm: Anarchy
SATURDAY, APRIL 1

Stage 773 (Box Theater)
7pm: Love Onion, Skort
8pm: The Babies, Rainstick
9pm: Madeline, Barbara Brice
10pm: LL Cool Beans, Eaves
11pm: Minority Re'port, Bacon Wrapped Date Night

Stage 773 (Cab Theater)
2pm: Godda Kush, Flower Shop Bangers, Dan & Kate's Book Club
3pm: WWF Improv, 12 Eyes, Hulk Spanx
4pm: Space Jem, Pardon Our Parody (POP) 80's, The Tony Stanzas
5pm: McGarnackle, Spearmint, Mojo
7pm: Ophelia's Rope, Ginger Price
8pm: Book Club, Sheila's Sister
9pm: Side Pickle, Going Steady
10pm: Diorama, Solid Gold Duets
11pm: The Wunderkidz, The Alphabits

Stage 773 (Pro Theater)
7pm: Judy Fabjance Celebration
8pm: SHELDON
9pm: Two More featuring Kevin Dorff & TJ Jagodowski
10pm: Adsit & Dratch
11pm: BASSPROV with special guest Ed Furman

Athenaeum Theatre Mainstage
7:30pm: Harmontown
Athenaeum Theatre 1
3pm: Improvised Sondheim
7pm: Debbie Downer, Improvised Sitcom
8pm: Damaged Goods, Fear the Dreamer
9pm: Magical Lying Hour, The Stuntmen
10pm: This Just In: An Improvised News Show, Spuds & Stouts
11pm: Remote Possibilities, Scream Theater

Athenaeum Theatre 3
7pm: Buzz's Girlfriend, The Windbreakers
8pm: Alamo City Improv, Dishwater Blondes
9pm: Pumps, EbonyEssenceJet
10pm: HugSquared, Natalie Peeples and the Rattlers
11pm: Bearded Men, Pimprov

SUNDAY, APRIL 2

Stage 773 (Box Theater)
3pm: Code Red Vines, Spontaneous Combustion
8pm: That's No Movie, Lady Jam Sandwich

Stage 773 (Cab Theater)
3-6pm: Indie Teams
8pm: Hope & Claude
Stage 773 (Pro Theater)
8pm: BASSPROV with special guest Rachel Dratch