April 2018 events calendar for Chicago
Plan your April in Chicago with our events calendar of the best things to do, including concerts, theater openings and art exhibits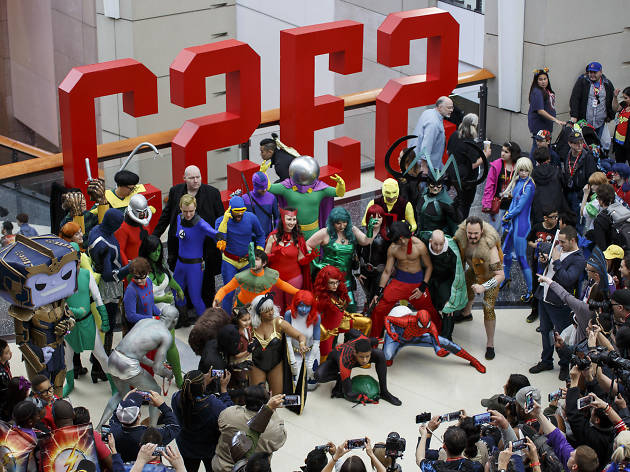 So long as it's not one of those Aprils cursed by snowstorms, it's finally safe to crawl out of hibernation and start scouring new Chicago shops for lighter clothes, and maybe even pay a visit to a few Chicago beaches on one of the nicer days. Celebrate the arrival of spring with a trip to the patio at your favorite cocktail bar, start hashing out your warm weather plans and figure out a few things to do on a rainy day—you know what they say about April showers, don't you?
RECOMMENDED: Events calendar for Chicago in 2018
Featured events in April 2018
Art and dance in April 2018
Free events in April 2018
You don't have to spend a fortune in order to visit some of Chicago's best museums and cultural institutions. If you're willing to plan ahead, you can take in masterpieces at the Art Institute or gaze at tropical fish while strolling through Shedd Aquarium without spending a dime. You'll need to be an Illinois resident to take advantage of many of these offers, but that's just one of the perks of living in Chicago.
Read more
In 1989, acclaimed artist Keith Haring came to Chicago to create a gigantic 488-foot-long mural in collaboration with 500 Chicago Public School students. After remaining on display at Midway Airport for several years, 36 panels of the mural will return to the Loop, going on display alongside a selection of Haring's photographs, correspondence, designs and his now-iconic drawings.
Read more
Christopher Piatt hosts this weekly "live magazine," a cavalcade of culture, politics and wit featuring journalists, actors, comedians and musicians offering idiosyncratic reports on the news of the day. Head to Uptown's iconic Green Mill for a Saturday afternoon of drinks, hot takes and laughs.
Read more
Chicago-based painter Anna Kunz explores the properties of color and light through this installation at the Hyde Park Art Center. Combining screens, paintings, fabrics and sound, the work immerses viewers in a vibrant spectrum of hues that can be experienced from various perspectives in the gallery.
Read more
The Afro-futurist movement seeks to redefine the black experience in popular culture, through films like Black Panther and the music of free jazz artist Sun Ra that depict alternative visions of the future. "In Their Own Form" presents a collection of photos that are inspired by the Afro-futurist aesthetic, envisioning a world where racism and oppression have been eradicated, giving black individuals to create a new culture that is not bound by the past.
Read more
On the second Friday of each month, The Chicago Arts District hosts 2nd Fridays Gallery Night, a series of receptions at the galleries and artists' studios centered around South Halsted Street, beginning at 1711 and ending at 2005 South Halsted Street. Pick up a map at the information center at 1945 South Halsted Street and visit the creative spaces free of charge as they open their doors to showcase an exciting display of art and artists from Chicago and beyond.
Read more
Set a new high score at this arcade bar's monthly queer night. Guests can take advantage of free pinball (make sure you take a turn on the classic Star Wars and PIN·BOT tables), enjoy bar specials or bust a move in the back room with resident DJ Essential Logic.
Read more
Whether subtle or overt, most advertisements contain messages that go beyond the desire to sell a product. Hank Willis Thomas has spent the majority of his career sifting through archives of vintage ads and digitally stripping away the text, uncovering imagery that was targeted at African Americans and women, influencing the ways in which consumers view race and gender. Devoid of context, brands and slogans, Thomas uses the illustrations and photographs contained within these advertisements to examine the impact of mass communication.
Read more
This eclectic reading series is where good writing and good beer mix. Every month five local writers and authors put together pieces to read while you order off Hopleaf's extensive beer menu.
Read more
Show more