April 2017 events calendar for Chicago
Plan your April in Chicago with our events calendar of the best things to do, including concerts, theater openings and art exhibits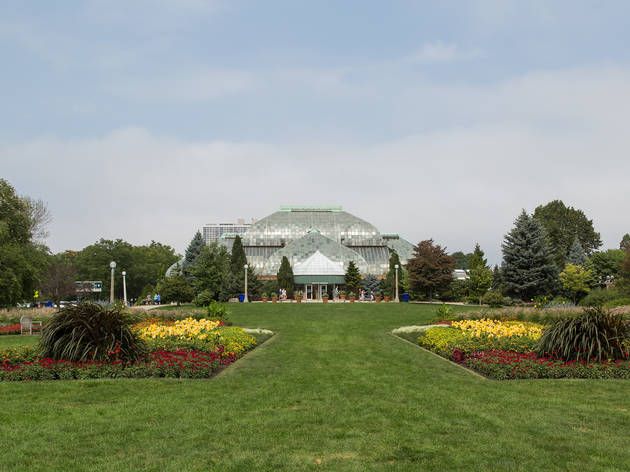 So long as it's not one of those Aprils cursed by snowstorms, it's finally safe to crawl out of hibernation and start scouring new Chicago shops for lighter clothes, and maybe even pay a visit to a few Chicago beaches on one of the nicer days. Celebrate the arrival of spring with a trip to the patio at your favorite cocktail bar, start hashing out your warm weather plans and figure out a few things to do on a rainy day—you know what they say about April showers, don't you?
RECOMMENDED: Events calendar for Chicago in 2017
Featured events in April 2017
Free events in April 2017
Contrary to popular belief, you don't have to spend a fortune in order to visit some of Chicago's best museums and cultural institutions. If you're willing to plan ahead, you can take in masterpieces at the Art Institute or gaze at tropical fish while strolling through Shedd Aquarium without spending a dime. You'll need to be an Illinois resident to take advantage of many of these offers, but that's one of the perks of living in Chicago. RECOMMENDED: Complete guide to Chicago museums
Read more
Designed by William Le Baron Jenney in the mid-1800s and enhanced several years later by Jens Jensen, Humboldt Park was once the nation's greatest public park, boasting acres of Prairie-style gardens, grazing animals and a meandering river scene. Though the animals are long gone, the park still offers extensive rose beds as well as tennis courts, an inland beach, baseball fields and bike paths.
Read more
A vacay in Athens would be awesome, but Greektown is more budget-friendly. On Halsted Street, celebrate the 194th Independence Day and the Feast of the Annunciation.
Read more
Described as "landscape art under glass" when it opened in 1908, the conservatory, while being one of the largest in the world, also boasts revolutionary architecture. With the building's haystack shape and walls of stratified stonework, landscape architect Jens Jensen considered the Fern Room in particular, with its "prairie waterfall"—a stone and water element within a glass structure—to be one of his greatest achievements. About 120,000 plants representing some 600 species occupy the conservatory's 1.6 acres, and four times a year flower shows premiere to herald the change in seasons.
Read more
At this polysexual Logan Square dance-off, party purveyor Kristen Kaza and DJ Audio Jack drop the needle on love-drenched classics by Al Green, Marvin Gaye, Prince and the queen of lovers' rock, Sade. Admission is always free and the Whistler's capacity is limited, so there's usually a line out the door. Arrive early if you want to start grooving on the crammed dance floor ASAP.
Read more
The Newberry Library, founded in 1887, is an independent research library located right in the heart of the Gold Coast. From illuminated medieval manuscripts to the personal papers of local authors, the Newberry is home to an impressive collection of work. The library hosts exhibitions, theatrical performances, lectures, seminars, workshops and more. It is free and open to the public. 
Read more
Carrie Secrist Gallery celebrated its 20th anniversary in early 2013 and over the past two decades has focused on established contemporary artists, with a recently renewed interest in adding new, emerging artists to its roster. Among our favorite works the gallery has exhibited are Kim Keever's water tank diorama photography; Megan Greene's recontextualized Audubon prints and Derek Chan's abstract paintings thoughtfully incorporating Native American symbolism.
Read more
The Renaissance Society closes out its current season with an exhibition of the work of German multimedia artist Astrid Klein and experimental photographer B. Ingrid Olson. The joint exhibit collects collage, sculpture and installation works by each of the artists, allowing viewers to compare the ways in which each artist examines the world around them.
Read more
Show more
Theater in April 2017
The House Theatre of Chicago revisits one of its earliest hits, Phillip Klapperich's deconstructive 2005 take on Dorothy's journey over the rainbow. This version's suitable for teens and tweens, but might be too dark for younger kids.
Book now
Read more
Having relocated to Subterranean after the loss of its longtime space in the now-closed Lincoln Restaurant, the country's longest continuously operating home for alt comedy continues to be a fine place to see emerging stand-ups.
Book now
Read more
Cranky, crotchety and left of center, Black hits bull's-eyes with his political comedy. He returns to the Chicago Theatre on his Rant, White and Blue Tour.
Book now
Read more
This long-running, lovey-dovey musical sketch show has found the perfect home in Stage 773's cabaret theater. It's refreshingly raunchy for date night, although its quaint take on dating in the age of social media feels a little rusty and outdated at times.
Book now
Read more
This outstanding night of comedy takes in four to five comics each week. Keep your eye on some of these folks: they're going places.
Read more
Comedy review by Matt Byrne Since its start in 2012, stand-up comedy showcase Congrats on Your Success has steadily built up an audience of dedicated regulars, who pack every bit of available space in Logan Square's Uncharted Books. The show's loose, friendly vibe is reinforced by interactive bits and between-set segments that engage attendees with the show's hosts and producers, who describe their audience as "DTF."Lured by the promise of free, BYOB comedy (with some free beverages for those who show up early enough) located in a used bookstore just steps from the Logan Square Blue Line stop, these crowds are treated to sets from Chicago's comedy scene staples (past headliners include Liza Treyger and C.J. Sullivan, both of whom can be seen on Comedy Central) as well as many up-and-comers who rarely get stage time outside the open mic circuit. "Congrats has been a number of [comedians'] first showcase," explains producer Rebecca O'Neal. "We just book who we think is the funniest and who we think our audience will enjoy the most."This supportive approach makes things a bit riskier, and it can be easy to spot who's still figuring themselves out onstage. But few showcase audiences are as receptive and patient with performers as Congrats's. The producers are looking to spread COYS's freewheeling, BYOB spirit in 2014 with a series of free one-off shows, called Fun and Dones, held at other alternative venues.
Read more
Cranky, crotchety and left of center, Black hits bull's-eyes with his political comedy. He returns to the Chicago Theatre on his Rant, White and Blue Tour.
Book now
Read more
Funnily enough, the one time that director Victor Quezada-Perez inserts a direct reference to Donald Trump into this ghoulish incantation of The Resistible Rise of Arturo Ui, the joke falls flat on its face. And the reason it does is because it's wholly unnecessary. Bertolt Brecht's satirical retelling of Hitler's rise to power needs no outright tethering to the present political moment. The parallels are already frighteningly clear. As the titular, Capone-like mobster, Antonio Brunetti practically grabs the audience by their lapels and shakes them down. He imbues Ui with a violent, yet childlike charisma—equal parts insecure bluster and psychotic rage. As Ui rises, kill by kill, from a lowly Cicero gangster to absolute ruler of the Chicago-area cauliflower trade—each scene introduced by the play's Master of Ceremonies (David Steiger) with its direct Third Reich corollary—Brunetti begins to practically drip with menace. Actors Casey Chapman and Kevin Webb also give standout turns as two of Ui's chief flunkies, Roma (as in Ernst Rohm) and Gobola (Joseph Goebells). Chapman's performance finds the beating heart at the center of his character, whereas Webb unearths the oozing black pustule at the center of his. Quezada-Perez's area of expertise lies in European Clown technique, and sure enough this production boasts red noses, white faces, and pratfalls all around. The exaggerated comedic style pairs well with Brecht's, let's just say, likewise exaggerated rhetoric. It's histor
Book now
Read more
Rachel Rockwell stages the Chicago premiere of Lee Hall's play, adapted from the movie named Best Picture of 1998 at the Academy Awards. With backing from Disney Theatricals, it was first produced in London in 2014; The New York Times described it as "Shakespeare-flavored."
Book now
Read more
Show more
Art and dance in April 2017