April 2020 events calendar for Chicago
Plan your April in Chicago with our calendar of the best things to do, including concerts, theater and art exhibits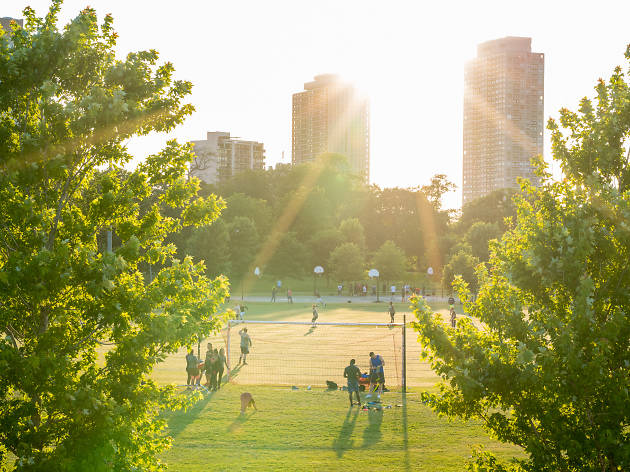 April can be a fickle month, when the weather could be so cold that you're forced to shovel snow or so warm that you finally get to return to one of your favorite Chicago beaches. No matter what climate the beginning of spring decides to bestow us with, there's no shortage of reasons to anticipate the arrival of April. Some of the best comic book conventions in Chicago occur this month, including the highly anticipated Star Wars Celebration and the annual Walker Stalker Con. Plus, Daily Show host Trevor Noah swings through the city, violinist Andrew Bird performs at one of the best jazz clubs in Chicago and gluttony reigns supreme at Chicago's Best Wingfest. Prepare for April showers and hours of springtime fun with the help of our April events calendar.
RECOMMENDED: Events calendar for Chicago in 2020
Featured events in April 2020
Museums, History
Chicago History Museum, Lincoln Park
The Chicago History Museum's latest exhibition demonstrates the influence that Hollywood held over fashion during the Great Depression, displaying a collection of glitzy gowns made by designers and at-home dressmakers. You'll find garments on display from Paris, New York and Chicago, made by designers like Chanel, Vionnet, Valentina, Paul du Pont, Howard Greer and Adrian.
Museums, History
1535 S Linn White Dr, Museum Campus
Experience the life of Alexander Hamilton at this stand-alone exhibition, created by the team behind the hit musical Hamilton. Debuting in Chicago, "Hamilton: The Exhibition" takes visitors on a journey from a trading post in St. Croix to the New Jersey hilltop where the Founding Father was shot in duel, using imaginative environments (created by the Broadway production's set designer David Korins) to immerse guests in the historical tale. Hamilton creator Lin-Manuel Miranda serves as the exhibition's narrator (via a high-tech headset), fleshing out details as you make your way through the display and listen to rearranged music from the Broadway show. Highlights of the 20,000-square-foot experience include a moving sculpture representing the hurricane that brought Hamilton to America and a 70-foot parchment map of Manhattan circa 1772 outfitted with scale models of key locations, like Fraunces Tavern and King's College.