December 2017 events calendar for Chicago
Dig into December 2017 events in Chicago with our calendar of the best holiday activities, including free things to do, and picks from theater, art and music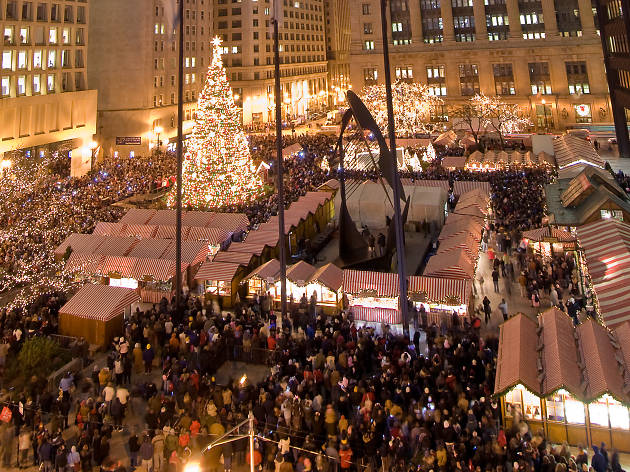 We know you're tempted to hide from the cold in your apartment, but there's just so many things to do in Chicago in December. The holiday season means Chicago is buzzing with wintery events, great (though sometimes stressful) shopping, and wonderful shows and concerts. Whether you're lacing up your skates at Millennium Park or tucking away with a hot cocktail at a cozy bar, there are tons of reasons to make the most of December in Chicago.
RECOMMENDED: Events calendar for Chicago in 2017
Christmas in Chicago
Nothing beats walking throughout a winter landscape covered in tiny, glimmering lights
Read more
Make it a classic Chicago Christmas
Read more
Heartwarming variations on Scrooge, Rudolph and other familiar holiday faces fill the city's stages
Read more
Remember how absolutely magical the holidays felt when you were a kid?
Read more
From one-of-a-kind ornaments, to spiced nuts, over-the-top window displays, letters to santa, ugly sweaters and more
Read more
From tiki spots to late night dance parties with Christmas lights, Chicago's decking the halls with Christmas cheer.
Read more
A holiday market is perfect for finding fun, unique gifts you often can't find at Chicago stores
Read more
Enjoy Tchaikovsky's iconic score through ballet and burlesque
Read more
Downtown Chicago will erupt with strings of fairy lights this weekend, officially kicking off the city's holiday season. While the Mag Mile and Millennium Park ceremonies draw the biggest crowds, there are plenty of places ushering in the Yuletide. If you're in need of a post-election pick-me-up (which, come on—all of us are), a heavy dose of holiday spirit just might do the trick. So be good to yourself and treat yourself to a bit of fuzzy Christmas cheer at these tree-lighting ceremonies. InterContinental Chicago Magnificent Mile Tree Lighting Ceremony The InterContinental is hosting its very own ceremony, complete with a performance by the American Caroling Company and a never-before-seen video-light display. Christmas is serious business, folks. (Intercontinental Hotel, 505 N Michigan Ave; Nov 17 2:30pm-3:30pm. Free) Tree Lighting at 900 North Michigan During the holidays, 900 North Michigan goes from shopping mall to Christmas wonderland. Such commitment calls for celebration, so the shops are throwing their very first tree lighting ceremony this year. (900 N Michigan Ave; Nov 17 6pm-8pm. Free) Palmer House Chicago The Palmer House invites Chicago over for an afternoon holiday party, which features the Jesse White Tumblers, the cast of the Goodman's A Christmas Carol, afternoon tea and more. (The Palmer House Chicago, 17 E Monroe St; Nov 18 12:45pm-2pm. Free) Magnificent Mile Lights Festival This two-day event celebrates its 25th anniversary this year, so, as u
Read more
The conservatory is taking things to the next level with "The Holiday Flower Show: Sky Forest"
Read more
Take a short day trip from Chicago to chop down your own perfect Christmas tree
Read more
We're making a list, checking it twice, of the best Christmas films of all time
Read more
Tolerable music: the greatest holiday gift of all
Read more
The most magical time of the year officially swings into gear
Read more
Show more
December art exhibits
Anyone who pays attention to popular culture knows that LEGO is a hugely successful multimedia property, complete with a blockbuster movie, TV shows and video games that feature the brand's signature mini-figures and bricks. But at its core, LEGO is a toy that encourages people of all ages to build something, from fantastical spaceships to models of real-world structures. It's a catalyst for creation—one that is simple to understand but deceptively difficult to master. The Museum of Science and Industry's "Brick by Brick" exhibition uses LEGO toys as a framing device for an exploration of architectural principles, famous structures and the power of creativity. The museum recruited LEGO Certified Professional (yes, that's a real job—there are only 14 in the world) Adam Reed Tucker to create towering scale LEGO models of recognizable architectural marvels, such as the Burj Khalifa skyscraper in Dubai and Disney World's iconic Cinderella Castle. You'll find these creations (and more) on display now in Chicago, alongside a 60-foot-long Golden Gate Bridge made up of 64,500 LEGO bricks. Adult visitors may marvel at the intricate construction of the large-scale models, but younger guests will be enthralled by the interactive elements that dominate much of the exhibit. A seismic shaker tasks kids with using blocks to build a structure that can withstand a simulated earthquake. Nearby, a pair of chairs attached to pulleys allows attendees to lift themselves (or others) with the assi
Buy tickets
Read more