December 2019 events calendar for Chicago
Find the best holiday activities in Chicago, including free things to do, and picks from theater, art and music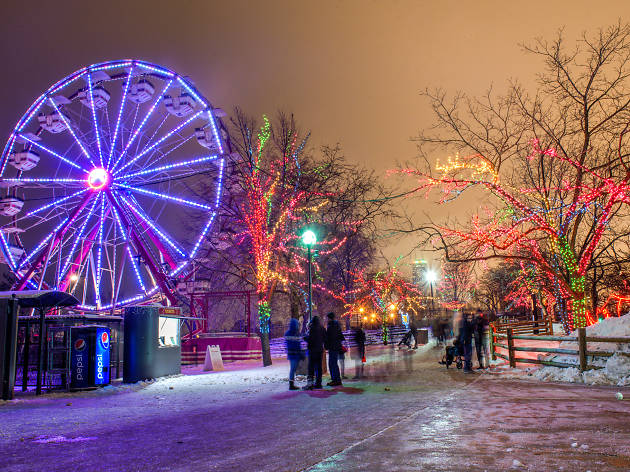 Don't let the snow and cold temperatures keep you inside as winter arrives—you'll be missing out on a long list of things to do in Chicago. Stay toasty throughout December by taking part in the cavalcade of holiday events, sliding across the ice at local skating rinks or sipping hot cocktails at a seasonal pop-up bar. There are also productions of The Nutcracker and A Christmas Carol to see, as well as a stacked lineup of New Year's Eve concerts, including Noname, Guided By Voices, Galantis and more. There's no reason to be bored during the final month of the year—load up your calendar with the best things to do in Chicago this December.
RECOMMENDED: Events calendar for Chicago in 2019
Concerts in December 2019
Music, Rock and indie
Fourth Presbyterian Church of Chicago, Streeterville
After taking a year off to complete his cheekily-titled album, My Finest Work Yet, whistlin' violinist Andrew Bird returns to the altar of the Fourth Presbyterian Church for a series of special performances. The winter "Gezelligheid" (a dutch word that roughly translates to "cozy") are something of a holiday tradition in Chicago, and offer a chance for fans to hear Bird play a solo set filled with new arrangements of classic tunes and collaborations with special guests. In the past, Bird has tested out new songs in front of a receptive audience and dabbled in expansive instrumental compositions that are piped through his array of horn speakers.
Music, Rock and indie
Chicago Theatre | Chicago, IL, Loop
It's been two whole years since Wilco last played in Chicago, but the beloved locally-based act is coming out of a self-imposed hiatus with a series of "Winterlude" shows, and a new album to boot. The group headlines a four-night stand at the Chicago Theatre behind its latest record Ode To Joy, which finds frontman Jeff Tweedy collaborating closely with drummer Glenn Kotche on a series of "really big, big folk songs" that are augmented by the rest of the band. Tweedy's lyrics grapple with the challenge of finding moments of delight in the midst of an oppressive political climate—the video for the single "Everyone Hides" demonstrates a literal embrace of this theme, sending the band to Chicago landmarks like the Marina City Towers and the Music Box Theater as part of a game of hide and seek. While songs from Ode To Joy will likely to take the spotlight during Wilco's Chicago Theatre residency, a hometown show simply wouldn't be complete without a few deep cuts from the band's extensive back catalog, so go ahead and keep your fingers crossed for "Magazine Called Sunset" and "Student Loan Stereo."